Offshore
Alan Wilkins
Birds of Paradise Theatre Company in association with The Citizens' Theatre
Citizens' Theatre, Glasgow, and touring
(2008)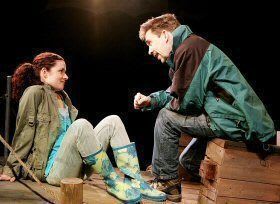 Alan Wilkin's latest play is the story of a family who are struggling with more than just keeping their business afloat. In a small Scottish fishing community the arrival of a new couple sees relationships become strained. The scarcity of work drives people to desperation and extreme measures, resulting in truths from the past being revealed.
Centring on the theme of the threat to traditional industry, Offshore is especially topical given Scotland's dwindling fish stocks and the effects this has on fishing communities. However, while the performance certainly demonstrates that in times of economic hardship people look to new areas of work and are forced to consider new avenues, a twist introduces a ridiculous element to the story. The audience suddenly lose all empathy with the characters as the idea of being tempted by the promise of easy money quickly changes to the revelation of a completely unbelievable past. This is a shame as up until this point the play successfully portrays the struggles of a family in times of hardship.
The set is simple yet effective, with the performance occurring on a small fishing boat and chandlery. However, the noise of the boat is rather excessive and at points becomes irritating.
Nevertheless, despite the misgivings, the play is largely enjoyable. The actors deliver superb performances and Danielle Stewart's role as Kerry is particularly strong. Offshore acts as a sharp reminder of those fighting to sustain themselves in areas which have been stripped of the national resources that historically provided jobs. Overall, this is a thought-provoking piece that uses an extreme scenario to make a point.
Reviewer: Alison Burns