Offside
Sabrina Mahfouz and Hollie McNish
Futures Theatre
York Theatre Royal
–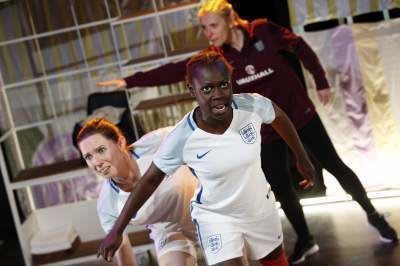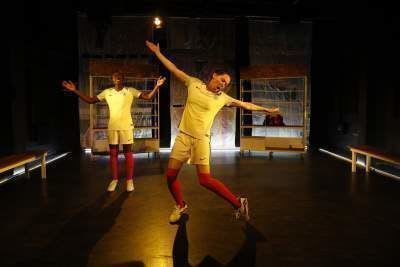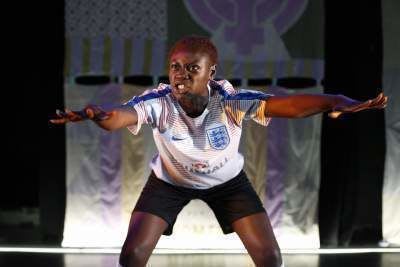 Playwrights Sabrina Mahfouz and Hollie McNish manage to cram a lot into their short, lively drama about women's football. Spanning three different time periods—from the late nineteenth century to the present day—Offside provides audiences with both a fascinating history lesson and a stirring celebration of female sporting achievement.
In 2018, two young footballers, Mickey (Marième Diouf) and Keeley (Fizz Waller), stand on the brink of realising their dreams by joining the England team. However, both these talented players must conquer their own inner demons if they hope to advance. Mickey is in love with one of her teammates, but is afraid to reveal this fact to her parents, and Keeley worries that her colourful family life will become fodder for tabloid gossip if she manages to secure a place on the squad.
Both women draw strength from their footballing heroines, who also battled against misogyny, racism and homophobia in their pursuit of playing professionally. Mickey is inspired by Emma Clarke, who became the first black women's footballer when she made her debut in 1895.
Keeley daydreams about Lily Parr, a talented goalscorer from St Helen's, whose sporting career continued despite the Football Association's appalling decision in 1921 to ban women from playing on their grounds. The FA justified their actions by suggesting that football causes damage to women's bodies. However, many critics feel that the real reason was jealousy: the male teams disliked the attention their female counterparts were getting.
Futures Theatre specialises in promoting gender equality and raising awareness of women's issues. The research that has been conducted for Offside—including spending time with two of England's top women's teams, Manchester City and the Millwall Lionesses—results in a well-informed play that bears the weight of first-hand experience and insight.
Despite its noble intentions, however, Offside is not particularly exciting as a work of drama: the modern characters' internal struggles are too easily resolved and there is little sense of danger or conflict. That being said, the play provides audiences with an engaging character study, and is given a lift by its three strong performers.
Marième Diouf and Fizz Waller inhabit their modern and historical roles with skill, ensuring they are clearly delineated physically and vocally. Jessica Dennis lends her considerable energy to a range of larger-than-life supporting roles, although most of them are given little opportunity to develop.
Offside is most thrilling during its poetic sequences, where Mahfouz and McNish write movingly and lyrically about the beauty of football. The play's physical depiction of the game—particularly the climactic match that will decide the fate of the two protagonists—is surprisingly vivid and absorbing due to Diane Alison Mitchell's dynamic movement direction.
Reviewer: James Ballands