Off the Wall
Stan Won't Dance
Southbank Centre Square
(2007)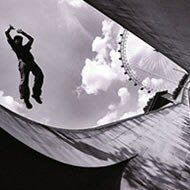 Commissioned by the South Bank Centre and directed by Liam Steel and Rob Tannion of Stan Won' t Dance (artists in residence at the South Bank Centre) in collaboration with designer Michael Pavelka, this site specific show was created to celebrate the reopening of the Festival Hall and the architecture of the South Bank. It brought out quite a crowd, despite the constant threat of a soaking, but the heavens were kind: all was dry before the show began and only in the final moments of the show did the first raindrops fall.
The location is the Belvedere Road side of the Festival Hall, away from the river, and performers were on ground level in front of the Hall and on its balconies, wall and the rooftop above, behind the windows of the new building on the left and on walkways at the back of the Queen Elizabeth Hall to the right, where scaffolding and a skeletal geodesic dome had been erected.
The promotion promised "a fantasy world of the future where people run up walls, skim across rooftops and defy the laws of physics and physicality in an unforgettable large-scale outdoor spectacular" and suggested a scenario: A single voice becomes a choir. A tiny spark becomes a flame of revolution. A calculated action becomes a formidable movement.
What we got was a set of dark figures in what looked like armour (though one I managed to see close up was actually in a black and silver striped tunic with rams horns on its head) or in black with lamps for eyes and twigs or feathers sprouting from the heads opposed to another set in white overalls who occasionally seemed to be engaged in conflict.
It did indeed begin with a single voice and there was a choir; there was a sequence with performers twirling burning torches and a burst of flame and at one point a red flag was unfurled.
There were acrobats performing on the scaffolding and on ropes and rings within the dome; there were figures enveloped in black drapes with pole-extended arms performing Louie Fuller type gyrations with the cloth. There were abseilers coming down from the upper balcony. Someone did a single break-dance spin. There was a sequence with dancers pressing themselves against window panes. A figure with an arc of lamps attached glided on a wire from the Hall across the void to the next building, and, towards the end, a silver canopy was carried across the square - impossible to see what, if anything, was beneath it, while a glittery metallically garbed choir sang on the balcony above and others in silver and with hand held coloured lamps filed across the upper balcony.
I've seen Stan Won't Dance's work on stage in the Queen Elizabeth Hall and liked it, but this was very disappointing. This is not the first time that a performance has been staged on this site and no lessons seem to have been learned from past experience. Ground level work when surrounded by a crowd of spectators can be seen only a very few of them. Work along the walkways is hidden by balustrades (though there may have been some attempt to raise the level) and is distant for most of the spectators in front of the Festival Hall, and on the Hall's own balconies the view is extremely restricted. This space has been more successful when the audience has been made to promenade or when multiple activities are presented at the same time. There has been abseiling here before and after seeing companies like Urban Sax I feel it needs to be much more than this to be impressive - and it needs much more interesting choreography. With such large numbers available and such big spaces, massive group work might be more appropriate. As for design - black is not the best colour to be seen, ill-lit and at a distance.
However, perhaps I'm just an old curmudgeon, there were a few people whistling and shrieking their appreciation, though I can only imagine they were the partners or parents of participants. But then it is amazing what relatively ordinary performances get standing ovations in the theatre these days!
Musically the show started with resonating booms and proceeded to the sort of film-score sounds you might expect for futuristic science-fiction. From The Shape of Things to Come to echoes of Rite of Spring and Carmina Burana. I'm not knocking it. It was enjoyable popular stuff, with good choral writing from John Barber and Michael Nyman. Since the Festival Hall is primarily a music venue it was appropriate that the music should be the dominating part of this event but I hope no one takes this as an example of the dance and occasional dramatic activity that takes place in the South Bank Centre. That is usually of a much more imaginative and successful nature.
20th & 21st July 2007
Reviewer: Howard Loxton