Oh, Democracy
Aristophanes, adapted by Keith Murphy, George Eugeniou and Marco Aponte
Theatro Technis
–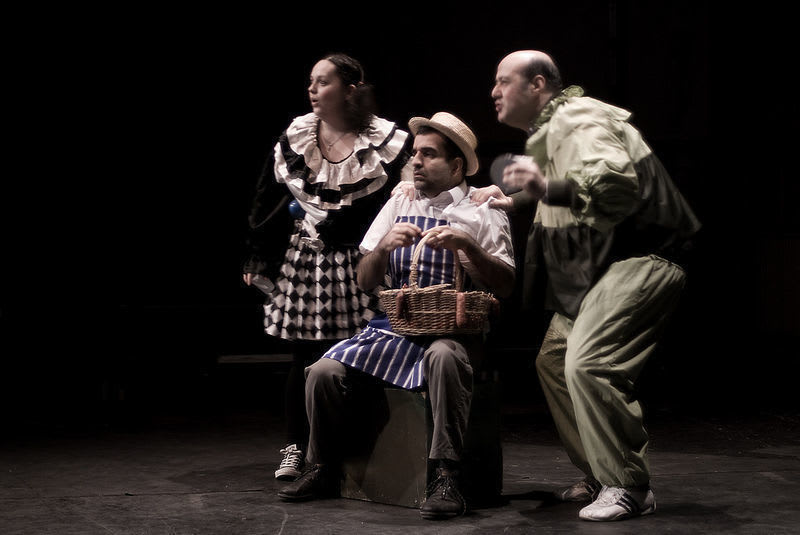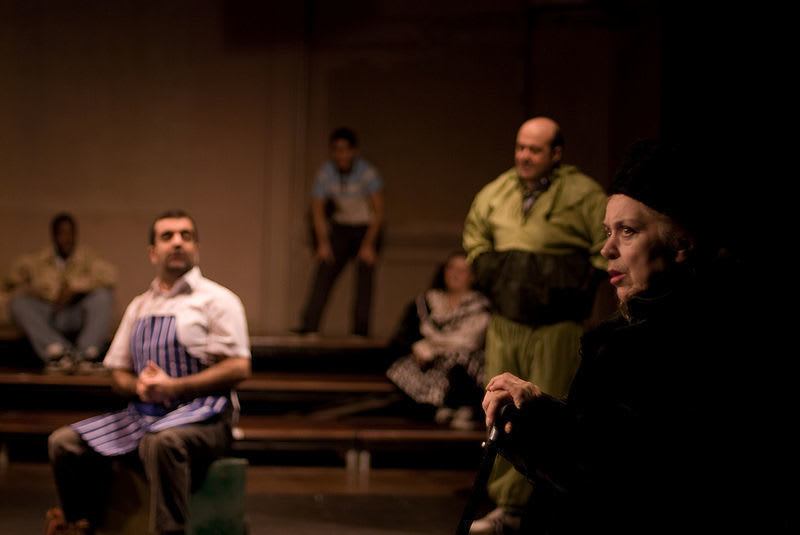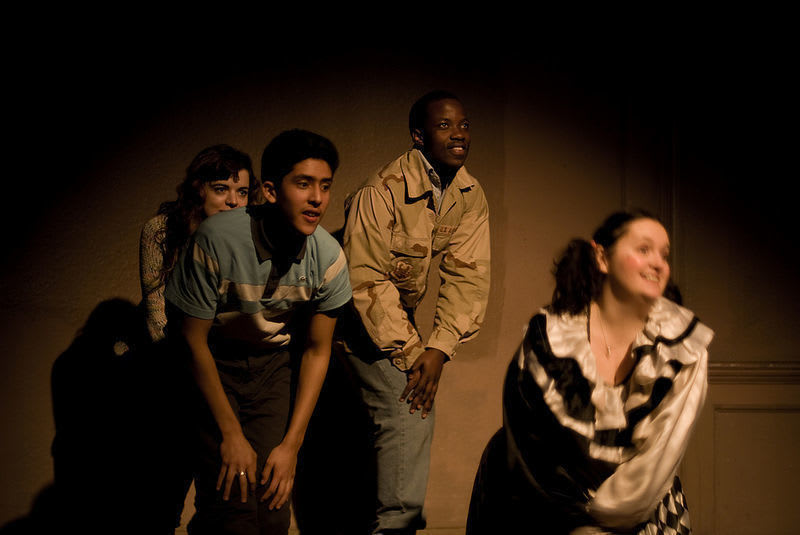 Back in 424 BC, when it won a prize at the Linaea Festival, this was a political satire that poked fun at the leaders of Athens and the political situation but this version updates things to the situation today in Britain and the European community with Europa and Democracy endangered. The chorus of the original are those Athenian citizens known as Knights (Hippeis, people rich enough to own horses) and they gave the play its Greek title.
The Knights originally launched an attack on the pro-war politician Cleon and seems to have satirised a whole range of contemporary figures. This version doesn't cast its barbs at individuals so much as different types of political opportunists and exploiters. Pap (or Paphlagonia, the Cleon character) is here played by Jackie Skarvellis, as an authoritarian old lady, elegant and imperious in a floor length black brocade gown and ensconced in a wheelchair. Sometimes she seems like an elderly Thatcher, sometimes her accent suggests we might be intended to think Merkel and I was never quite clear whether she was running the UK or the EU.
George Eugeniou's production starts with the company rampaging through the foyer like a group of carnival revellers drawing the audience with them into the auditorium singing "For he's a jolly good fellow", but then most of them disappear leaving Dem (Demosthenes was the person being satirised originally) and Nic (Nicias) who are moaning about the state of things. They get hold of some oracles predicting that Pap will be replaced by a sausage seller and lo a sausage seller, Ago (Agoracritus), turns up. He may be loud-mouthed and illiterate but they encourage him to contest Pap for her power. They recruit support from the audience and call in the "Knights" who form the chorus to join them.
Demos (it means people in Greek, hence democracy: rule by the people) is called in to judge in this contest, represented by an ageing old buffer.
Tino Orsini is a boldly drawn Dem with a touch of a Mussolini-like demagogue, Gemma Seren a bouncy clownish Ni and Marco Aponte turns Ago the sausage seller into a budding political opportunist. Both he and Dem seem to have trouble preventing their arms going up into fascist salutes and they remark that they have the support of Golden Dawn—the name of Greece's newest ultra-right-wing political party which had some success in the last elections.
Pap and Dem in the equivalent of a TV debate before Mark Minshall's laid-back Demos compete in the bribes (here they must be Greek—they don't even disguise them as benefits) each can offer—presumably they would also include tax breaks for the "Knights" but there is no close attempt to make direct links to current policies. The satire here needs its barbs to be sharper and to focus more closely on specific targets if it is to have real political bite.
The very thin audience the night I saw Oh, Democracy, though enthusiastic and picking up the jokes, was probably what led to some overloud and rushed delivery which, with too few bodies to absorb it, resulted in smudged articulation that did not help understanding. Young actors these days, who perform largely on film, TV and in small pub theatres, don't get enough experience of matching performance to the house. A full house could make all the difference to this production.
This production is a real rarity and on those grounds alone it is surely worth catching. These energetic and devoted performers deserve support and our encouragement. This production is the first in a planned five-play cycle of Aristophanes' comedies. Women in Assembly will open on 3rd June and the others will follow later in the year.
Reviewer: Howard Loxton