Oh, I Can't Be Bothered
Abbi Greenland & Helen Goalen
RashDash
Soho Theatre
–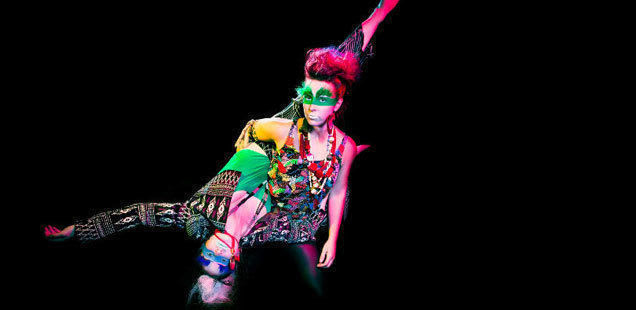 Movement, text, painting (of sorts) and a few 'phone calls collide in an intriguing genre mash up with a powerful energy and highly emotional conclusion.
Oh, I can't be bothered is refreshing theatre that treads a line of simultaneously taking itself too seriously whilst bursting its own bubble. The show is aware just how absurd some 'performance art' or 'physical theatre' can be, and plays on that brilliantly.
If all the content and delivery were straight, you could imagine it being the work of a well-intentioned but over-earnest group of 'A' level drama students who had spent as much time discussing the role of their piece of theatre and its purpose to disrupt, provoke or shock an audience as they had devising it.
Played all as a satire on a particular genre, it would be picking on a type of theatre that is far too much of an easy target for those without the bravery to try and create something beautiful and moving in a very difficult medium.
What RashDash (an associate company of the West Yorkshire Playhouse) achieves in Oh, I Can't Be Bothered is to be both sincere and cynical, which makes the final product all the more disarming and unsettling. The piece tells the story of two women magnetically drawn to each other; they dance, fight, laugh, paint, come together and fall apart. The usual structure of the performer and the character is deconstructed and tested until both meet in a taught and powerful finale.
The staging is simple and paired down and the intimate setting of the Soho Theatre Upstairs is just right. The design of the production helps drive the drama, everything doing its job perfectly with a particularly good use of sound. It is often the way that elements of devised productions feel integral to the work, especially when compared with the more stuck-on nature of a typical naturalistic production.
Questions of love and friendship cut right through the moments of glorious chaos and hit hard. At an hour and ten minutes, the show flies by. It is at once hilarious and tender, an exciting collision of talent and ideas that challenge and reward in equal measure.
Abbi Greenland & Helen Goalen, the founders of RashDash, deliver engaging and committed performances, giving themselves fully to the drama. To dissect too much would be to rather miss the point, but Oh, I Can't Be Bothered just works, it needs to be experienced and you should be bothered to go and see it.
Reviewer: Alisdair Hinton