Oh Mother
Text by Abbi Greenland with Helen Goalen & Penny Greenland, composers Becky Wilkie & Simone Seales
RashDash
HOME Manchester
–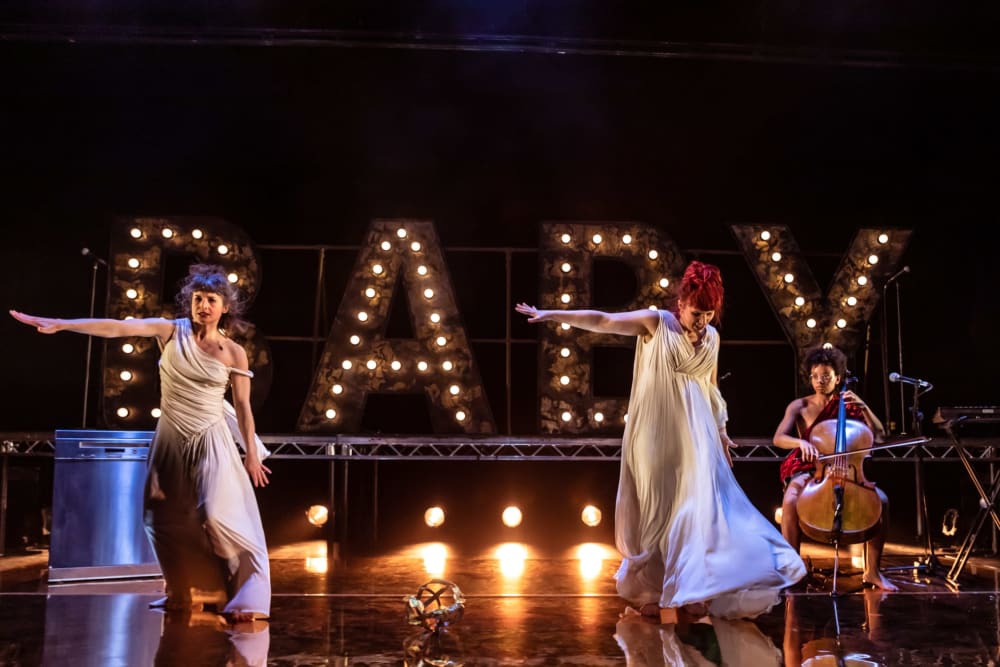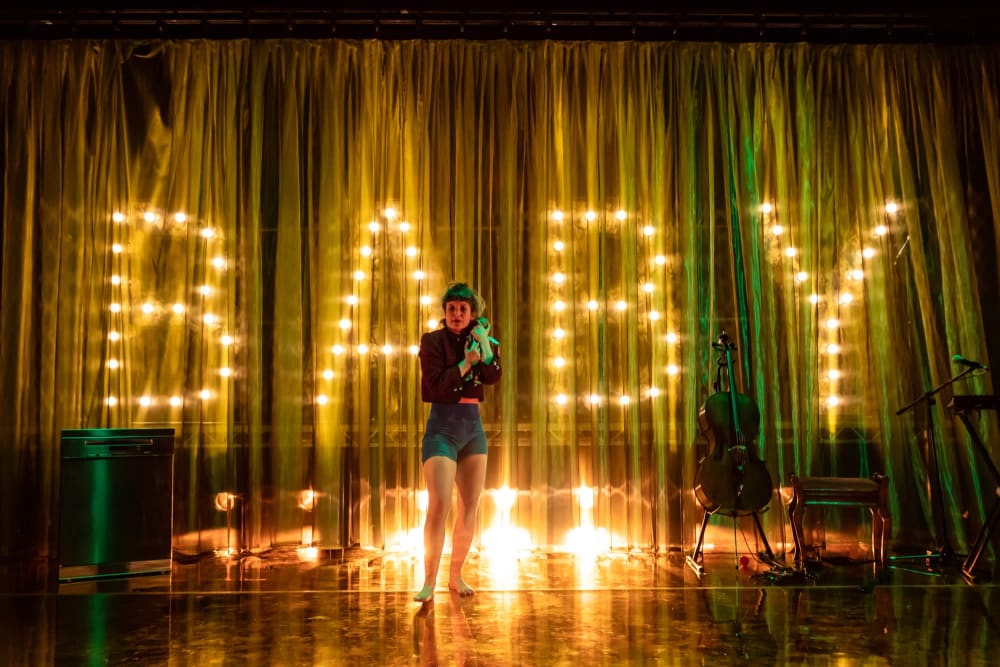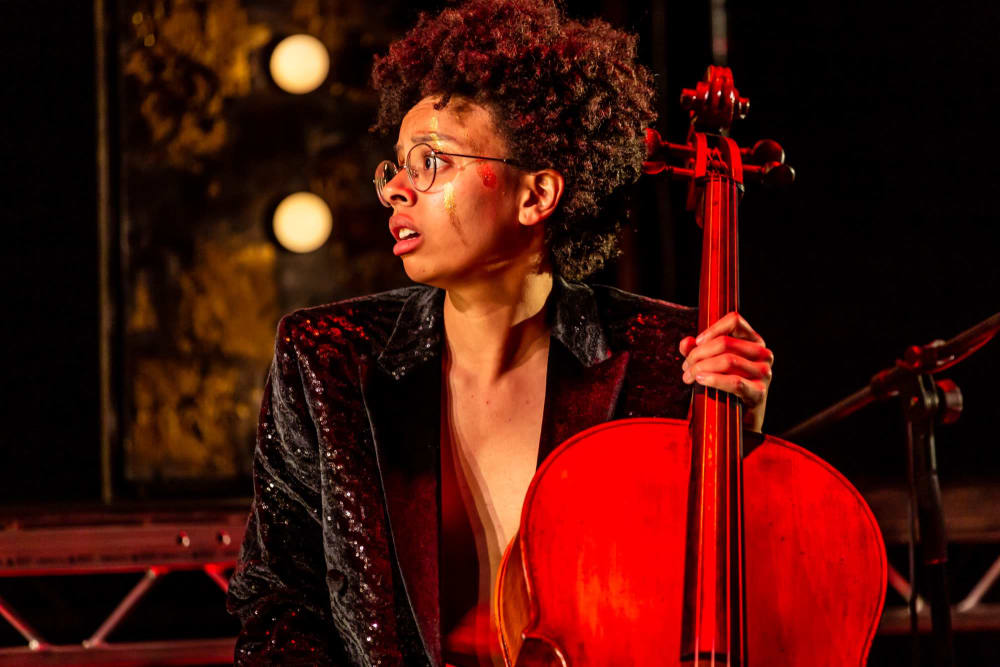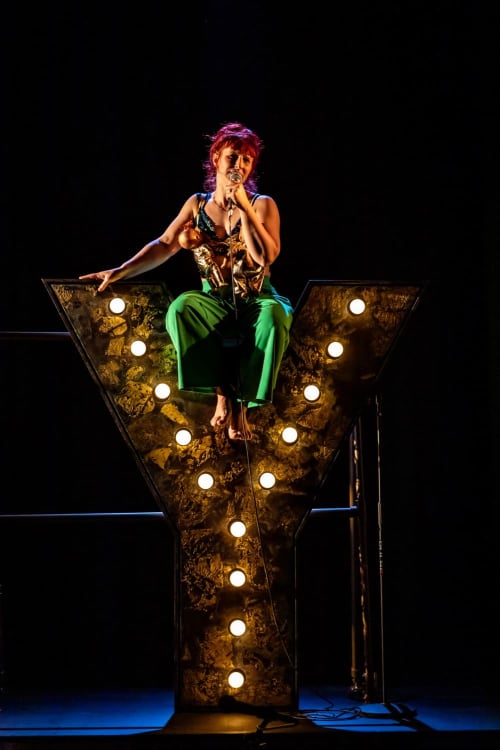 Delayed for two years by lockdown, this latest work from RashDash is about parenthood, and was no doubt changed by the fact that all three members of the group (including composer Becky Wilkie, although she doesn't appear in this production) have had babies since it was originally scheduled. It does feel like a very personal piece—"made with and for their mums" according to the press release, and Penny Greenland does get a writing and devising credit—for all three performers: RashDash regulars Helen Goalen and Abbi Greenland and co-composer and live cellist Simone Seales, who also has a significant acting role.
However, it begins with an apology, in front of the curtain, that they aren't ready as they want everything to be clean and tidy, while there is lots of banging about behind. They are caught out when the curtain drops to reveal a shallow stage backed with the word "BABY" in lights covered with toys, dirty nappies and other debris, which they hurriedly clear away to musical accompaniment—cello and the now ubiquitous live looping pedal (which sounded rather distorted on press night compared with the beautiful pure sound of the unlooped cello). Then Helen sings a prayer to her dishwasher, before Abbi creates both sides of a conversation with a friend about how she doesn't feel like a 'mother' and that nothing will change between them now that she has a child.
This mixture of monologue, dialogue, song, direct audience address and dance that reflects the changes, challenges and uncertainties that come from becoming a parent continues for the hour and a half running time in a way that seems chaotic and random on the surface but which is anything but. At one point, Helen as Abbi's mother complains that there is no story to the show, but actually there are a few linked narrative threads carefully woven together, and they go beyond talk of babies and the chaos and joy that they bring.
Abbi chats with her friend about not feeling how she thought a mother should feel and not having anything in common with those other women outside the school gates just because they have all given birth, and then to her mother about her own motherhood and how this compares to her caring for her 87-year-old mother—who at one point thinks she is 22 and can't possibly be a mother of anyone.
Helen's husband (Abbi in a teddy bear suit) tries to be caring and understanding, but struggles to reconcile her demand not to be the 'default parent' with her reluctance to allow him to help out with caring for the baby. Later, she finds she is pregnant again but wonders if she is ready for another yet—one day, just not now.
Simone's mother struggles with her daughter's desire not to be female and is upset about being talked about in therapy sessions, but is very welcoming to Simone's vagina, personified as Don Giovanni—Abbi with a sword and a big hat—when 'he' appears, much to Simone's mortification. While Simone finds the female parts of their body troubling, even disgusting, they come to a big decision by the end, one closely related to the theme of the show.
This is all performed with great skill and care by the versatile cast and with bags of humour, which is never trivialising or mocking. I don't know how much was recreated closely from experience and how much is fiction, but it all feels authentic. Interestingly, an indication of the collaborative approach used by the company is that it has listed under 'dramaturgy' (unfortunately there was no programme) production manager Helen Mugridge, stage manager Simon Perkins, set and costume designer Oli Townsend and lighting designer Katharine Williams.
While this is a feminist piece told from the women's perspectives, it isn't unsympathetic to the male role in having children, and in fact mocks some tub-thumping feminist ideals about motherhood. It is a well-rounded, intelligent, thoughtful and often very funny piece of theatre that leaves you thinking about what it has to say long after you leave the theatre. I could have quite happily sat through a longer piece if it wasn't for those seats in Theatre 2, which become painfully uncomfortable after about an hour.
Reviewer: David Chadderton