Oh No It Isn't!
Luke Adamson
Ha-Hum-Ah Theatre
Barbican Theatre, Plymouth
–

Listing details and ticket info...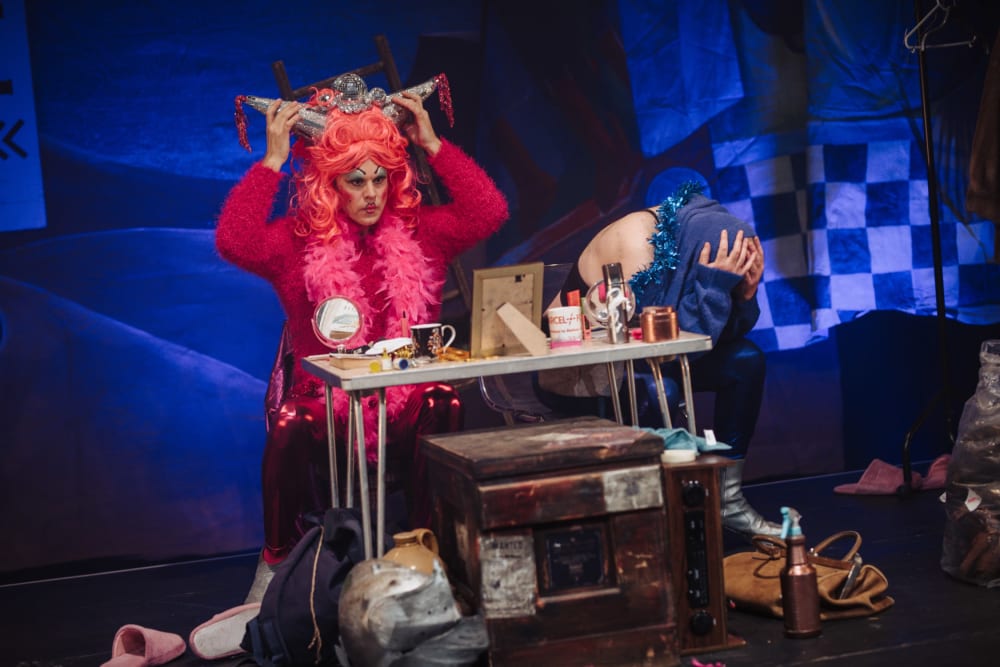 Poignant, funny and uncomfortable are odd bedfellows but then so are our unnamed protagonists—the Dame-playing duo in the final performance of Cinderella.
Having casually shagged his way through the cast (except for the 'twiglets' in the chorus), lad-about-the-stage (Darren Seed) has fallen into the job and is on an upward trajectory with a season in rep, a booking for next year and Shakespeare on the horizon.
The elder: more-world weary but dedicated actor by calling (John Gregor) faces a bleak future and rejection, and his breakdown is as badly timed as the dance moves out front. The old hand has been on stage since age nine and, some 40+ years later, he has to face facts: he will never play Hamlet.
They've both been about a bit (in rather different ways), have stories to tell (or not to tell… what did happen during Babes In The Wood?) but park their real lives, draw on the face they want the audience to see and step out in heels and padded bras to spread hollow bonhomie.
Flipping between bickering in the dingy dressing room and switched-on hilarity and slapstick front of stage, the layers are peeled back on the simmering issues between them until the final, emotional reveal.
The Cornish theatre company's Artistic Director Ben Kernow's cluttered stage—the mangy dressing-room of a moth-eaten regional theatre stuffed with glitzy costumes, props and abandoned debris of bygone productions—rather reflects the transient fame and favour of actors and a fickle fan base, while Great British Pantomime Award nominee Luke Adamson bases his witty and heartfelt script on real anecdotes and stories from the world of theatre.
A very different take on a Christmas show but with plenty to think about.
Reviewer: Karen Bussell