Oh What a Lovely War
Theatre Workshop, Charles Chilton, Gerry Raffles and Members of the Original Cast
Theatre Royal Stratford East
–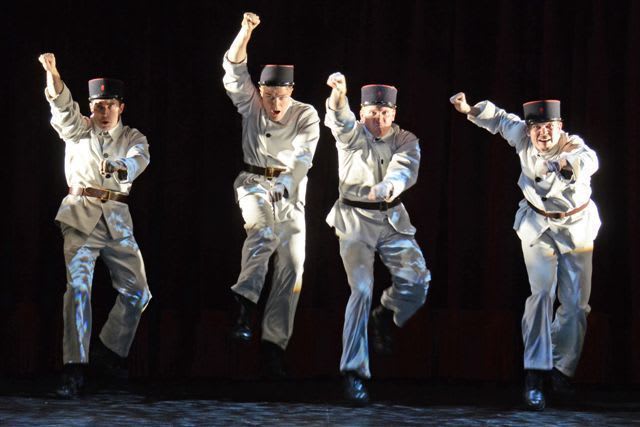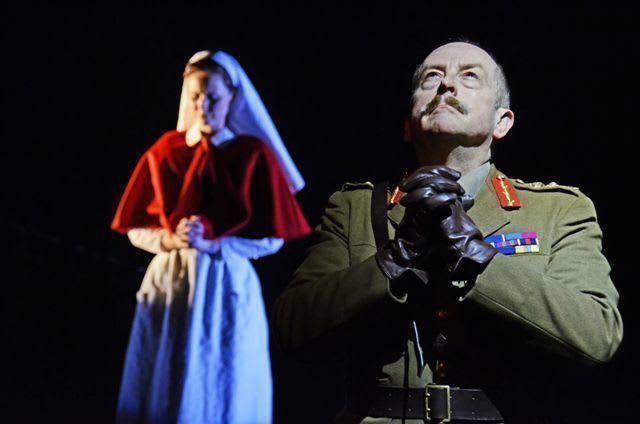 Is it really fifty years since Joan Littlewood created Oh What a Lovely War at the Theatre Royal Stratford East? In fact it is longer, for it opened in March 1963, but the awful (and awful) impact of its pierrot show presentation of the First World War, the Great War as those who lived through it called it, is still vividly remembered by those who saw it.
There have been other productions since but to stage it now as historians and the media mark the centenary of when that war began in the theatre where it was created is a formidable challenge. How can it compare with that original iconic production?
In 1963, few people knew the detailed story of the Great War, though it had scarred the lives of so many. Survivors rarely spoke of their experience and, although annual remembrance days and names on memorials recorded the huge losses, ideas of patriotism and sacrifice were foremost.
Not until the early sixties did fiftieth anniversary books and media begin to present its horrors and mismanagement. In this show, Theatre Workshop presented an indictment in the guise of entertainment.
A twenty-first century audience is more aware of the realities, but Oh What a Lovely War can still shock, and it still works as an indictment not just of the Great War but of war in general. This is not an attempt to restage a fifty-year old production. Director Terry Johnson and his team have rethought Oh What a Lovely War for a modern audience and modern audience expectations.
You could see the original production as a precursor of today's verbatim theatre for it drew on documentary records and the popular songs of the time, often with their words as altered by the soldiers, songs which as used in Charles Chilton's radio programme The Long Trail were the initial inspiration for the show. There are invented satirical items but their content reflects the facts. Conceived as a seaside pierrot show, the music is bright, the humour broad, but the upbeat atmosphere deceptive, for the cruel facts keep on surfacing.
A modern audience has not grown up with pierrot shows as part of their holiday experience and, though this production retains that format and Lez Brotherston's costumes keep the elements of pierrot costume combined with uniforms, its unsophisticated style might seem a theatrical invention rather than a cosy holiday memory today.
His setting, which elegantly echoes the Theatre Royal's proscenium frame and boxes in filigree form, seems a long way from the pier end or beach establishment of traditional pierrot concert parties. The precision of the performance and its stylish staging with a touch of panto common touch in setting up the show find a present day equivalent to make the audience feel comfortable and familiar.
The numbers are tackled in a very sprightly way, with Lynn Page's choreography. There is no savouring of familiar sentimental tunes, which indeed may not now be so well-known, and this perhaps places extra emphasis on the sketch scenes with their sharp depiction of class hierarchy, incompetent high command and fortune-making capitalist exploitation.
The statistics and information displayed, as in the original production, on an electric news messages band may not now be new facts for the audience, but their often savage contrast to what appears below them is still forceful and, in a nice touch, even these are affected by military action.
It is an ensemble show and everyone gives it all they've got. In the send-up of army drill, it goes perhaps a little over the top—the real thing is so ridiculous that it doesn't need caricature—but the grouse shooting international financiers and idiot top brass are beautifully portrayed. Theatre does not come more powerful than this presentation of the Christmas Truce and the fatal advance of the French troops "like lambs to the slaughter" as the show nears its finale, catching the audience in a simultaneous rictus of laughter and horror.
There will be many other presentations linked to the centenary of World War One but this production sets a standard for others to match—and that won't be easy.
Reviewer: Howard Loxton