Oh the Humanity and Other Good Intentions
Will Eno
Northern Stage, Newcastle
(2011)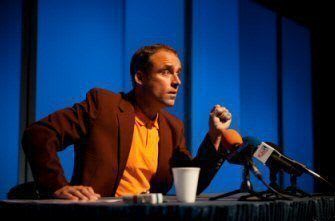 Oh the Humanity and Other Good Intentions is the first production of Northern Stage's autumn season and the first and main event in its Festival of Humanity. Directed by Erica Whyman, it consists of five short plays performed by a company of three and lasting just over 70 minutes without interval.
Although one wonders if "plays" is quite the right word: most are essentially monologues, even when there is more than one actor on stage. Even "monologues" could be misleading, for Eno combines specific situations, in which the actor or actors are addressing other people, with interior monologues which are not quite soliloquies. I was reminded at times of those sketches in the TV show Mock the Week in which one performer makes a speech and another interpolates what (s)he is really thinking.
The first, for example, called Behold the Coach, in a Blazer, Uninsured, takes that situation so well known to sports fans in which a team manager or a sportsman (here, as these are American plays, a coach played by John Kirk) faces the press or TV cameras to comment on a string of disastrous results but, instead of simply providing explanations, Eno gives us this plus the usually concealed real thoughts and feelings of the speaker: his desperation, his attempts to excuse, his regrets, his confusion.
The second play, Ladies and Gentlemen, the Rain, which is performed by Tony Bell and Lucy Ellinson, is equally revealing about the paryicipants although the situation is not so clear cut. I saw it as two people making the kind of video that some dating agencies ask their clients to record to show others what they are like. Here, however, there is more reality than the kind of front that people inevitably put on in this kind of situation. In both cases we see the real person rather than the image. They reveal themselves, their real selves, and it is desperately sad.
Enter the Sportswoman, Gently shows us an airline spokeswoman (Ellinson) totally out of her depth, trying to reassure relatives after a disaster but not knowing what to say, producing a stream of solecisms and clichés in her attempts to comfort and excuse.
I found the fourth play, The Bully Composition, in which a photographer and his assistant attempt to recreate a group photograph using the audience as the subject matter, the least successful of the five in spite of the efforts of Bell and Ellison and Whyman's use of the whole auditorium to present it. Even in such a short play (for they are all short), there were, for me, longueurs and I failed to see the point.
The final piece, Oh the Humanity, which is performed by all three actors, reminded me irresistibly of N F Simpson in its surreality and, like Simpson's work, it managed to make a very surreal situation seem totally real.
Behind them all lies a true and very understanding and sympathetic, almost loving, picture of humanity. The writing is beautiful and Whyman's simple staging, combined with Andrew Stephenson's simple, functional but very appealing set, along with impeccable performances from all three actors, make this a thought-provoking and entertaining - for there is laughter as well as sadness - short evening of theatre.
"Oh the Humanity and Other Good Intentions" runs at Northern Stage until 24th September
Reviewer: Peter Lathan