Okan' Nijo (One)
Bode Lawal Sakoba Dance Theatre
The Round, Newcastle, and touring
(2007)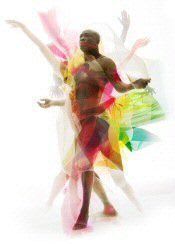 Although the performance is entitled Okan' Nijo, it actually consists of four pieces, the first of which is not performed by Sakoba. The company has a particular interest in education and so it is appropriate that the first piece to be performed was by students of Egglescliffe School in Stockton-on-Tees.
The main programme consists of Aiduronijo (Clockwork) which is an older piece, Ogo (Glory) and Okan' Nijo (One), the latter two being new works.
The new work uses what director/choreographer Bode Lawal calls Post-Traditional Dance Theatre, the Bode Lawal Dance Technique. Lawal was born and trained in Nigeria and has, as his base, the Yoruba tradition of dance. His earlier work, such as Sango/Iyanu and Aseju, are firmly in the African tradition, although using European contemporary dance techniques, but now he has worked to create a new dance language, following research in Brazil, India and China, searching for the "One", the one point of origin for dance, the commonalities in dance and culture.
Aiduronijo (Clockwork) won the Best Performance of the Year 2006 at The Journal (Newcastle) Culture Awards and one can see why. Movement, often robotic and mechanical in feel, and interaction between the dancers are very precise and tightly controlled, fitting together, indeed, like a well-oiled machine.
Ogo (Glory) is, to my mind, less successful. Lawal's introduction to the work says "In today's endless human pursuit of material goods we often ignore the fulfilment of God to guide our thoughts with thanksgiving and glorification of all the things we take for granted in our daily lives" but the piece itself, a duet which features Lawal, although very accessible, tends to slip into cliché. There is much soulful reaching up towards the heavens - too much, in fact, so that the piece becomes repetitive.
Okan' Nijo (One) itself, however, is a different matter. It is full of energy and invention, incorporating dance ideas - indeed, dance languages - from the various countries Lawal visited in his research. Some seem quite strange to people whose experience is limited to the European/North American tradition with perhaps some slight acquaintance with African and traditional Indian dance, strange but somehow liberating at the same time. But this isn't a demonstration of national (or cultural) dance styles, for they are not presented separately as a demonstration but are integrated into the piece. Indeed Lawal wants to go beyond the simple mingling of dance styles: he says, "The vision was to capture the spiritual and cultural concepts of dance and present it through an idiom that goes beyond national and cultural boundaries."
How far he succeeds will depend upon the sensibilities of his audience but one thing is certain: Okan' Nijo is a unique piece which makes a very different impression on the member of the audience to that which we expect from a contemporary dance performance.
Touring to Arthur Cotterell Theatre, KINGSTON UPON THAMES (2/3 November), Farnham Maltings, FARNHAM (8 November), Gate Theatre, GOOLE (24 November), The Place : Robin Howard Dance Theatre, LONDON (30 November & 1 December).
Reviewer: Peter Lathan