Oklahoma
Music by Richard Rogers, book and lyrics by Oscar Hammerstein II, based on the play Green Grow the Lilies by Lynn Riggs
Music and Lyrics and Royal & Derngate Northampton
The Hawth, Crawley
–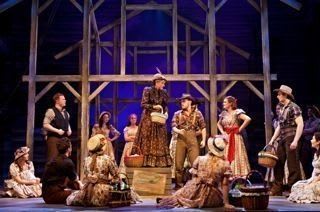 You can't go too wrong with Oklahoma. Even in an inadequate production, the music and lyrics will carry you through whatever else might not come up to scratch, but it takes Rachel Kavanaugh's brilliant version to show what a truly great musical it really is.
She has provided more that two and a half hours of sheer joyous blissful song and dance, with two love stories thrown in for good measure.
All right, there is the loner Judd Fry to consider, but for the first time ever I really felt sorry for him. Nic Greenshields plays him like a slightly bewildered 'special needs' child who has been reviled and mocked all his life and who can't understand why nobody loves him.
His 'special needs' unfortunately are those of a grown man, an enormous and menacing man at that, and he wants a real woman instead of his picture gallery of naked females. His revenge, when thwarted, is truly evil, and the woman he wants is our heroine Laurey (Charlotte Wakefield) who understandably is terrified of him.
Ashley Day as cowboy Curly is devastatingly handsome, but just a little too sure of himself, and of Laurey, for her liking which is why she ends up accidentally going to the box social with Judd Fry—not a good choice but, going back to the would be lovers, both have glorious singing voices which blend beautifully in their duets, especially lovely in "People will say we're in Love".
There are numerous well-known songs throughout the show, all beautifully swinging the story along, and the score is played superbly by a nine-piece band under the direction of Stephen Ridley who also plays keyboard while managing to conduct by head movement, and occasionally left arm, and still appears to be thoroughly enjoying himself.
Drew McOnie's choreography too is superb with many high spots, my particular favourite being the dream ballet which turns into a nightmare and cleverly interpolates Judd Fry's visions of erotic dancers as part of the 'nightmare' section. Within this is an intricate and perfectly timed dance number which an audience member described as a Hay Bales Pilates Class.
At the box social, the fight between the cowboys and the farmers is also very special, fast-moving and obviously rehearsed within an inch of its life to get the intricate moves in place without injuring each other. Amazing too is the speed and dexterity the cast use when changing Francis O'Connor's set, so quick you hardly realise how it has happened.
There is great comedy in the on/off romance between Lucy May Barker's frivolous flirtatious Ado Annie, a girl who can't say 'No', and her prospective husband Will (James O'Connell—great dancer) and the very likeable Gary Wilmot's exquisitely timed comments as the travelling pedlar Ali Hakim, trying to avoid marriage, are not to be missed.
However, giving the performance of her life is an unrecognisable Belinda Lang as the feisty, straight-talking, gun toting Aunt Eller, croaky-voiced and slightly stooped but definitely in charge!
Only one word necessary to sum up this show: perfection!
Reviewer: Sheila Connor