Oklahoma!
Richard Rodgers & Oscar Hammerstein
Music & Lyrics with Royal & Derngate, Northampton
The Lowry, Salford
–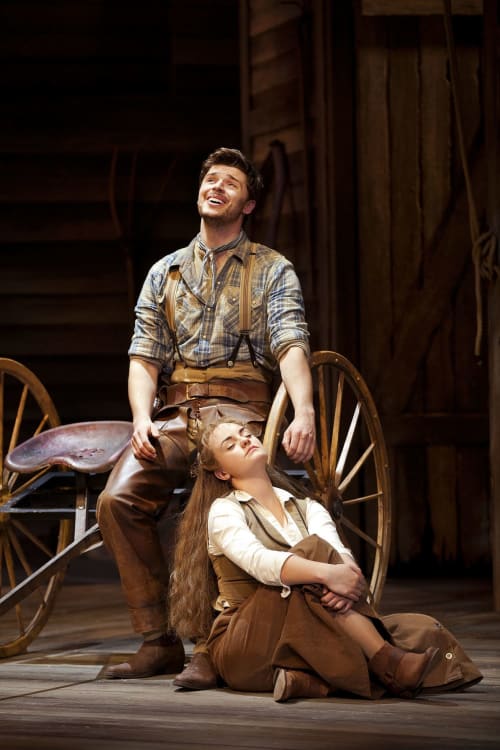 What with Oklahoma this week, and Calamity Jane the next, it seems like the country's wagon train of touring musicals are right at home in the Wild North West.
Certainly when they come as polished and well-packaged as this revival, another show put together by a consortium of UK theatres, they could probably set up camp here for longer than a week at a time.
The first from the Rodgers and Hammerstein stable of hit musicals may be more than 70 years old but it looks fresh out of its box, in a production full of youthful vitality besides some added flourishes from director Rachel Kavanaugh and choreographer Drew McOnie.
She shines a light into the show's sometimes-overlooked comedy, which in turn lengthens the shadows that surround its dark drama.
Indeed, judged by modern standards, there's some dubious morality around the treatment of one or two characters, either the disadvantaged Jud, or the casual racism endured by Ali Hakim. But the day you start to judge vintage musical theatre through the prism of political correctness we're probably all doomed.
McOnie's choreography sweeps away any misgivings. Whether in its cornball approach to dancing with haystacks, to the more sophisticated fantasy ballet that closes the first half.
For once this dream sequence interlude does not jar with the story and only helped to underscore the talent on show. Romantic leads Ashley Day and Charlotte Wakefield had already made a lasting impression with their singing and acting. Their equally-assured dancing was a bonus.
Gary Wilmot, as Ali, may have been the comedy flag waver but plenty of other characters get a clear laugh line. And it's no coincidence that Nic Greenshields, as black-hearted Jud, has several characters with the name Big on his theatrical CV. His frame, talent and baritone match the description.
The only hole in this entire production is in the barn wall of Francis O'Connor's stage design, which looks like it's taken a direct hit from a field cannon.
Most musicals would kill for any one of the songs that spill out from Oklahoma. So when you can save the show-stopping title music to the last you know you've had your money's worth.
Reviewer: David Upton