Oklahoma!
Music by Richard Rodgers, book and lyrics by Oscar Hammerstein II, based on the play Green Grow the Lilacs by Lynn Riggs
The Bard SummerScape production presented by the Young Vic in association with Eva Price, Sonia Friedman Productions, Michael Harrison
Young Vic Theatre
–

Listing details and ticket info...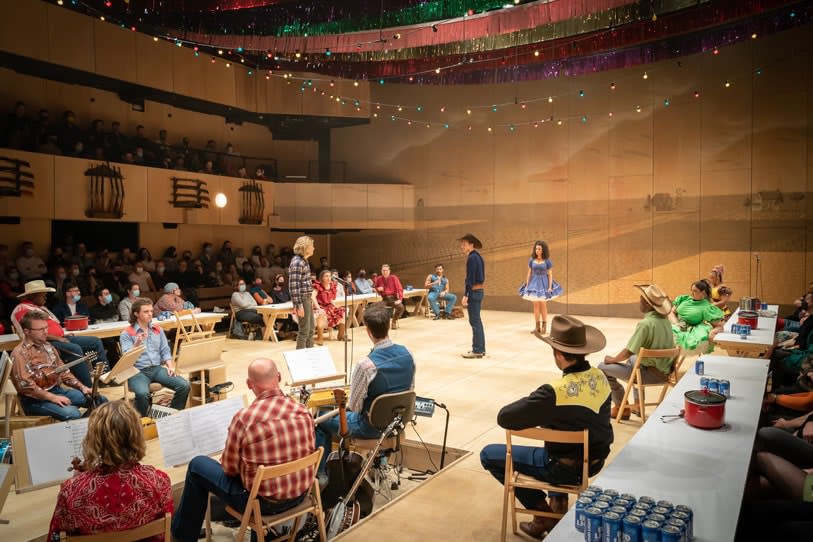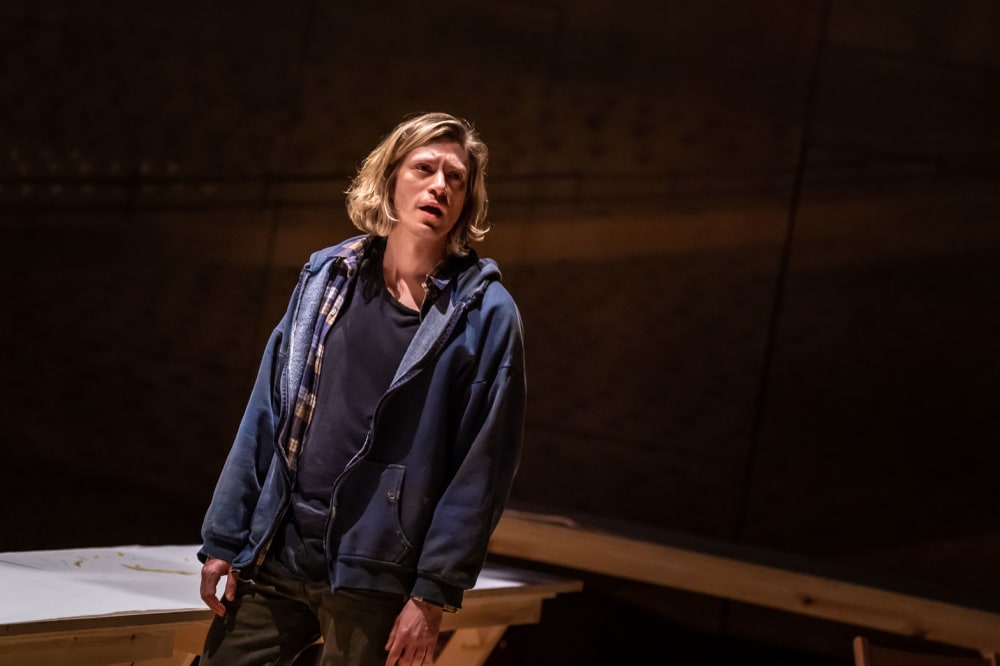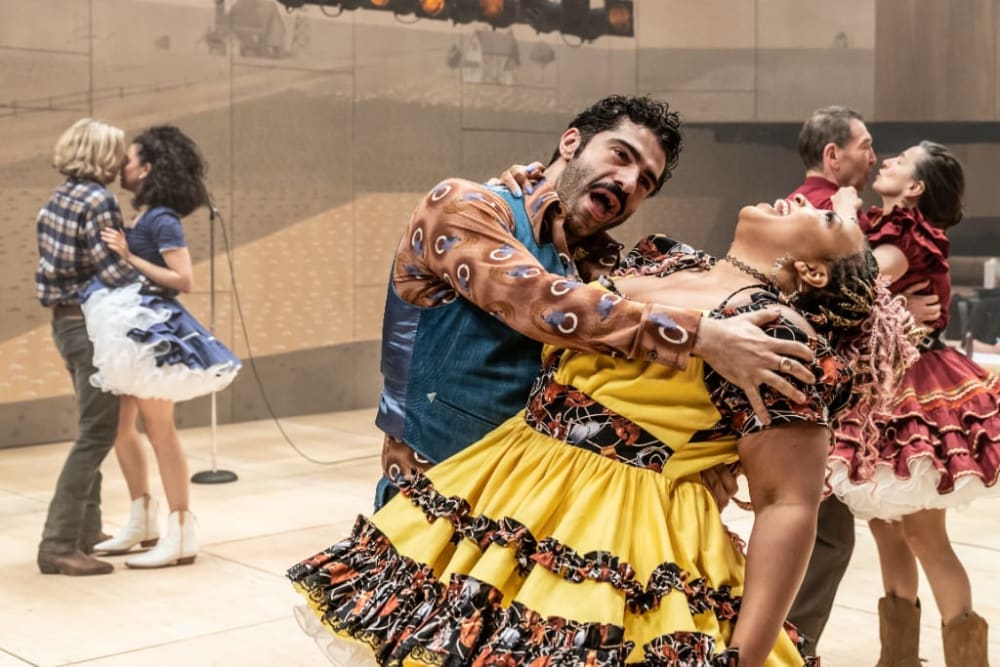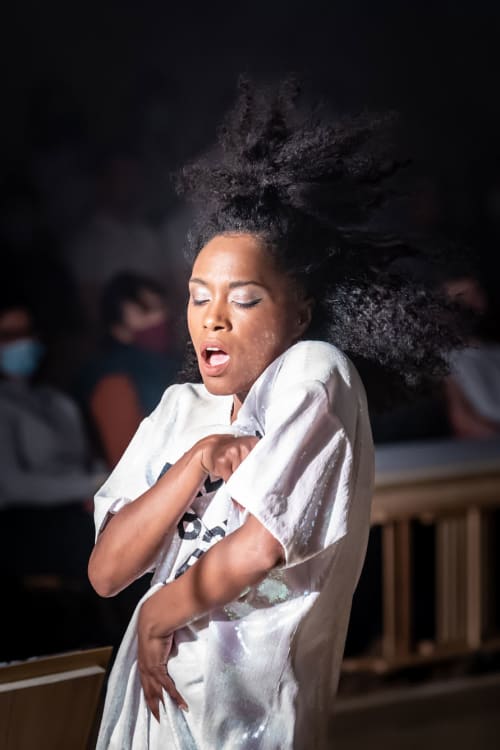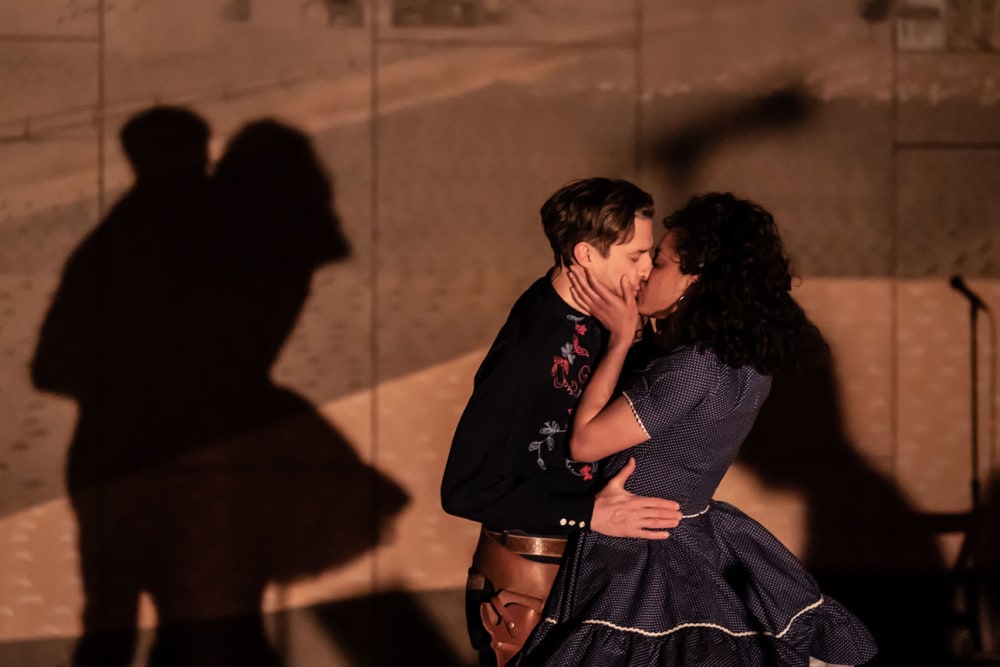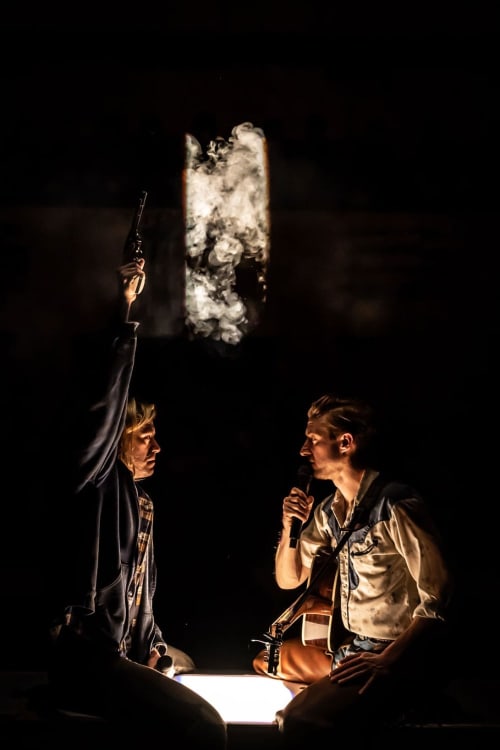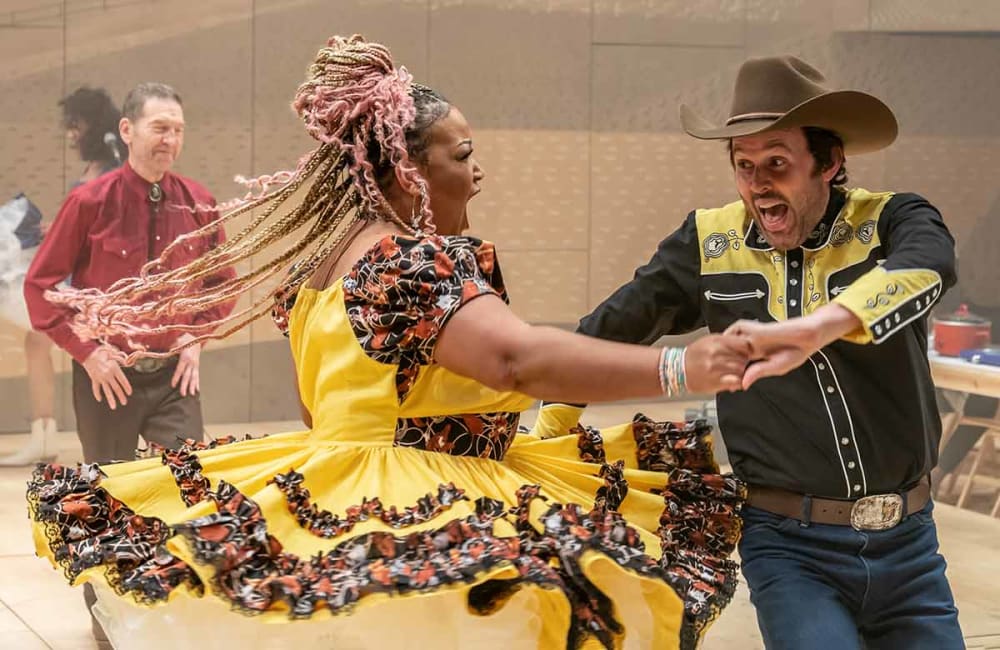 Daniel Fish created this revisionist production of Oklahoma! in 2019 to mark the 75th anniversary of the 1943 première which itself ushered in a new era for the musical. Now we get to see it with the same director, two of the original performers (Patrick Vaill and James David) joining a British cast and (almost) in-the-round as it was in New York.
Staged on a plain platform with rifles ranged on plywood walls behind the audience and the vast expanse of farmland and prairie neatly drawn on a rear wall, this puts everyone in the same space: cast, band and audience under the same bright light. The small band has no brass, instead, there are strings plus guitars, banjo, accordion and keyboard. The sound is more country and western than lush Broadway and some songs, like the opening number, unaccompanied—and that's a treat with a company that have such lovely clear voices.
It may be "a beautiful morning", but even that opening somehow doesn't ring with the optimism it usually conjures up. This is a version which, though the words are unchanged, seeks out the darker subtext in its picture of rivalry between farmers and cowboys, presented in microcosm through the competition between cowboy Curly McLain and farmhand Jud Fry for the affection of attractive Laurey Williams. It is a production that reflects America today as much as its original 1906 Oklahoma Territory setting.
Arthur Darvill's Curly isn't marked out as a hero; he's too full of himself and flaunts sexual confidence. Aunt Eller (Liza Sadovy, fresh from her award-winning performance in Cabaret), cracking eggs for her box-social offering, quickly cuts in before the audience can start clapping that first song. When we get to "Pore Jud is Dead", he reveals what he is really like, trying to goad his rival to suicide with everything plunged into darkness.
Patrick Vaill's Jud sits on the sidelines (as do all the cast when not in the scene) until a look in his direction brings him into the story. Then you realise that he's been intently involved all along.There is already a pain in his eyes and his looks, like a catechism card Christ figure, cast him as victim, though the way he behaves doesn't match it.
Laurey doesn't seem so innocent either. "He makes me shiver every time he gets hold of me," she tells Aunt Eller. Anoushka Lucas plays her with her feet on the ground, not swept off them; "People Will Say We're in Love" takes on a satiric edge.
Pedlar Ali (Stavros Demetraki) is full of fake charm and Greg Hicks's gun-toting Andrew Carnes looks sour-faced and trigger-happy. It is Marisha Wallace as his daughter Ado Annie who gets to make things upbeat with her big voice, big personality and provocative glances. She and James Davis as her devoted suitor Will Parker are so innocently open that you can't help liking them, but you do wonder whom they might vote for today!
For decades, Broadway success seemed to demand a feel-good ending and a lush orchestration. That's not what this version of Oklahoma! offers. It may make that exclamation mark superfluous, but it stays true to the rest of the text.
What for me didn't work, though, was the dream ballet when, with the scoring now bringing in wind instruments farting, Marie-Astrid Mence takes over to dance as Laurey. Amidst billowing mist clouds, she is both lyrical and passionate but, beyond extended anguish, I missed out on its meaning.
There is a change of weapon in this production's final scenes and a dramatic if ambiguous staging that makes its resolution more harsh but entirely apt after what has gone before. This is an Oklahoma! that gets top rank performances, with a measure of laughter to lighten its darkness. It may not send you home in high spirits, but that isn't its intention. It isn't perfect, but still very good theatre, its bright lights the glare of reality, not of romance.
Reviewer: Howard Loxton