Oktobre
Conceived and devised by Florent Bergal, Pauline Dau, Eva Ordonez-Benedetto, Jonathan Frau and Yann Frisch
Purcell Room at Southbank Centre as part of London International Mime Festival
–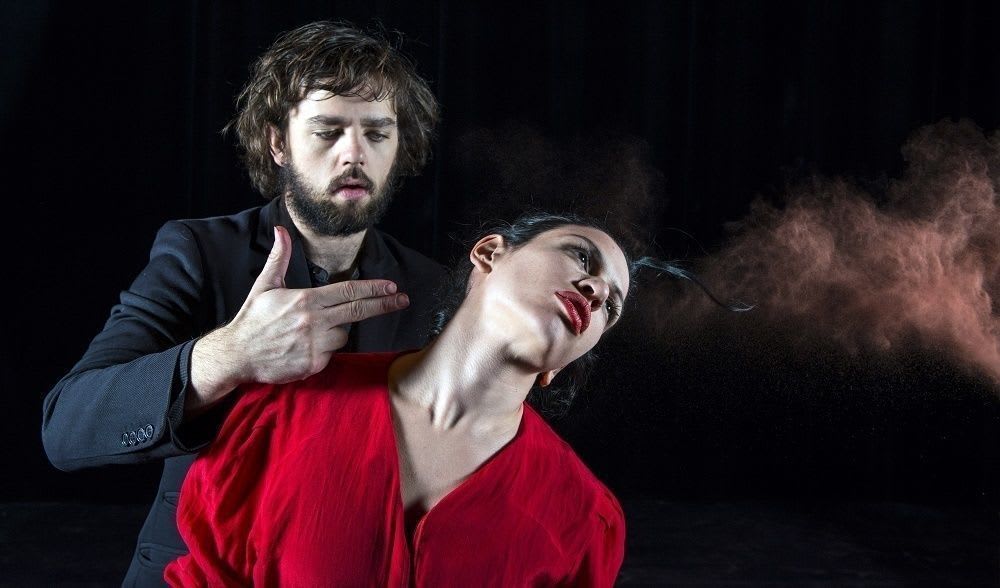 "I wondered", asked the stranger sitting in the seat next to mine, "would you feel excluded if you could not speak French?"
I cannot speak French, and the answer is a resolute 'no'.
Oktobre (conceived and devised by Florent Bergal, Pauline Dau, Eva Ordonez-Benedetto, Jonathan Frau and Yann Frisch) has a language of its own; an aesthetic that speaks. And it speaks with bite.
Reliant on an intriguing triumvirate of trapezist, acrobat and magician, Oktobre transforms one black table and three tired chairs into an unpredictable world of both heightened realism and unrecognisable obscurity.
Pauline Dau sits stiffly on a chair. The stark darkness of both costume and set is punctured by the blood red balloon that hovers mischievously above her head, anchored by a string that feeds into her hand.
The balloon—apparently of its own accord—begins to move. She pulls it back into submission. It moves again, more deliberately. She pulls it back. It quivers and wavers, fizzing with energy and impatience. Dau lets go of the string and leaves the stage. Alone and repentant, the balloon follows, an air of dejection in its demeanour.
So is the magic of Oktobre: a red balloon acquires demeanour.
Yann Frisch (Beijing's 'World Champion of Magic'), sits at the centre of the table. In front of him is a jug of water and a cup. He pours. The audience watch as the water flows in—and a soft red ball falls out. Vibrant against the black backdrop, red balls appear and disappear, jumping from the cup into the jug, vanishing into thin air, multiplying and dividing. An increasingly frantic Frisch attempts to make sense of chaos, his eyes growing wider.
So is the magic of Oktobre: a red ball provokes madness.
Jonathan Frau moves around a larger red ball. Frau is an acrobat, and his body curls and protracts with astonishing ease. And yet, whatever movement he chooses, whatever shape he adopts, whatever twisted avenue he pursues, he cannot reach the ball. His fingers fall within inches of its surface, an invisible force ensuring its isolation.
So is the magic of Oktobre: space is renegotiated.
These brief vignettes are interspersed with others—ensemble pieces—and repeated throughout the performance—each repetition an increasingly distorted version of the last.
Sound and lighting too defy time and logic. Mouths working out of sequence with recorded French dialogue and blackouts peppering the piece like a faltering lightbulb.
Oktobre is a beautiful piece, both magical and memorable. As it confesses 'there are no rules in this game': make of it what you will and enjoy it for what it is.
Reviewer: Alecia Marshall