Old Bridge
Igor Memic
The Tower Theatre Company
Greenside @ Infirmary Street
–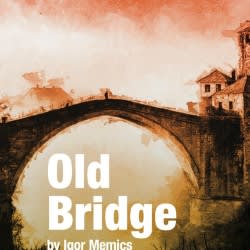 Igor Memic's award-winning debut play, OId Bridge, seems like a perfect choice for a modern company, and in many ways it is, framed through the device of middle-aged Emina looking back at her youth at the close of the '80s and the conflict that would tear her home city of Mostar apart.
Old Bridge is centred around the titular 400-year-old Stari Most, which, historically and symbolically, once separated the different religions and peoples of Mostar into their own areas of the city. But in the far more cosmopolitan world of 1988, Mina, her friends Sasha and Leila and her beau Mili are an ethnically, religiously and politically mixed group enjoying the carefree thoughts and joys of youth, laughing, loving and debating life, while hanging out near a bridge "as old as Shakespeare".
But when the war strikes, it does so as indiscriminately as the bombs and stray bullets themselves, throwing the four young friends into a hellish existence, as the city and their old lives, crumble around them. Luxuries such as coffee and cigarettes become linchpins to cling to, and neither escape nor survival seem like a possibility.
It's a powerful play, and The Tower Theatre Company gives great credit to the piece. There's not a bum note among the cast, and the raw emotions that are wrung from each of them land like thunderbolts. There are some slight drawbacks that come with the compressed nature of the Fringe performance, as this is a play where some moments could do with breathing longer, and Memic's play is simply uneven at times, which is a source material problem that hasn't been addressed here.
These quibbles aside, Old Bridge is a striking play, and no-one involved here has any reason to do anything other than to stand proud of this production.
Reviewer: Graeme Strachan