Old Goat Song
Music and Lyrics by David Reiser Book by Jules Tasca
A Stage Kindly
Lion and Unicorn Theatre
–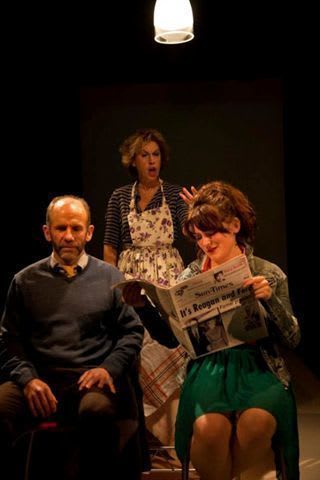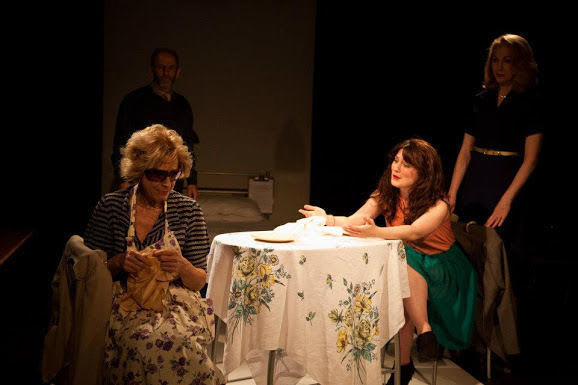 This goat song is not the tragedy you might expect from the title—tragedy (τραγῳδία) meant 'goat song' in ancient Greek—but a rather elegiac love story. It is a musical that tells the story of 71-year-old widower Bill Fast's love for his dead wife and for a waitress in a diner who is more than fifty years his junior. It is he who describes himself as an "old goat".
Bill is in hospital and dying, his sister Cora at his side. His memories take us back short-term to Cora's dull, plain cooking, so different from the delicious meals that dead wife Danielle served that drove him to eating at the Oasis Diner. It is there that he met teenage Cara on her very first day at work. She reminds him of the young Danielle, the sweetheart the thought of whom kept him going in Europe during World War Two and whom he married in 1945.
At first he thinks of Cara as the daughter he never had. To his sister's anger, he gives her expensive presents. With his dead wife's encouragement, he realises his feelings go further. It is a bitter-sweet tale, lightened by humour, that takes a very realistic look at an aging man's emotions, even if his presents do seem a little excessive.
Events at different times overlap in memory, so Leigh Lothian plays both his young wife and Cara, Pippa Winslow the elegant, more mature Danielle, with Andrea Miller as sister Cora and Matthew Hendrickson as Bill. None of them force their performances; they are all very true to character and sing clearly and well. At a time when even fringe theatres are using microphones for musicals, it is a delight that they sing without any amplification, accompanied by musical director Katy Lipson on piano.
The tunes are pleasant and Reiser has the skill to write music that is original yet still feels comfortably familiar. The accompaniment is simple, forefronting voices—sometimes it seems not much more than vamping in the background—and the lyrics, often with quirky rhymes, have a light touch too.
Matthew Gould's production is played with the audience on three sides, the hospital bed on stage throughout and a table and chairs on a white sweep of stage cloth the only setting—simple and effective.
It draws the audience into the action and makes a very pleasant evening.
Reviewer: Howard Loxton