A Very Old Man with Enormous Wings
Script by Annamaria Murphy, inspired by Gabriel Garcia Marquez' short story
Little Angel Theatre in association with Kneehigh
Little Angel Theatre
(2011)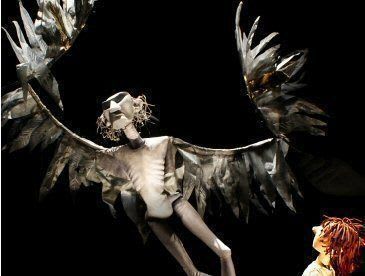 In a little seaside village far from anywhere they have a plague of crabs and a little red headed baby boy is ill. The crabs keep on climbing out of the sea and into the houses and the baby doesn't get better. Then something strange falls out of the sky.
What is it? A bird? A man? An elderly gossip says it is an angel, the angel of death come for the baby. But the baby it seems is better and the crabs have all disappeared and when the villagers come to gawp and touch the creature they lose their ailments.
The baby's mother shuts it up in her henrun and feeds it potato peelings and scraps and when other people come looking for view this curiosity starts charging them admittance. Those who come for cures still get a miraculous change but not the cure they hope for.
This adaptation reworks the elements of Marquez's story and makes the growing red-haired boy much more important as he befriends the sea-shanty murmuring angel whom he calls "a very old man with enormous wings" and it places a stronger emphasis on the moral elements of the fable though without making that too obvious. There is a critique here of the way we tread the old, the person who is different, the outsider; there is a warning of comeuppance for those who exploit others and perhaps one can also see a suggestion that patience and endurance can eventually lead to freedom. In the second half, while the village prepare a festa stocked with crab dishes and cream cakes to welcome an expected visit of His Eminence, the angel stands tied up and motionless, posed like a crucifixion: read that how you will.
At the same time this is a comic look at the way the world runs. The banker swallowing our money, the souvenir-snapping tourist, the VIP with no time for ordinary mortals (or even angels), the sanctimonious churchman with a human weakness and the opportunist entrepreneur and even a hint of how a little too much to drink can lead to marital infidelity.
It is a simple story about greed and fortitude that is simply but very imaginatively told with tourist buses crossing distant hills high above our heads then parking in the village square, a little errand boy on his bicycle, then in a boat and then up in a balloon, crabs crawling everywhere and a village packed with residents and visitors watching an acrobatics display. Just four grey-clad puppeteers (Rachel Leonard, Ruth Calkin, Roger Lade and Sarah Wright) handle all these characters and provide their voices. And what characters they are as designed by Lyndie Wright and carved by her and her Little Angel team!
There is the garrulous old lady, the priest who levitates as he pontificates, the little girl and the tiny Blue Boy who runs the clerical errands. When the stage is crowded with puppet people they are mounted in rows on boards, with just enough animation to make the whole crowd come alive even when it seems there is no puppeteer left to make them move. Tiny figures high on a rooftop concentrate attention, crabs crawl ashore in hordes, up walls and into houses, clucking chickens who peck among the angel's wings and learn to walk the tightrope, the little dog, a yapping, tail-wagging, trick- performing friendly favourite and then the frail exhausted angel himself flies in from far off in the distance to arrive shedding feathers and collapsing almost in our laps.
As so often at Little Angel there is a blend of simplicity and complex skills that leaves you concentrating on the characters almost oblivious to those who operate them to provide a joyous hour and a half of entertainment that fittingly adds to the theatre's celebration of its fifty-year existence since that first performance in what had been a derelict temperance hall in November 1961.
This production is a collaboration with Kneehigh Theatre from Cornwall. The writer Annamaria Murphy, director Mike Shepherd and lighting designer Malcolm Rippeth are all from Kneehigh while Sarah Wright from Little Angel is in charge of puppet direction. Musician-composers Ian Ross and Benji Bower add to the atmosphere with their songs and music soundtrack.
"A Very Old Man With Enormous Wings" runs at the Little Angel Theatre until 29th January 2011
Reviewer: Howard Loxton