Old Times
Harold Pinter
Theatre Royal, Bath, and touring
(2007)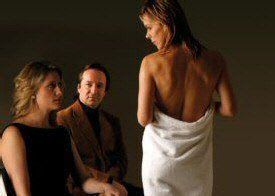 Sir Peter Hall's revival of Old Times beautifully elaborates upon Pinter's assertion that, "What goes on in my plays is realistic, but what I'm doing is not realism". Hall's direction spotlights Pinter's study of the ferocious status games played out in the front rooms and dining rooms of the tinkling middle classes.
Pinter first introduces and then shatters the quiet, coastal, oak-beamed retreat of Kate (Janie Dee) and Deeley (Neil Pearson), a couple in their forties. They are visited by Kate's old friend and flat mate, Anna (Susannah Harker) and the conversation becomes quickly dominated by Deeley's and Anna's battle to prove who should claim to have known Kate best. Not for nothing does Pinter have the conversation turn to recollections of a matinee screening of Odd Man Out. As husband and old friend compete for ownership of Kate, the latter reclines, apparently passive, except for the occasional challenge: "You talk about me as if I am dead".
By the second act, Kate retreats to luxuriate in a bath, leaving her husband and friend to continue to out do each other in an effort to show which one could participate in Kate's ablutions the more erotically. Harker lingers over the image of wrapping Kate in a towel and Pearson dreams of mopping up "globules of moisture" from her body, which he predicts Kate will have failed to dry. The mounting tension between the two is evident; the eroticism of the text drowned out by the hard edges of the couple's subtext.
The cast have clearly benefited from Peter Hall's remarkable ear for the shape and form and rhythm of the text: all three execute a beautiful delivery.
Harker is a guarded, upright figure, perfectly groomed, suited and never letting down her guard. With a pacy, lilting and rhythmic delivery, her speeches take on something of an aria, which are interrupted by Pearson's bombastic verbosity. Pearson plays well Deeley's tendency to control, to dominate and to know everything worth knowing (as with Sicily, where Anna now lives, of which he declares, "There is nothing left to investigate"). When this is undermined by the arrival of Anna, he begins to totter. Kate watches and waits throughout the first act, finally revealing a bitter aggression and an absolute dominance over the other two, which is as unnerving as it is unexpected. Ultimately, Hall has Kate emerge as the one quietly playing the other two. Anna stretches out across the bed, already described as her death bed; hands clasped across her abdomen; corpse-like. Deeley, the ground now pulled from under him, collapses sobbing in his wife's lap.
As with Hall's revival of Waiting for Godot, his cast here fill every pause. Their verbal exchanges are as stylised and as loaded as Pinter intended, but resonate with an uncomfortable, verbal one-up-manship, which is all too recognisable in us all.
"Old Times" runs at the Theatre Royal, Bath, until April 21st then finishes its tour in Malvern from April 23rd.
Pete Wood reviewed this production in Cheltenham and Sheila Connor in Guildford.
We have interviews online (by Sheila Connor) with Janie Dee and Neil Pearson
Reviewer: Allison Vale