Oleanna
David Mamet
Theatre Royal Bath Productions and Jonathan Church Theatre Productions
Theatre Royal Bath Ustinov Studio
–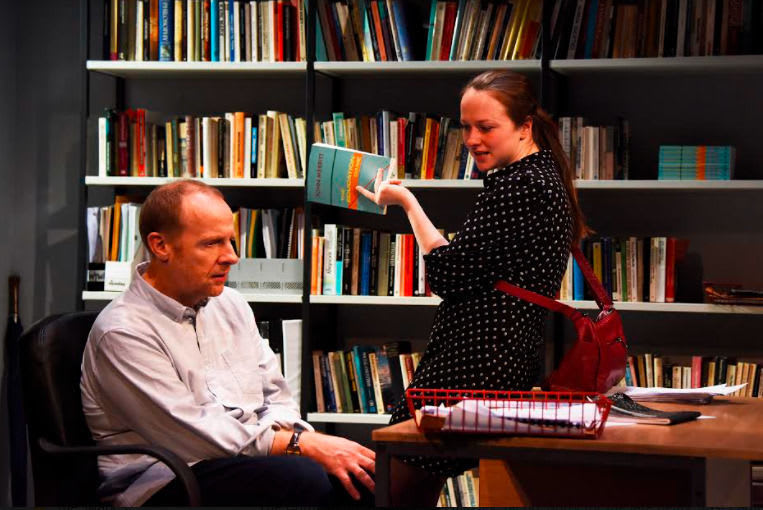 David Mamet's Oleanna may have come a quarter of a century before the #MeToo movement's inception, but this revival could be its most timely and poignant yet.
Mamet's two-hander concerns university professor John (Jonathan Slinger) and student Carol (Rosie Sheehy) as they navigate three meetings of increasing manipulation and battling viewpoints, resulting in an edgy yet gripping drama.
Why so relevant? Well, a survey on 27 American campuses, with 150,072 students responding, found reporting rates for sexual harassment—staff and student—were 7.7%, and only 28% of even the most serious incidents are reported to an organisation or agency.
Analysts believe this is just the tip of the iceberg. In the UK, a 2017 Guardian investigation into 120 universities found that students made at least 169 such allegations against academic and non-academic staff from 2011/12 to 2016/17. Oxford University reported the highest number of allegations.
Mamet was ahead of his time (even if he didn't know it himself)—a feat reflected in the play's controversial reaction when it premièred in 1992. And in Lucy Bailey, a former Oxford student at the helm of this run—which concludes in the West End later this year—it is in terrific hands.
A challenging and uncomfortable watch throughout, the two leads excel in taking us through a high-paced, 90-minute performance. Jonathan Slinger's multi-layered urgency as a professor set for tenure is flawless. The subtleties creep in as his increasingly manipulative nature becomes clearer and more evident.
Sheehy's embodiment of Carol is just that—a physical transformation through each act. A shy note-taker turned astute survivor. The back-and-forth nature never misses a beat. It feels real and palpable.
A smart set design by Alex Eales (which is reminiscent of the dial-up era) might take a few back to the hounding days of meeting one's supervisor at university—but nothing is more hounding than this story. Its build to the finale, which is unsurprising and expected, still manages to succeed in shock value—demonstrated by gasps from the audience.
It is a subject that is becoming a common theme on stage and screen with recent examples including Emerald Fennell's Promising Young Woman and I May Destroy You from Michaela Coel. These stories won't be going away anytime soon—and rightly so.
And like those two pieces of critically acclaimed work, Oleanna asks questions of the audience throughout, and up until a definitive conclusion, leaves plenty of room for ambiguity—something of a Mamet specialism.
Before it lands in the West End, two stops in Southampton and Malvern are made and this is a revival not to miss.
Reviewer: Jacob Newbury