Oleanna
David Mamet
Octagon Theatre, Bolton
(2009)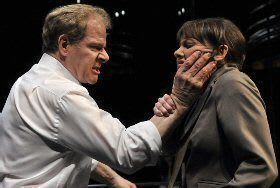 David Mamet's controversial 1992 play about language, power and sexual politics on a US college campus is brought to Bolton by new guest director Iqbal Khan.
This short two-hander begins when confused student Carol comes to her college lecturer John for help on a course that she is in danger of failing. He is distracted by repeated telephone calls about the new house he and his wife are buying on the strength of an announcement that he will be offered tenure by the university, but he offers to spend extra time with Carol to help her to catch up. However his actions and words are given a rather different interpretation when Carol, on the advice of her 'group', brings allegations of sexual assault against John to the tenure committee.
Whilst this play is certainly not without its flaws, as a provocative piece it still works superbly, producing quite a few gasps of disbelief from the audience at certain words and actions of the characters. It can be argued that the two sides are not put across equally, leaving one party open to ridicule for views that could easily be seen to be extreme by the general public, although they were common in academia at the time. However despite the surface arguments about male domination, sexual politics and the value of education, this is a play about language and how words alone can be used to dominate another person.
On Ciaran Bagnall's cage-like set with its 80s black and chrome office furniture, Colin Stinton is a fairly benign but occasionally superior John initially, who becomes more apologetic with flashes of anger later on as the power relationship begins to reverse. Kosha Engler is stronger initially as Carol than the usual shrinking violet that the script suggests, which works reasonably well even if it gives her less of a journey, although in the last scene she looks suddenly much older and more confident.
The language in this play is very difficult – not difficult to understand, despite John's fondness for complex language, but difficult to speak naturally – as the dialogue is some of Mamet's quirkiest, often consisting of half-sentences or even half-words exchanged rapidly between the characters. While this is, to some extent, how people speak in real life, it is hard to learn and even harder to deliver at a rhythm and pace that sounds natural and understandable, and the actors in this production succeed only partly with this. However it is likely that this will improve as the production settles in.
Khan's direction keeps the action as a whole moving at a reasonable pace with a slight lull in the second half, although there are some odd moves at times that look as though an inexperienced director has become a little nervous about the static nature of much of the play, especially on a thrust stage. However this is a small point in a production that puts across the play and its arguments quite competently and still shows itself capable of promoting irritation and debate in an audience seventeen years after its first production.
To 23rd May
Reviewer: David Chadderton