Oleanna
David Mamet
York Theatre Royal Studio
(2010)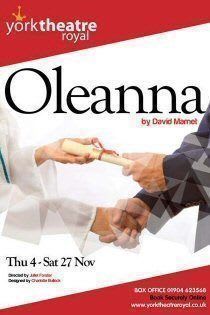 David Mamet's controversial and provocative modern classic Oleanna gets a crisp if flawed new production thanks to York Theatre Royal's Associate Director Juliet Forster.
This tale of power and language thrives on ambiguities, and this production's ability to provoke violently different reactions from audience members is undimmed, despite some attempts in the direction to push the characters almost to extremes. The set, by early-career designer Charlotte Bullock, is unfussy and speaks of the plush sanitisation of modern British universities, with a bookshelf suggesting the vertiginous fear of academic obfuscation embodied in the young student, Carol. Judith Cloke's lighting design is similarly clean and evocative, the blue wash which opens the show mirroring the solid hue of the carpet and suggesting the bland, uniform colour scheme of the institution.
As a two-hander which essentially locks its performers in a room for over two hours, with nothing but a desk and a mouthful of intricately interlinked dialogue between them, Oleanna makes heavy demands on the cast. Kevin McGowan is the first to settle into Mamet's rhythms, and he employs a subtle physicality as his fingers, like those of a pianist, caress each line into place, his voice varying in tone to panic or patronise with perfect pitch. His recent performance as Dorn in The Seagull was similarly compelling, and there is here, too, something almost Chekhovian about his portrayal of the entrancing but overbearing - and finally fraying - middle-aged professor.
Early on, perhaps, the tone feels too strident, too slow: John may be a man taking his time, as he's distracted by endless phone calls and suddenly occurring thoughts, but he should also be excited about the prospect of finding a way through to this student. There is, surely, some truth to his later claim that he "loves teaching", and even if this is taken to mean that the sound of his own voice is his true passion, the initial scene comes over as too languid, too distanced to make complete sense of the steps he then takes towards the student.
Several of these steps - interpreted by Carol as acts of aggression - are quite heavily played and signposted in this first half of the play. A more interesting story, surely, would be that of the well-meaning but arguably misguided professor who is (mis)interpreted by his student but whose moves and intentions are more ambiguous than the story with which we're presented. The play would benefit from a lighter touch (both metaphorically and physically), with John's acts at first dismissed, but later coming back to haunt him.
And Claire-Louise Cordwell's handling of Mamet's particular style is not as assured throughout as McGowan's. Particularly at first, it feels as though she is not acting through to the complete thought which must always be present in the jittering, stop-start dialogue. At times she delivers speeches as fully-formulated units, where they should be faltering and portray the ways in which people in everyday conversation leave thoughts hanging as new ways of expressing themselves spring to mind. As the character grows in strength, however, so does Cordwell: she seems more at home when the momentum is with her character.
Despite the caveats above, Oleanna still retains its ability to provoke discussion and widely differing views. As a distillation of the power struggles and abuses inherent in academic settings, and in the gender divide, it is well worth a watch. This production could perhaps be recommended more to those not yet familiar with the play; others may feel more keenly that some of the subtlety and openness of the original has been sacrificed in the spin that Forster and her team have placed on the text.
Reviewer: Mark Love-Smith