Oliver!
Book, music and lyrics Lionel Bart
Curve Theatre
Curve Theatre, Leicester
–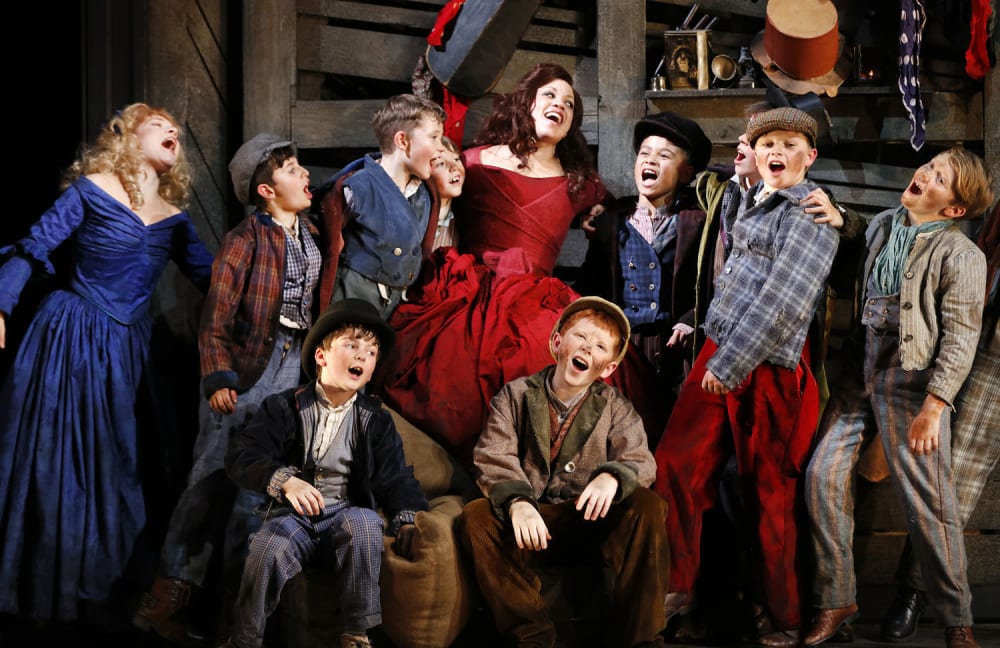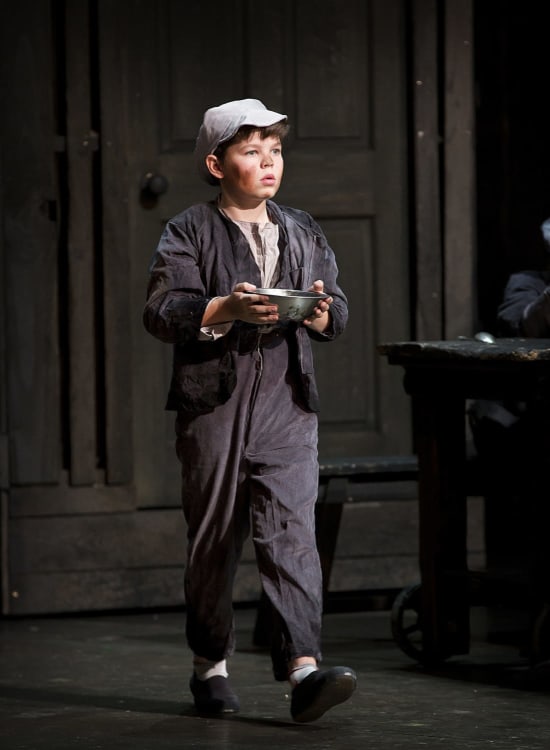 One of Curve's stated ambitions is to revive "classic musicals for all the family over Christmas"; this year's choice is Oliver!
Based on Charles Dickens's novel Oliver Twist, Lionel Bart's Oliver! was an overnight hit following its West End opening in 1960, a triumph on Broadway in 1963 and a six-times winner at the 1968 Academy Awards. This musical is most definitely a classic: a masterful score groaning with iconic songs and provider of career-defining roles for Ron Moody, Shani Wallis and Mark Lester.
Almost a year since he left, Curve's former Artistic Director Paul Kerryson returns to Leicester's landmark theatre to direct the all-important Christmas musical.
A portentous storm lights the stage to reveal the parish workhouse gates and the arrival of a heavily pregnant woman. Eleven years later, still at the workhouse, a ragtag group of boys sing for their gruel supper and our young hero Oliver steps forward to utter the immortal lines "please, sir, I want some more". From then on, Oliver leads us through the cruel side of Victorian England as he escapes the workhouse looking for love, humanity and a home amongst some of Charles Dickens's shadier characters.
Matt Kinley's set opens and shuts like a large-scale dolls' house, revealing workhouse, Fagin's lair and Mr Brownlow's residence to great effect, particularly the 'upstairs' glimpse of the luxurious life of the Brownlows, reflecting Oliver's own brief encounter with this more comfortable world.
Albert Hart is a plucky Oliver, a nice mix of wide-eyed naïveté and courage, and a lovely performance of the tear-jerking "Where is Love?". Kwame Kandekore has fun as the Artful Dodger and Hart and Kandekore, together with the team of local boys as the Workhouse Boys and Fagin's Gang are in danger of stealing the show.
Bart lost none of Dickens's knack for razor-sharp characterisation with his book and score and Mr Bumble's pomposity (James Gant), scheming Widow Corney (Jenna Boyd, wearer of some of theatre's most impressive corsetry) and the macabre Sowerberrys (Jez Unwin and Natalie Moore-Williams) paint a light-hearted gloss over this dark tale of social injustice and why crime doesn't pay.
A strong threesome of Fagin, Nancy and Bill Sikes are needed for this musical to shine and in this case, two out of three ain't bad. The diminutive Cat Simmons gives tragic Nancy all the edges: conflicted between her love for the abusive Sikes and her desire for Oliver to escape the underworld, as well as a stunning performance of "As Long As He Needs Me".
Peter Polycarpou plays Fagin for laughs with many shades of Ron Moody evident, and in danger of picking the prize for show-stealer out of Oliver and the boys' pockets.
Oliver Boot is a somewhat self-contained and well-coiffured Bill Sikes; as his first appearance is late in act one, Bart gives little time for an actor to establish character and immediate impact is thus required. Unfortunately, more is needed here to incite the audience's wrath, leaving bulldog Sikes needing more bite.
At times, some of the ensemble numbers seem a little frenetic and overly busy, but with rousing renditions of "Consider Yourself", "Oom-Pah-Pah" and "Who Will Buy?", no harm is done.
So, what can a 2015 audience expect from this production? No real surprises, but this is a great British musical done well and, with its focus on getting the most out of the lighter moments, that fulfils Curve's ambition to produce a classic musical for all the family.
Reviewer: Sally Jack