Oliver!
Lionel Bart, based on Oliver Twist by Charles Dickens
Cameron Mackintosh, Southbrook Group and Stage Entertainments UK
Palace Theatre, Manchester
–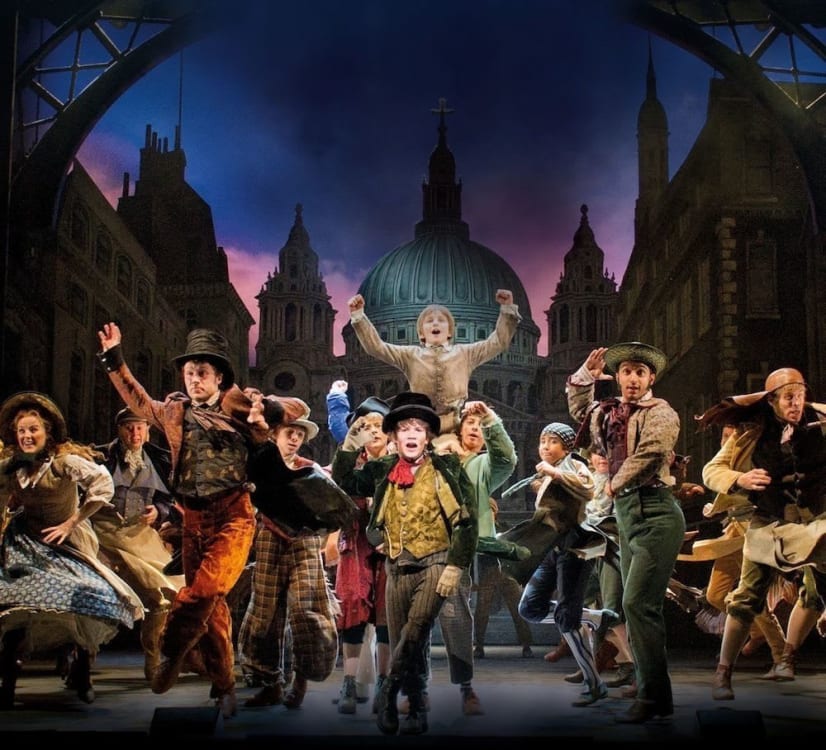 The tour of Lionel Bart's only major hit in musical theatre—although he had many in the pop charts—has arrived in Manchester, starring Men Behaving Badly's Neil Morrissey as Fagin and Samantha Barks as Nancy, who won third place in the I'd Do Anything TV casting show for this production and has just been cast as Eponine in the film version of Les Miserables.
Bart's take on Dickens's great novel has its darker moments but does not dwell too much on the extreme poverty, violence and exploitation or the political message at the heart of the original story, largely turning it into a jolly cockney knees-up full of loveable rogues. Bart famously could not read or write music and wrote the score by humming melodies to composer Eric Rogers, but this has produced several catchy tunes. At their best, his lyrics are amusing if not especially sophisticated, but they are often banal with some obvious rhymes.
Cameron Mackintosh's revival, backed with the publicity of a TV series to cast one of the leads, appears to have spared little expense on the tour, with a spectacular set from designers Totie Driver and Adrian Vaux and costumes from Anthony Ward beautifully lit by Paule Constable and a sound design from Paul Groothuis that succeeds in balancing a huge number of mics with the orchestra for a clear overall sound. The evolving set of the street scenes where buildings slide past to continually change location is extremely effective.
Laurence Connor's direction is slick and Matthew Bourne's choreography lively and impressive to create some wonderful stage pictures. However there is a tendency in this production to spell everything out rather than trust the audience to listen to the words (which at times also over-explain the obvious). So when a song mentions something, it is illustrated by an elaborate gesture like a song in infant school or even a full scene in dumb-show to make sure the audience gets it. When Morrissey slips in the Bob the Builder reference, we could be said to have stepped over the dividing line with pantomime.
Morrissey is fine as Fagin but could relax a bit more into the humour of some of his songs, such as the great comic monologue "Reviewing the Situation". Iain Fletcher's Bill Sykes again is fine, but somehow his menace doesn't quite ring true—but then he does have to contend with the worst song in the show, "My Name". Samantha Barks lived with the part of Nancy for months for the TV casting show and she shows herself to be more than a worthy finalist with a hearfelt performance and a huge belt of a voice, especially on the show's big hit "As Long As He Needs Me".
As Mr Sowerbury, David Langham seems to have stolen the spindly legs and the hairstyle of Richard O'Brien, which looks perfect for the role. Stephen Moore gives a very warm performance as Mr Brownlow. At the reviewed performance, Harry Polden played Oliver with a crystal-clear voice—although I've never understood the tradition of casting a character who has lived for all of his eleven years in a workhouse with an actor who sounds as though he was educated at a minor public school—and Max Greisbach is a very lively Artful Dodger, but he was perhaps pushing a little too hard for press night and so fell over a few of his words.
Oliver! is what it is: a popular family show with lots of kids in it loosely based on Dickens with some catchy songs that you'll come out humming. It was never a masterpiece, but this production has thrown everything at making it into a spectacular family show, even if it has been cheapened a bit by some unneccessary "dumbing down".
Reviewer: David Chadderton