Oliver Reed: Wild Thing
Mike Davis and Rob Crouch
Arrow Media, Skullduggery and Seabright Productions
St James Theatre Studio
–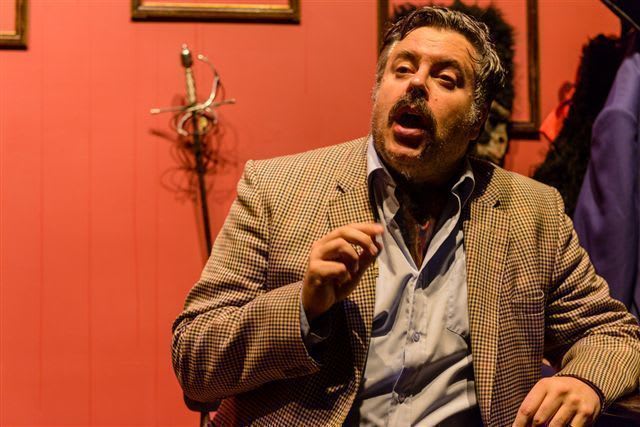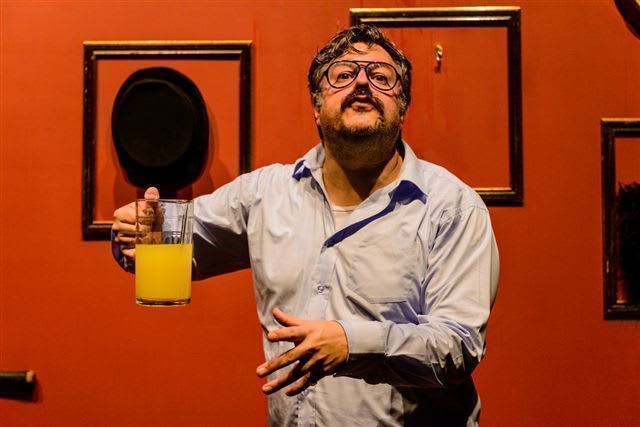 What should one call this 70-minute solo performance? It is not really a play for it has no antagonist. This character is not even trying to battle with himself.
In format he is a pub raconteur telling his own tale, a tale that is someone else's construct but tries to present the real facts. It is certainly not an imitation. Performer Rob Crouch is an actor, not an impressionist. The best I can come up with is to call it a ghosted autobiography that wasn't authorised but does have family approval, at least from Reed's son.
That suggests that writers Davis and Crouch and Crouch's performance have got it right, but have they made an effective piece of theatre? Unequivocally, "Yes!"
With a setting designed more to provide easy access to the props, costumes, bottles of beer and whisky and jugs of gin and orange for which Reed is ever reaching, there is little to suggest the bar in Malta where this encounter is supposed to be taking place during the filming of Gladiator, with Reed looking back over his life in his last hours, though he doesn't know it.
But this isn't real life, it is an artificial situation. Reed isn't spilling out his memories to mates, he is performing. This isn't a man in his cups, as it may seem, but an actor in brilliant control—just as Reed himself probably was, however drunk, when behaving outrageously on television chat shows.
The script and Bob Crouch's talent carry you with him as this grandson of Beerbohm Tree and nephew of Carol Reed takes you from dunce-cap school days into movies, from Hammer Horrors to nude wrestling with Alan Bates for Ken Russell and films for the young Michael Winner to a life of hell-raising and a country mansion.
Crouch delivers a reed whose openness and energy are attractively involving, though enjoyment is not without a little apprehension, for his listeners are not immune to involvement or a soaking as he needs some help in re-enactment or wildly waves a glass.
Its bold, testosterone-charged bravura has lacunae through which to glimpse a vulnerability that shows a man who knew himself perhaps better than most. If only all drunks' loquaciousness were as entertaining as this of Ollie's is.
Reviewer: Howard Loxton