Oliver Twist
Charles Dickens, adapted by Vincent Regan
East Riding Theatre Company
East Riding Theatre
–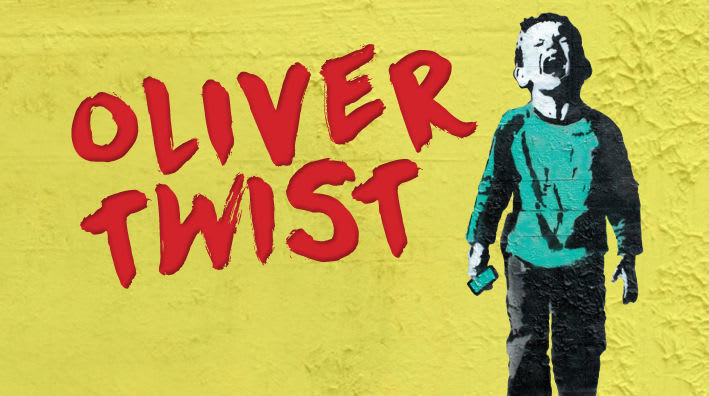 Following the sell-out success of East Riding Theatre's inaugural production of A Christmas Carol last year, the same adaptor (the Theatre's founder Artistic Director Vincent Regan) and director (Mike Friend) have teamed up once more for another Dickens classic, the more complex Oliver Twist. A cast of 17, a live band and an extraordinarily original interpretation characterise this production.
The problem with many Dickens adaptations is that they're a bit too cosy and rather like one of those Christmas card illustrations where cheerful, red-faced carol singers regale equally cheerful parishioners with 'wassailing' and other middle-English nonsense. Recent TV adaptations of Oliver Twist have been a good deal harder-hitting than the saccharine schmaltz of Lionel Bart's musical and ERT's new production pulls no punches either.
A taut, physically disciplined ensemble plunges us initially into a Polish refugee centre where the ailing mother (Kate Huntsman) gives birth to Oliver (a vulnerable but not sentimental Alfie Fox) before dying. It's a cruel pastiche of the nativity: a child is born in poverty but there's no love, no hope, no expectations, only the death of a mother and choosing a name of alphabetical convenience.
This is an adaptation which is not content to rest simply in one time zone. Oliver is a child of the past and the present, surviving in a world of mobile 'phones as well as workhouses. Victorian England isn't too far away, as Fagin's humming of 'good ol' favourite ballads suggests, but there is a vicious modernity to this production too.
This is a universal and timeless version of the story, where Oliver is at once a workhouse kid and a refugee, gleefully exploited by his captors. The Artful Dodger is no happy, cheeky chappy. He's a cunning young adult, masterfully played by David Tute.
There are other stand-out performances too. As the cadaverous old miser, Fagin, Clive Kneller is anything but a 'merry gentleman'. His sinewy, fleet-of-foot performance may initially suggest an elderly friend, but this gives way easily to a knife-wielding, bullying swindler who would sell his friends in a heartbeat.
Gabriel Winter lifts Bill Sykes out of stereotype and into a world of calculating, menacing terror. His fate may be inevitable but it is no less shocking for all that. And there is an incredibly touching performance from Annie Kirkman as the doomed Nancy. There is a world weariness about her as if she has always known what will befall her and tries to do a little good before it happens.
But great credit should go to all involved—both the professionals and the community players for creating an image of the world that charms and terrifies in equal measure. It's not an easy watch, but it's a creative reminder that the Christmas spirit is often shadowed by darker portents. Human kindness may win out in the end, but the journey to it is tragic.
Original music is provided by Sam Pirt; personally, I would have preferred to have left all of the music to him and his band. The occasional use of recorded music sometimes jars with the authentic and 'rough' feel of the world of the play. I'd also minimise the use of the "Knees Up Mother Brown" type music at the curtain call. I'd just seen child abduction, a woman bludgeoned to death and a man hung from the rafters. Sorry guys, but I was in no mood for a 'sing-song'.
Finally, tribute must be paid to Ed Ullyart, whose set is one of the most striking features of this fine production. The world of Oliver Twist is a nightmare labyrinth of hidey holes and platforms, of steps and catwalks where Parish officials bellow at small boys from great heights and where criminals spring out from one another at a moment's notice. It's a perfect backdrop to a story of intrigue, secrets and betrayal.
Reviewer: Richard Vergette