Oliver Twist
Adapted by Bryony Lavery from the novel by Charles Dickens
Ramps On The Moon/Leeds Playhouse
–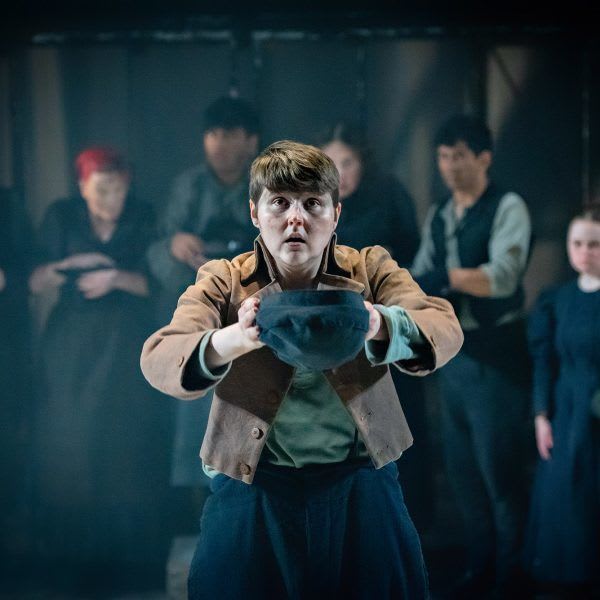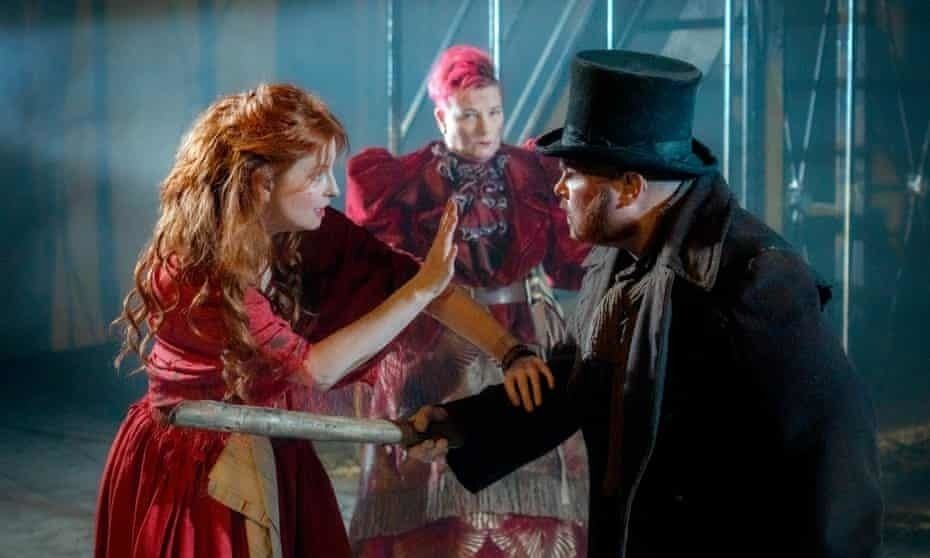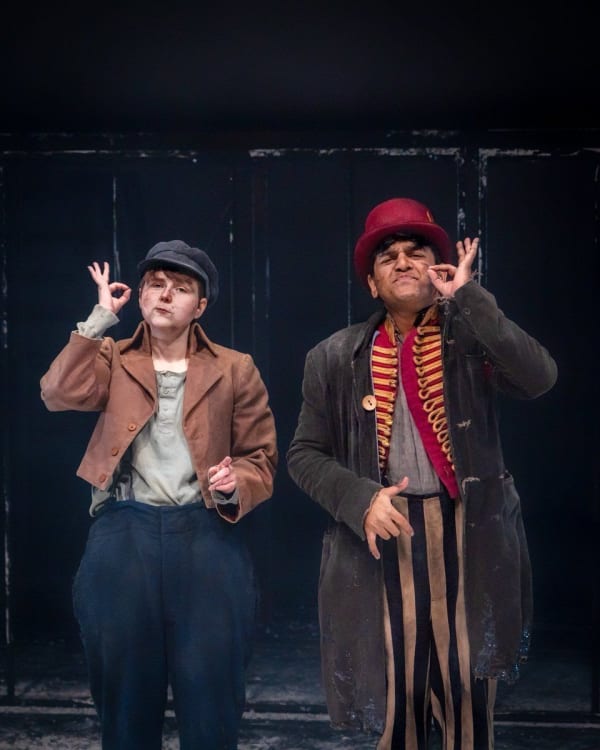 There have been many adaptations and productions of Dickens most famous of novels, but this could well be one of the best. A bold, original retelling by writer Bryony Lavery turns the story around to focus on the deaf community and Ramps On The Moon has grabbed it by the scruff of the neck to produce a performance of visceral rawness yet at the same time filling it with tenderness and heart.
Ramps on the Moon is a collaboration of theatres whose intent is to put on productions that put deaf and disabled artists at the centre. This production was due to tour in 2020 but was cut short by COVID. So this is a filmed version that is the next best thing to seeing it live.
Lavery has gone back to the essence of the novel and distilled from it the themes Dickens was so graphically highlighting and are still with us to this day: the desperation of poverty, the cruelty of marginalisation and the exploitation of the vulnerable, coupled with the basic humanity in us of all that makes us strive to rise above our circumstances and the compassion that drives others to help overcome impossible odds.
And to illustrate this, the production has decided to focus mainly on the struggles of the deaf community to be understood and accepted, so the main protagonists and the actors playing them—Oliver, his mother Agnes and her sister Rose Brownlow, The Artful Dodger, Bill Sykes and Fagin as well as other minor characters—all share this particular condition.
The production addresses this possible barrier to communication with audio and descripted titles as well as BSL signing on stage, but, unlike some past productions, all of the actors apart from Oliver do have an audible voice as well, making it accessible for hearing audiences too.
On a bare stage dominated by scaffolding and a pair of prison-like gates, the production starts with the Chorus setting the scene where Oliver's young mother, desperate and alone, comes to give birth at the workhouse. The child is made an orphan within moments of his birth and is then taken in to the baby nursery by the Beadle of the parish, who intends working him once he is old enough.
Oliver is deaf, so struggles from the beginning and is cruelly treated by those who should be his guardians. Sensitively and superbly played by Brooklyn Melvin with a vulnerability that tears at the heartstrings, when he is set up by the other workhouse kids to ask for more gruel, you can almost feel the desperation.
As a consequence of his actions, he is farmed out by Mr Bumble to an undertaker and his family who treat him equally brutally. In his despair, the spirit of Oliver's mother revisits him and helps him escape, but once in London, he is preyed upon by a pickpocketing gang run by Fagin, in this production played by Caroline Parker in a neat twist that really works. As a woman, her brutality and exploitation of the children in her care seems even more disturbing.
Exploited, injured and abused, Oliver is finally rescued through the compassion of Nancy,a tender portrayal by Clare-Louise English, who gives her own life to save his. Her scenes with Bill Sykes, played with brutish indifference by Stephen Collins, are almost too hard to watch, and she is well matched with Rebekah Hills playing the manipulative 'tart in training' Luna who finally betrays her.
All the actors play the Chorus that moves the piece along as well as set the scenes for us. Many of them also play multiple characters.
The scenes are fluid, moving us seamlessly from location to location, making the best use of the staging and well directed by Amy Leach.
The costumes reflect each character's personality but are rooted in Dickens's Victorian England—the lighting by Joe Fletcher and the soaring soundscape by composer Oliver Vibrans and designer John Biddle also adding to the oppressive feel of gloomy, foggy London streets and dark, dank underpasses.
But this is not a gloomy production in itself; it is full of life and vitality and there are plenty of humorous moments to lighten the story. There is also superb use of puppets to portray young Oliver and Sykes's dog Bullseye.
It's hard not to name check all the cast as they are all superb, but special mention must go to Amy Conachan as a very convincing and amusing Mrs Thingummy / Bumble, Benjamin Wilson as Mr Bumble himself and Nadeem Islam whose Artful Dodger is a delight.
This production is suitable for 8+ years and I would urge you to buy a ticket, get the family round the laptop and stream it for yourself. It's streamed via The Leeds Playhouse web site . A ticket allows you to see it as many times as you like in 48 hours—so it's great value for money and as its probably the best thing I've seen so far this year, I would urge you—don't miss it.
Reviewer: Suzanne Hawkes