Oliver!
Lionel Bart
Watermill Theatre Company
Watermill Theatre Newbury
–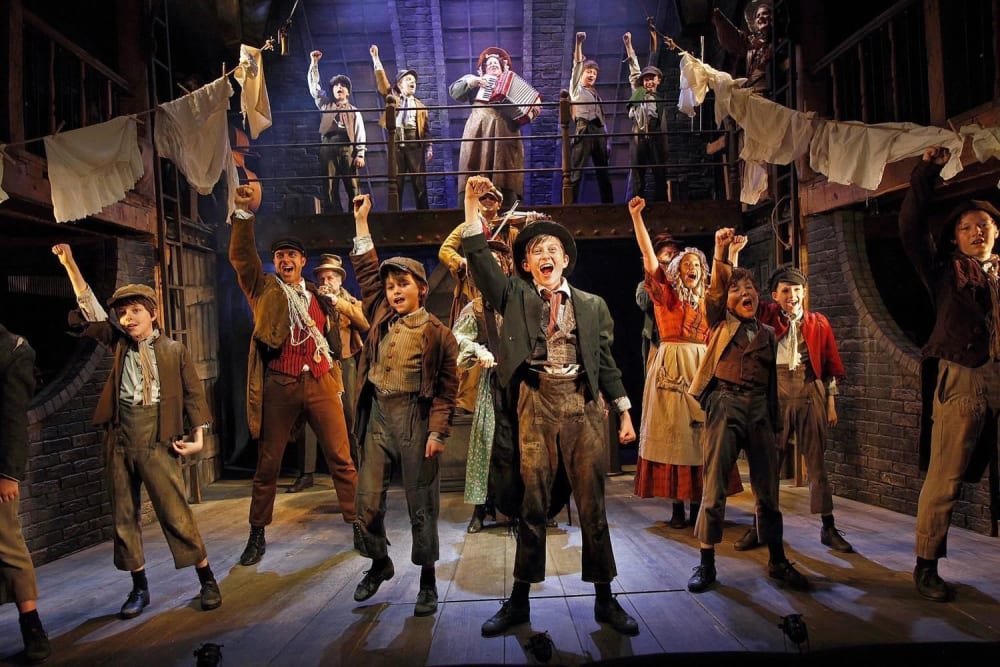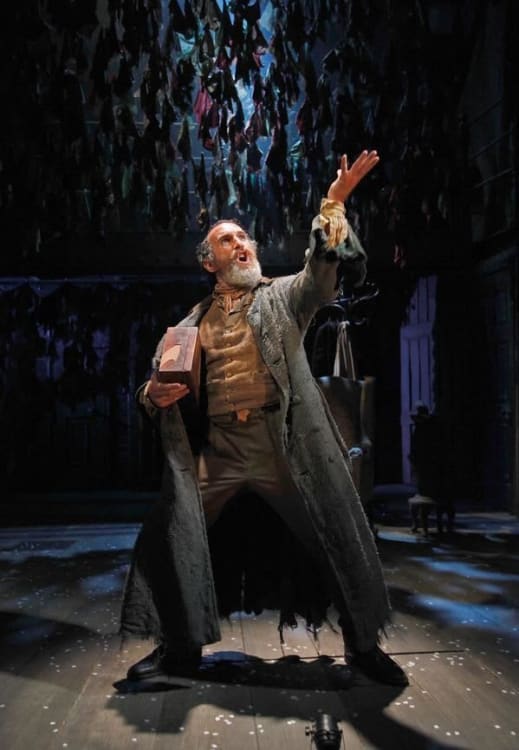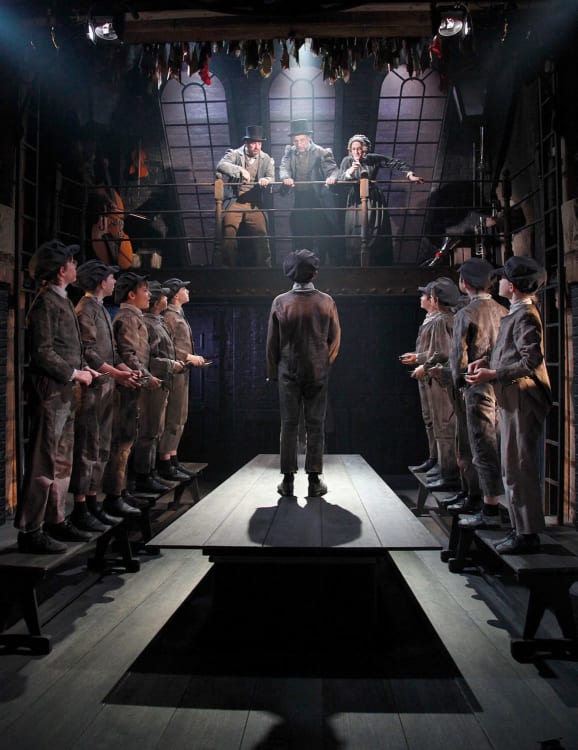 The Watermill Theatre lovingly brings Lionel Bart's Oliver! to the stage in this exuberant and splendid production.
It is a refreshing, sparkling revival that uses their trademark style of actor-musicians whose talent oozes as they play a huge variety of instruments from strings, brass, key boards and accordion in a newly-arranged, vibrant score by Paul Herbert.
This classic story of the poor and destitute of Dickensian London begins in the foyer with the urchins polishing the staircase and begging.
Tom Rogers's inventive, split–level set perfectly captures the workhouse, a funeral parlour, Fagin's den and the streets of Victorian London that is imaginatively lit by Howard Hudson.
The large cast of professionals are joined by a group of 11 enthusiastic youngsters—one of three groups—from the local community. From the moment they enter the auditorium carrying their workhouse tables for the opening song "Food Glorious Food", you know that this is going to be the perfect recipe for a superb evening's entertainment.
On the evening I saw the performance, Thomas Kerry played the plaintive orphan Oliver with just the right touch of pathos and sang sweetly as he demands, "Please sir I want some more."
Archie Fisher is a lively, devious Artful Dodger with a cheeky smile who certainly lives up to his name as he takes Oliver under his wing.
There is a palpable chemistry between the actors and the young cast of urchins who are expertly drilled with strong ensemble work and nifty, stylish choreography by Tim Jackson.
The adult cast are first-rate with much seamless doubling of characters. Graham Lappin is a bombastic Beadle Bumble who eventually succumbs to marrying the Widow Corney (Susannah van den Berg).
Oliver is sold to the Sowerberries played by Tomm Coles and Rhona McGregor who put him to work as a coffin follower for children in their funeral parlour. One of the strands in this musical is the search for love that is poignantly brought to the stage with Oliver singing "Where Is Love".
Apprentice Noah Claypole (Joey Hickman) takes an instant dislike towards Oliver, taunting him about his mother, that ends in a fight, much to Charlotte, (Deborah Hewitt) the maid's, horror.
Having run away, Oliver ends up in London where he meets the Artful Dodger celebrated in the glorious song "Consider Yourself".
He is introduced to Fagin, an excellent performance by Cameron Blakely who certainly makes it his own interpretation of the character which is spot on with appropriate nuances.
"You've Got To Pick a Pocket or Two" sung by Fagin and his gang is a perfect lesson in pick-pocketing with an impressive backdrop of handkerchiefs and his memorable "Reviewing the Situation" is a triumph.
Alice Fearn is a delightful Nancy torn between protecting her man, the violent fearful criminal Bill Sykes (Kit Orton), and looking after young Oliver.
Her powerful rendition of "As Long As He Needs Me" has all the plaintiveness of a woman torn apart. She is supported by her companion, Bet (Rachel Dawson).
Steve Watts sensitively plays Mr Brownlow who discovers that Oliver is in fact his grandson.
Directed with panache by Luke Sheppard, this is a glorious production that left me "wanting more please." Hopefully it may even have a London transfer but do see it in the atmospheric Watermill Theatre in Newbury if you can manage to buy a ticket.
Reviewer: Robin Strapp