Omeros
Derek Walcott
Shakespeare's Globe and the Lakeside Theatre
Sam Wanamaker Playhouse, Shakespeare's Globe
–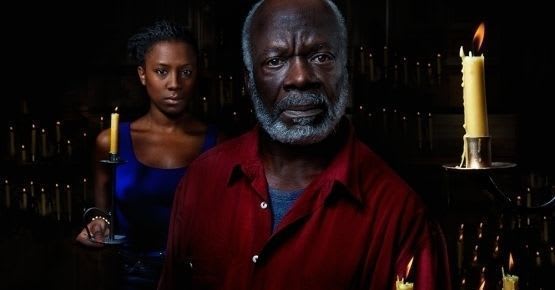 A stage adaptation of Derek Walcott's epic poem, made by the Nobel Literature Laureate himself, this play is inspired by Homer's great Greek and Trojan saga but not a retelling of it.
It is an entirely original work that presents a village community on Walcott's native St Lucia. It does not attempt to put the world-ranging spread of the whole poem on stage but concentrates on the fishermen and others of a fishing village where this poet's Hector and Achille are fishermen rivals for his beautiful Helen.
They are not lordly warriors and she's no ruler's wife but housemaid to retired British Army Sergeant Major Denis Plunkett and his wife Maud. This Helen's beauty may not launch a thousand ships but she turns heads and her lovers compete for her attentions.
Achille(s) and Hector are, of course, named for the Greek and Trojan heroes. There is also Philoctete, who, like his classical namesake, has a festering wound, although this one is compassionately cured by a wise woman at the No Pain Café who knows an old African remedy.
There is a blind man too, a reminder of Homer himself: he is known as Seven Seas (like the cod-liver oil) but, despite the classical resonances, he is not about the conquest of kingdoms. There are no children sacrificed, no city destroyed, no queens and princesses taken off to slavery, though Achille's father was a slave and Philoctete thinks his wound "came from the chained ankles of his grandfathers". African origins and the memory of slavery are part of these people.
That doesn't mean that there is no conflict; early in the telling, the story is recounted of the chopping down of old gods and the coming of cruciform-signing Christianity, but the present-day contest that sees Hector raising his cutlass and chasing after Achille is all about Helen. This beauty may dally with both and not know by whom she is pregnant but she must choose between them and her behaviour makes the storyteller question whether this is a black maid or blackmail.
Walcott's script makes the domestic and local seem epic as he presents a place populated by characters full of Caribbean colour. Its dramatized telling switches from observer's narrative to sharply characterised acting out, fluidly moving between them and always engaging the audience in the way director Bill Buckhurst has staged it so that even snatches of "Amazing Grace" and a song from the Beatles fit naturally into this evocation of the past and the present of a sometimes vibrant, sometimes relaxed seashore society, imbued with a sense of history, a world described through wonderful images like the canoes carved from logs that "begin to forget they were trees".
Walcott is a fine wordsmith, his language and the way that he shapes it a delight and it is beautifully spoken by Joseph Marcell and Jade Anouka whose playing savours its flavours. They share the story-telling and become all the characters.
Musician Tayo Akinbode, playing a variety of instruments, provides subtle support and additional atmosphere, a major contribution to making this production magical. Framed by the warm candle glow and gold-flecked screen off the Wanamaker Playhouse (at a few times a little discrete additional lighting) they together bring Walcott's St Lucia village and its people to life with humour and compassion.
The pared-down staging within the richness of the Wanamaker places great emphasis on every gesture. A hat or a scarf tied round the head becomes significant but this is combined with full-blooded acting, whether playing stumbling drunk or teasing coquette, but given a truth that is very moving, especially in the way Jade Anouka becomes aging white wife Maude and Joseph Marcell the mourning ex-NCO who has to deal with her death.
There are only two more performances of this production on June 7 and 9. If you get the chance, see it. I hope that the Globe with schedule more.
Reviewer: Howard Loxton