On a Clear Day You Can See Forever
Music by Burton Lane, book and lyrics by Alan Jay Lerner
Union Theatre
–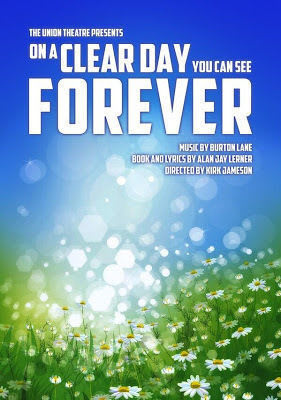 Daisy Gamble thinks she's a freak. She knows there is a 'phone call just before it rings, can read your thoughts and tell you just what and where that thing is that you lost. She can make flowers grow by singing to them so that they "charge out of the pot as if the police were after them".
When she goes with a friend to a college lecture by psychiatrist Mark Bruckner that demonstrates the use of hypnosis, she falls under his control at the same time as the official student subject.
Dr Bruckner sees her as an ideal subject for a research experiment, especially when he discovers her degree of extra-sensory perception. She sees him as a way of losing her nicotine addiction. If he will stop her smoking she agrees to cooperate and, as he regresses her to childhood to deal with that, he finds himself in contact not just with Daisy Gamble but with a Melinda Wells, an apparent former incarnation.
This musical, first staged on Broadway in 1965, has had a number of rewrites (the most recent changed the female lead into a gay male florist) but director Kirk Jameson has gone back to the original version or something very close to it, for one character has been cut and his number given to the ensemble. It remains a not altogether satisfactory script with a somewhat truncated ending, but this production has a refreshing vitality that carries it along from a harmonised offstage opening chorus of the title song right through to its final recapitulation at the close.
It is very simply mounted. There is just a single armchair and a chaise longue against a broadly striped wall with a window opening, but it is interestingly lit by Charlie Morgan Jones. The musical arrangement is lightly scored and delightfully played on reeds and drums with musical director Inga Davis-Rutter at the keyboard. It allows voices to be heard with clarity and it is well sung, especially by the excellent leads.
Vicki Lee Taylor is a charming Daisy. She gives her a pert innocence that reminded me of Doris Day, and a spirit like that of Debbie Reynolds, but her very individual personality lights up the show.
Nadeem Crowe is an excellent partner as Dr Bruckner. His assistant Mrs Hatch (Rachel Spurrel) may describe him as a nut, and a hard one to crack, but his warm voice (which can even sound final consonants in American lyrics) and his identification with the character give the show a firm centre.
This is a musical as much about the ambivalence and economics of romance as about reincarnation as Mark's strange infatuation is set against eighteenth century marriage settlements and attitudes to male infidelity and the bourgeois attitudes of Daisy's fiancé Warren, who longs for the security of the company man. "Wait Till We're Sixty-Five", Warren's paean to company support, should make you proud that UK has the NHS and a welfare state!
With Matt Beveridge suitably obnoxious as Melinda's painter husband, David McKechnie as a fellow shrink and slyly witty in the "Solicitor's Song" with Dan O'Brien's Mr Wells and Felix Mosse's Solicitor carving out a marriage contract and Emma Harrold a sparky centre to Sam Spencer-Lane's choreography, the whole company contributes to the show's success.
Kirk Jameson's inventive production has pulled off a difficult task—but it is Vicki Lee Taylor and Nadeem Crowe's night.
Reviewer: Howard Loxton