On Blueberry Hill
Sebastian Barry
Fishamble: The New Play Company
Trafalgar Studios (Studio One)
–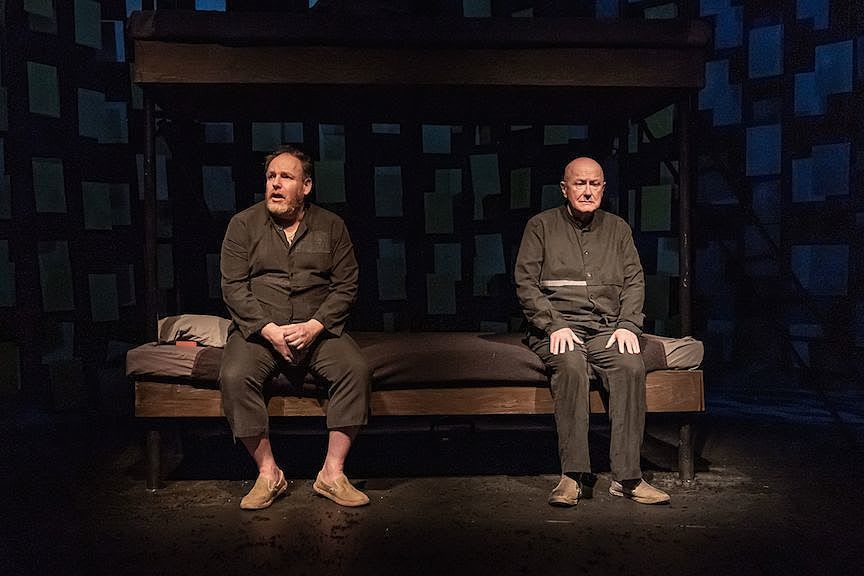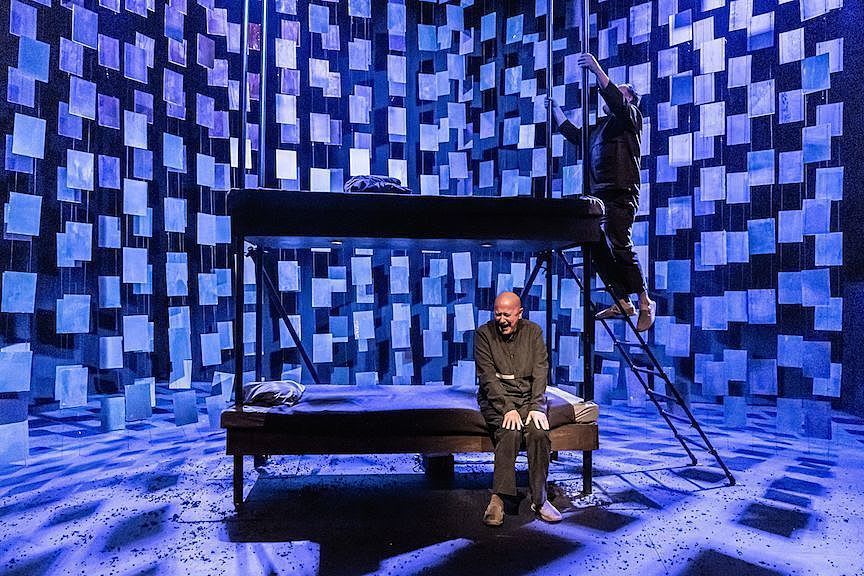 The sound of Fats Domino singing "I found my thrill / On Blueberry Hill / When I found you" starts this latest play by Sebastian Barry (Irish Fiction Laureate 2019-21), his first to reach the West End, which premièred in Dublin in 2017. That's the way that convict Christy thinks about his beautiful wife "so pretty she was walking in her own bleeding light," but it could also refer to his younger cellmate PJ with whom he has been locked up for twenty years.
They present their stories in alternating monologues. Could there be anything more unnatural than that: blokes spouting their secrets and feelings to a theatre full of strangers? The unreality is underlined by Sabine Dargent's abstract setting: hanging strings of yellowing paper as a backing to the bunks of their cell in Dublin's Mountjoy Prison. Their chain-of-consciousness sharing, things told rather than shown, might seem more appropriate to a novel but this production has two excellent actors, Niall Buggy as Christy and David Ganly as PJ, and that makes all the difference. Despite the lack of physical action, they do generate a sense of drama and, instead of speaking to each other, each seems to be in a separate dialogue with the audience.
PJ begins by remembering his comfortable childhood, his dad on a Civil Service pension, though he died when PJ was only nine, his widowed mother having a horse and trap and he free to climb trees ("you never heard of a boy falling"), growing up in the old certainties: "we hated the English!"
Christie came from a poorer family. He was seven when his tinker dad died aged only 26. As a kid, he sometimes worked as a golf caddy. Coming home with a ten-shilling tip one golfer gave him, his mum thought he must have stolen it.
PJ trained for the priesthood. It was as a seminarian he met a slim young man "shining with beauty," so lovely he looked like a marble statue. Together they went to the Isle of Arran where something happened to change his life for ever, something he has been trying to understand ever since.
Christie paints a picture of the wife he met at 17 in a dance hall and of his happy family.
This is poetic writing that conjures up images of landscape and people and, as it slowly unfolds, you discover that both men have committed murder and there is something that links them. It is a contrived piece of plotting and perhaps predictable, but, as more is gently revealed under Jim Culleton's direction, you are caught up in these men's lives, soul-searching PJ and the more pragmatic Christie with his quirky sense of humour.
These should be antagonists but they have bonded and, when the possibility of PJ's parole comes up, the situation becomes even more poignant.
Playing for over 90 minutes without a break, this is strong theatre with performances that truly deserve the standing ovation they got on press night.
Reviewer: Howard Loxton