On Golden Pond
Ernest Thompson
Middle Ground Theatre Company
Yvonne Arnaud Theatre, Guildford (tour)
–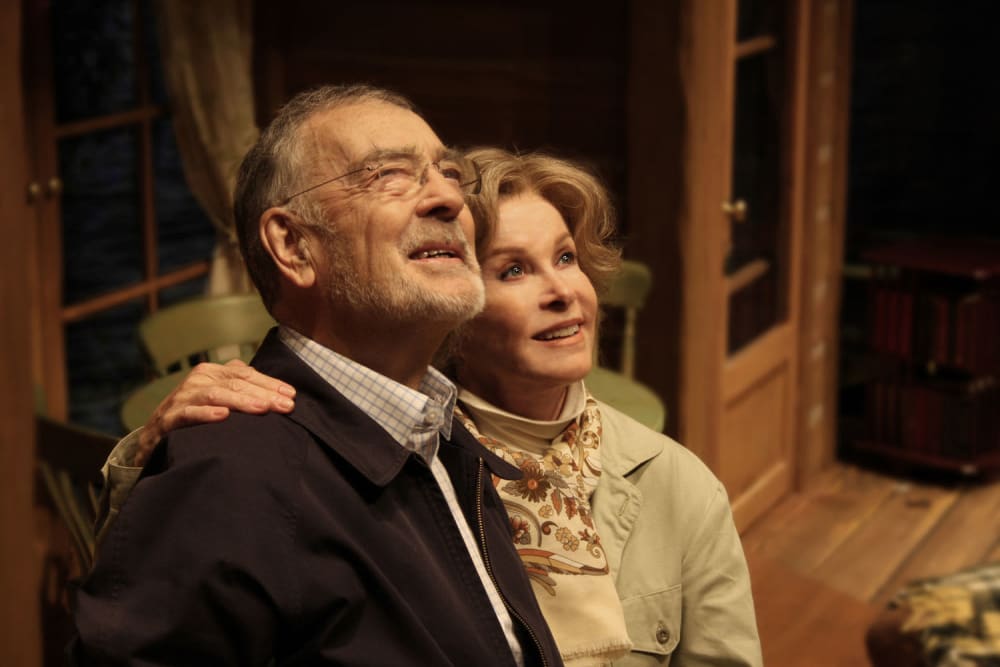 For a play in which nothing really happens, On Golden Pond has had a remarkable life reaching areas of sympathy and understanding that we didn't even know we had. First produced in 1978, its reputation spread by word of mouth, and the play won Broadway Drama Guild's 'Play of the Year' award before spreading around the theatres in America. The subsequent film also won Oscars for its stars Jane Fonda, her father Henry, and Katherine Hepburn, and continues to entertain us to this day.
Basically it is the story of an elderly loving couple returning to the rustic cabin on Golden Pond in Maine where they have spent their summers for the last forty eight years. Daughter Chelsea (Elizabeth Carling), whom they haven't seen for years, arrives for her father's eightieth birthday complete with boyfriend (Tom Roberts) and his son Billy (Graeme Dalling). On their way to a holiday in Europe the young couple leave the boy for the two weeks they will be away, and It is the relationship which develops between him and the old man which is the core of the story—a relationship which Chelsea always wanted.
Written when he was only twenty-eight, and displaying a remarkable understanding and affection, Thompson states that the couple in the play are not his parents, but they could be, as they could also be any of us at that time in our lives, and he has written, with affection and perception, a very funny gentle comedy in which the humour is in the dialogue but relies very heavily on the interpretation by the actors.
No problem with that in Michael Lunney's perfectly cast production which draws in the audience from the very beginning with its total realism and involvement.
The best dialogue is in the hands of Richard Johnson as eighty-year-old Norman Thayer Junior, and he makes full use of every word in a throwaway, understated manner as the irascible old man with his often sarcastic remarks guaranteed, and intended, to wind people up. Every movement, every gesture and every expression are those of an old man facing the challenges of the aging process with as much equanimity as he can manage. He can't read the number on the telephone and worryingly loses his way on a road he has known for years, yet he never loses his dry sense of humour.
Billy becomes the son he never had. He takes him fishing, gets him reading books and, in his turn, learns a whole new vocabulary—including the word 'bullshit'.
In Act Two, the failed relationship between father and daughter is brought to the fore and a reconciliation takes place which just manages to avoid becoming over-sentimental, and probably none too soon as there is an incident towards the end as the couple are packing up to leave for the winter which makes us think this may be their last time here—a reminder of the transience of life.
Hollywood film and television star Stephanie Powers holds everything together in an excellent interpretation of beaming, motherly wife Ethel, full of bonhomie towards all, happy to watch the loons on the lake, talk to her old doll and remember times past. Beautiful music and evocative sound effects help set the scene and, performed by this excellent company, the play has lost none of its beauty and its charm.
Touring to Worthing, Eastbourne, Lichfield and Plymouth.
Reviewer: Sheila Connor