On the Outskirts of a Large Event
Joe W
The Bare Project
The Studio, York Theatre Royal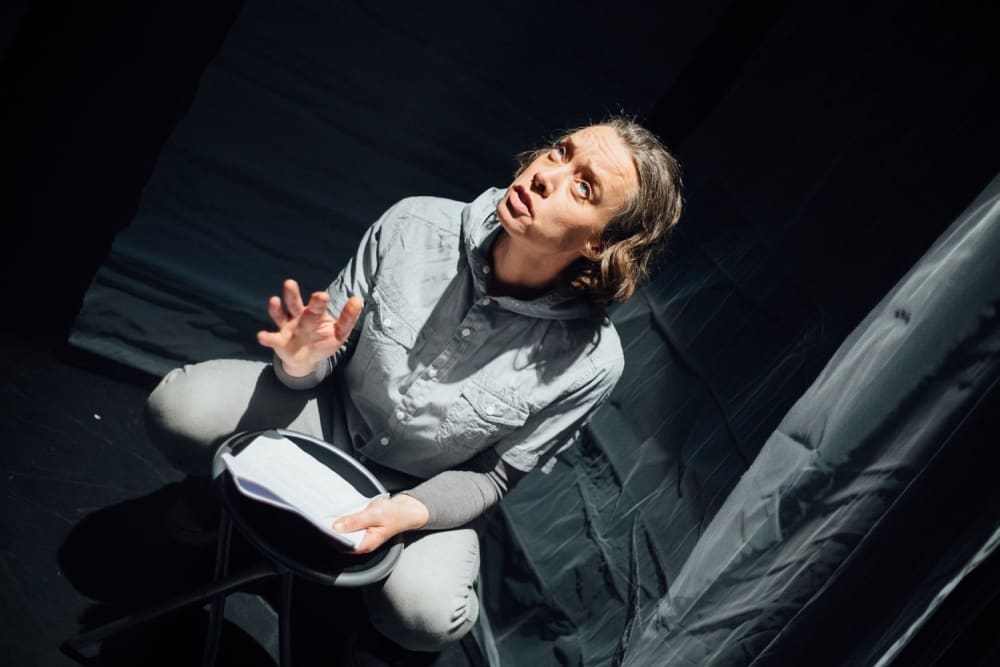 The Bare Project describe themselves as a company interested in "magic realist and experimental theatre", with a visually poetic nature. They aspire to an interrogation of some pressing questions and contemporary anxieties, but on the evidence of this slim show they have so far struggled to find a really engaging theatrical form for their thoughts.
The piece takes the form of a memory play of sorts, building from the mysterious opening image of Nicola Blackwell lying prone on a mound of sand in the middle of a set of simple gauze drapes. She—or he; we learn that the character is male—comes round to find Rose Gray standing over her, a perky and awed interlocutor. Clearly Gray recognises Blackwell as some sort of celebrity, though Gray's knowledge of Blackwell's persona is apparently much more thorough than Blackwell's own.
So we see the celebrity interrogating the gawking autograph hunter about their own past. The pair speak in frustrating non-sequiturs and riddles: sadly, the script operates on somewhat arbitrary principles. It falls into one of the commonest traps of underdeveloped theatrical writing, concealing (and eventually, gradually) revealing information on arbitrary and unmotivated grounds. As an audience, we feel we're learning more about the situation only when the playwright is ready to tell us, rather than at moments motivated by plausible character interactions.
The final third of the piece is constructed in the form of a storytelling session which takes allegorical shape as it fills in the imagined scenario. This, though, is also a thin stew of several vague concerns. Environmental disaster, political rhetorics around immigration, the dangerous draw of the demagogic leader and other zeitgeisty worries all bubble through without much sense of purpose or real political engagement.
At its best, the writing produces surreal twists of language within familiar tropes. What might be trite pastiche of rolling news coverage is freshened up by the use of incongruously nonsensical headlines. Nonetheless, it's a pale shade of the stark and shocking linguistic and stylistic leaps made in Caryl Churchill's work—Escaped Alone, for instance.
Throughout, the two performers seem to sit in some uncanny valley of actorliness, giving hope that a final deconstruction might undermine the myth altogether. But unfortunately it ultimately feels merely unconvincing.
The use of the draped gauzes as screens for video projections, aiming at an unsettling memory effect, is similarly underpowered. The interactions between onstage performers and their filmed counterparts are static and awkward rather than intriguing or dynamic; again, it's a promising image but lacking in theatrical or narrative force.
In all, then, this is a piece full of bewilderment at the world. But this bemusement seems not yet to have found forms which satisfactorily explore the company's recognisable—doubtless justifiable and important—anxieties.
Reviewer: Mark Smith