On the Road
Michai Geyzen
Laika
Unicorn Theatre (Weston Theatre)
–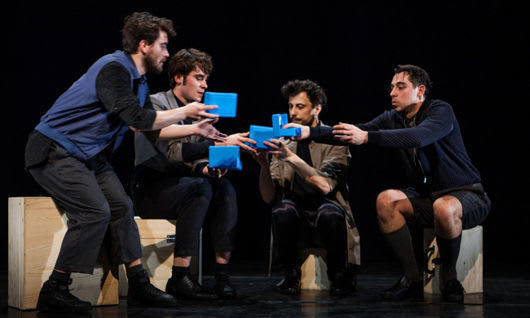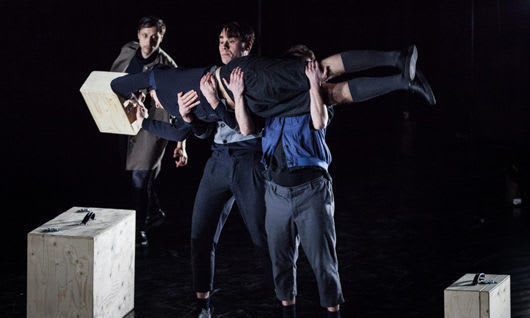 Laika is a Belgian company that aims to create work for "children / youngsters and grown-ups who have retained their child-like capacity for wonderment" with this visual and physical production given an 8- to 12-year-old guide by the producers.
There is speech, but not in any known language, though it is always expressive, meaningful gesture, music and a great sense of discovery in what could be taken as an almost literal story or as a microcosmic portrayal of growing up and finding your place in the world. On the Road implicitly asks the question "what do you mean by home?"
Its performers (Pieter-Jan De Wyngaert, Robbert Vervloet, musician Ephraïm Cielen and dancer Javi Ojeda), who have been waiting motionless on stage for the audience to enter, endow their roles with a childlike awareness, though they aren't being children. Each has a wooden-box suitcase, all different sizes, of which they are very possessive. It isn't just something to sit on, it is their base and represents their possessions and their secrets.
These four are so restless they even fall off their suitcase seats, before each in turn makes the decision to start on life's journey and go off into the world.
Since this is a very physical company, as they criss-cross the stage on their journeys they have collisions and acrobatic encounters. Gradually, but not trustingly, they acknowledge each other; begin to share things opening themselves and their secrets to the eyes of others. Is that a baby that we hear crying in one suitcase that so delights those allowed to see it?
A little leadership and a lot of co-operation create a house, drawn in the air in yellow cord. Is it just a house or is it a home? What does home mean, anyway? They all leave until there is only one of them watching the TV, then he leaves. It is then that he re-encounters the others and is welcomed. Home doesn't have to be a building it can be people, who together make the place where you can relax and feel a belonging.
Director Michai Geyzen, whose concept the show is, gives it a bold choreography full of clear emotions, though devoting a little too much time to what appears to be the house itself having a good time, like those in it. Ephraïm Cielen, as well as joining in the company's physicality, also manages to fit in playing live guitar and what looks like a saucepan as well as electronic music, all of which he composed, adding an extra level to this intriguing presentation.
Reviewer: Howard Loxton