On the Ropes
Dougie Blaxland and Vernon Vanriel
The Production Exchange and Park Theatre
Park Theatre (Park 200)
–

Listing details and ticket info...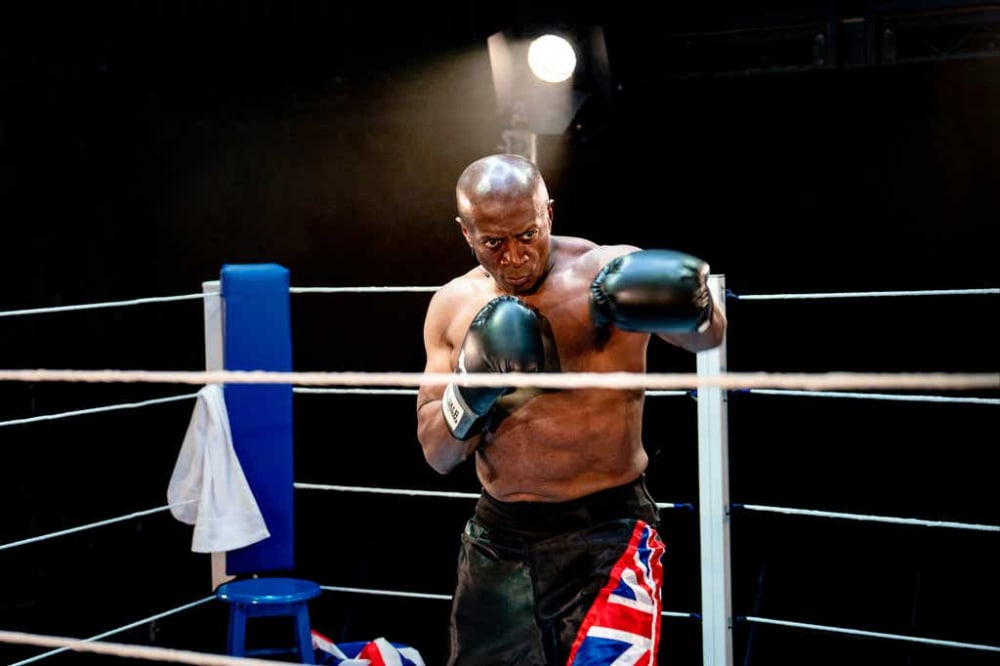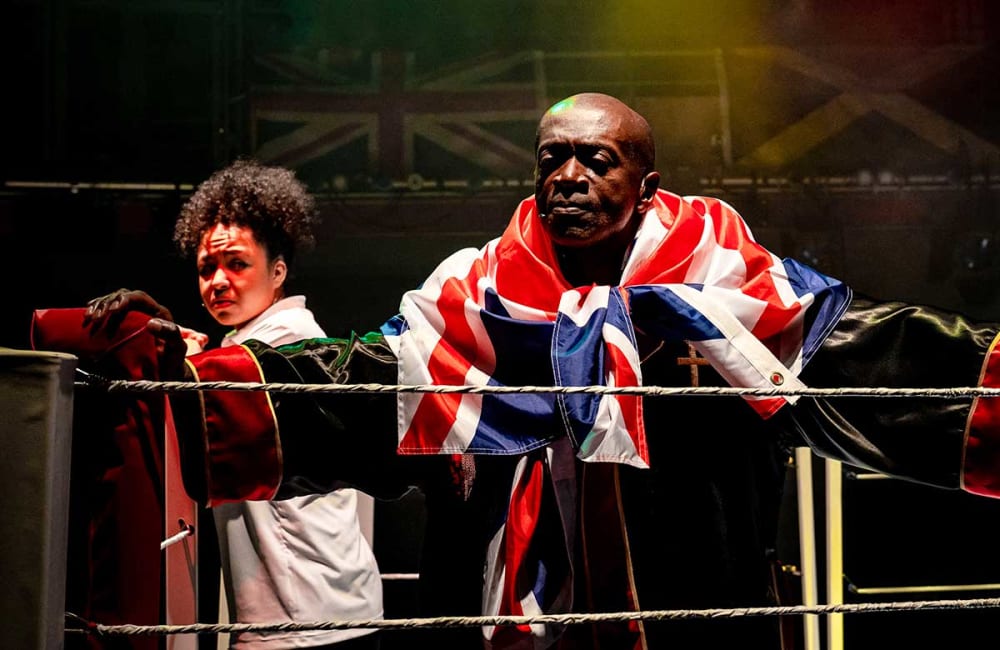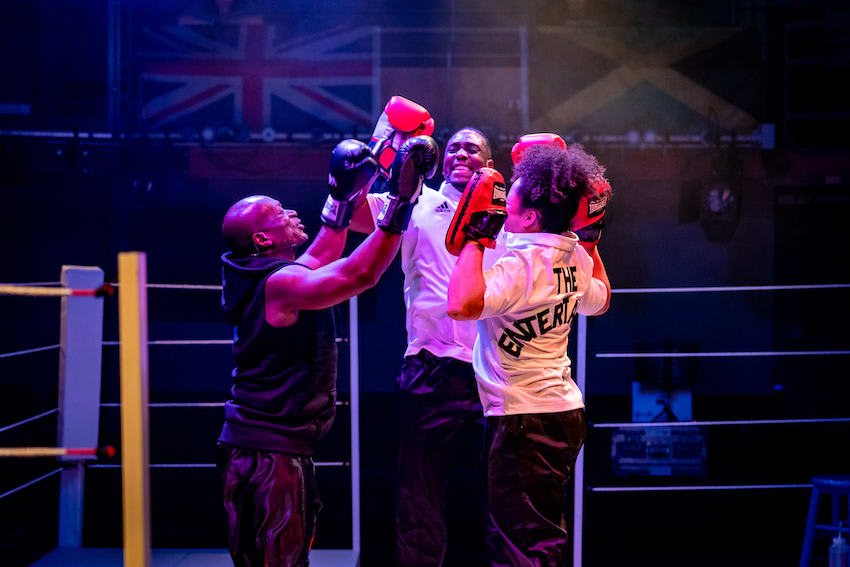 This is the autobiographical story of Vernon Vanriel who was six years old when he came to the UK from Jamaica with his parents, part of the Windrush generation. He grew up and went to school in Tottenham. He didn't shine academically and he left with no O levels to become an apprentice electrician. However, he was proving to be a talented boxer. Much against his mother's wishes, he began to box professionally.
By 1983, when he was 27 and won a major match in the Albert Hall in the second round, he was considered the UK's number 2 in his class and a potential future Lightweight champion. Then things began to go wrong.
Written by Vanriel in collaboration with dramatist Dougie Blaxland, the play is appropriately structured in 12 rounds that centre on the key confrontations of his life. Director Anastasia Osei-Kuffour and designer Zahra Mansouri stage it in a boxing ring surrounded by the audience. As Vanriel's life fragments, so does the setting.
Mensah Bediako plays Vernon from schoolboy to his 60s as On the Ropes chronicles his battles in the ring (where skilful shadow boxing brings his fights to life) and in his private life. Compacting so much into some two and a half hours produces a catalogue of key incidents rather than an in-depth presentation, but its picture of police violence and then the UK Home Office's treatment when he tries to return after spending a time in Jamaica is full of drama.
As teenagers, Vernon and his sister cut a dash with their dance moves and style in North London and as a boxer, Vernon brought his style and showy look to the ring where he got the promoters to play a track for his entrance so earning the name of "The Entertainer", and this production is also suffused with music and dance. The songs, which range from reggae to a powerful version of "Something Inside So Strong", are not an integral part of the storytelling but they add vitality and enhance the atmosphere and with Gabi Nimo's choreography and a cast who all have fine voices and good moves, they make a great contribution to the success of the evening.
It wasn't just personal style that Vanriel brought into the ring. He wanted fight promoters to add extra seating at lower prices so that people like him could afford to see him fight. In that he convinced them, but then his outspoken criticism of the way that the fight game was run turned them against him. His expected fight against the reigning champion didn't happen and a downward spiral of depression and addiction saw Vanriel sectioned and diagnosed as bipolar.
His visit to Jamaica, to meet a son he had not previously known he had fathered, saw the UK authorities demanding a visa, denying he was a British citizen although he had lived in the UK for 43 years. The story of his struggle to return is a truly tragic one: thirteen years with no money, nowhere to live and no medical help despite a heart condition. At last, a Guardian article and the support of David Lammy led to his return to the UK in 2018 and the subsequent judgement against the Government for denying his right to British citizenship.
Amber James and Ashley D Gayle act as a chorus sharing the storytelling and between them play all the other characters from Vernon's mother and girlfriends, his trainer and his manager to UK and Jamaican police, journalists and government officials. The rather long first half would benefit from a little judicious trimming, the second half could do with a little more details, but with vibrant performances from all three actors, this is a gripping presentation that speaks not just for Vanriel but for the mistreatment of so many of the Windrush generation.
This cast truly earned the enthusiastic first night standing ovation. Despite a pre-show management announcement that rehearsals had been plagued by illness and the cast were getting by on antibiotics and steroids, there was no sign of this in their playing: they delivered really powerful performances.
Reviewer: Howard Loxton