Once
Music and lyrics by Glen Hansard and Markéta Irglová; book by Enda Walsh, based on the film written and directed by John Carney
The New Wolsey Theatre, Ipswich and Queen's Theatre, Hornchurch
Grand Opera House, York
–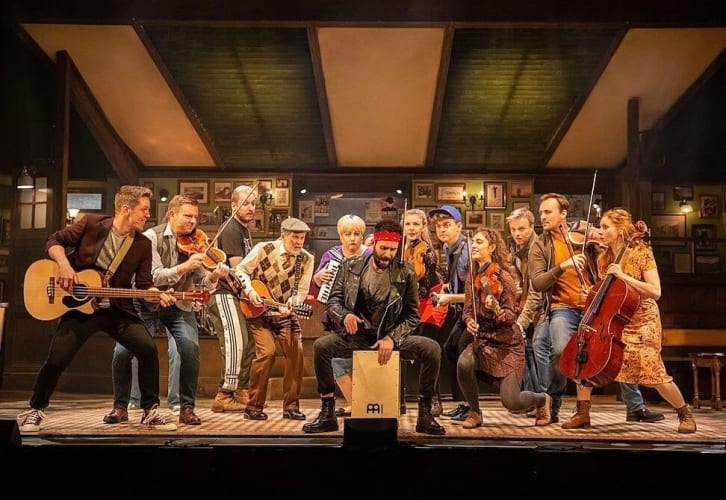 It's become business as usual nowadays to see movies turned into musicals. On rare occasions, the stage adaptation manages to eclipse the original to such an extent that the film version seems like a distant memory (Little Shop of Horrors and Kinky Boots). At other times, however, the stage show feels like a hollow and mechanical cash grab (Dirty Dancing and Saturday Night Fever). Fortunately, there's nothing remotely hollow or mechanical about this touring production of Once, which is unabashedly sincere and big-hearted.
Adapted from a sweet, lo-fi romantic comedy set in Dublin, Once tells the story of two struggling musicians—'Guy' (Daniel Healy), a thirty-something local who repairs hoovers, and 'Girl' (Emma Lucia), a young Czech woman—who bump into each other one fateful day and strike up an immediate rapport.
Heartbroken over his girlfriend moving to New York, Guy is on the point of giving up on his musical dreams altogether. Girl, however, is awed by his talent and does her utmost to convince him to follow his passion. The two misfits are obviously besotted with each other, but both have their own baggage to deal with, meaning that a traditional fairy-tale ending is not a foregone conclusion.
As a big fan of the film, which features lovely performances from Glen Hansard and Markéta Irglová (both of whom wrote all the songs) and makes great use of Dublin as a setting, I was not sure whether a stage adaptation—even one boasting eight Tony Awards—would manage to capture the original's charm.
Although Once doesn't blow the original out of the water, it succeeds admirably on its own terms, preserving the characters and songs that made John Carney's film so joyous, whilst reimaging intelligently it for the stage. The main set, designed by Libby Watson, is an Irish pub, and all of the scene changes occur simply and economically at the front of the stage, meaning that the musical is dominated by the idea of Irish folk culture.
Daniel Healy is very good as guarded, heartbroken Guy, and he is matched by Emma Lucia who brings out the melancholy lurking beneath Girl's irrepressible optimism. Both are talented musicians with lovely singing voices, and their final duet is deeply moving.
Elsewhere there are other excellent performances. Dan Bottomley is on scene-stealing form as Billy, the fiery and unpredictable owner of the music shop owner where Girl plays piano, and Ellen Chivers is terrific as Girl's uninhibited friend Reza. I also must mention Samuel Martin, who both is touching and hilarious as a deluded bank manager with musical aspirations.
In 2008, Glen Hansard and Markéta Irglová won an Oscar for their lovely folk-rock ballad "Falling Slowly". While this is a barnstorming number, it's far from being the only one. If forced to choose, I think I might opt for the lovely 'If You Want Me', in which Girl adds her own lyrics to Guy's melancholy tune. All of the songs are brought to life onstage by an ensemble of talented actor-musicians who play a range of instruments, including fiddle, mandolin, cello and squeezebox.
I can see why some audiences might find Once overly earnest given its grand pronouncements on art, life and love. For me, however, the show offers up an irresistible blend of comedy, romance and emotive folk-rock.
Reviewer: James Ballands