Once
Book by Enda Walsh, music and lyrics by Glen Hansard and Markéta Irglová based on the film by John Carney
The New Wolsey Theatre, Ipswich and Queen's Theatre, Hornchurch
Theatre Royal Bath
–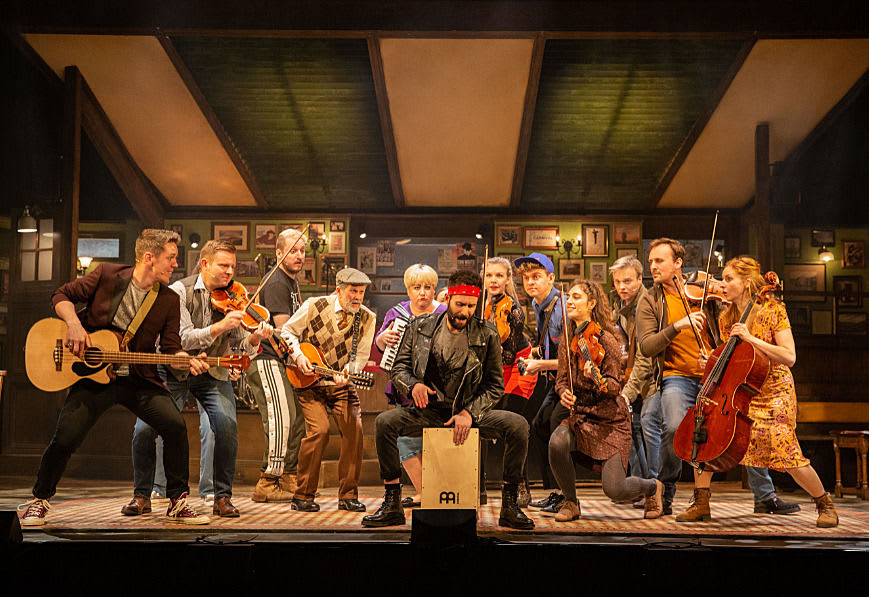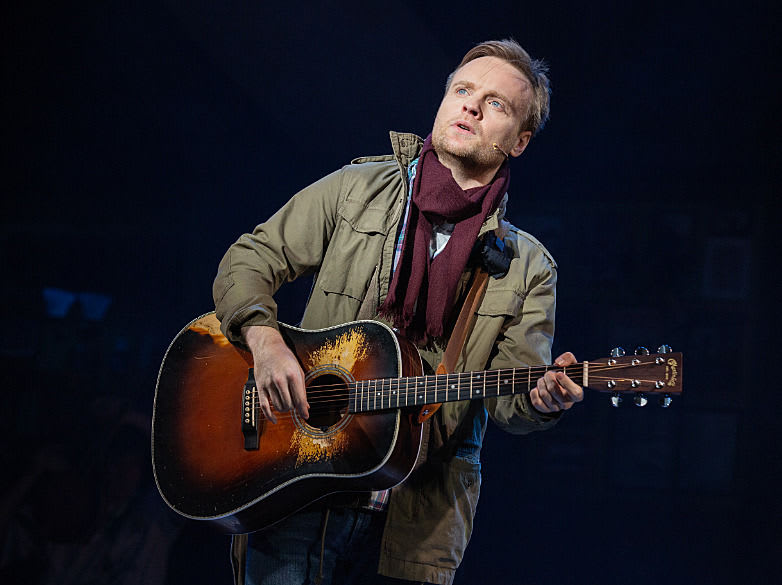 Based on John Carney's 2007 indie film, the musical version of Once was a multi award-winning hit on both sides of the Atlantic, transferring from Broadway to the West End in 2013. Now this sweetly melancholic love story between a Dublin busker and a Czech pianist has reached Bath on the latest stop of its UK tour.
The music—a medley of rousing Irish folk harmonies, spirited torch songs and yearning ballads—reigns supreme from the first. Greeted by a foot-stomping pre-show gig from the ensemble of actor-musicians, we are already sold—even with the omission of the immersive on-stage bar that featured in the original production.
As the story unfolds, Glen Hansard and Markéta Irglová's compositions, many of them written for the film in which they also starred, exert all their heart-stopping emotional pull. Guitar-playing Guy (Daniel Healy), who works in his Da's hoover shop and peddles songs of his own unrequited love, is about to give up his musical dreams until he meets a young immigrant with a complicated past, simply known as Girl (Emma Lucia). Stunned by his talent, she persuades him to sing his latest creation with her in the piano shop where she is a regular visitor in return for mending her vacuum cleaner. From the first mesmerising bars of "Falling Slowly", it is clear that this will be a fusion of souls as well as voices.
Healy and Lucia are captivating as the couple drawn together by their shared love of music and innate sense of harmony: an alchemy created over five turbulent days. As Guy gradually lets his guard down and Girl reveals the sadness underpinning her outward confidence, their richly textured voices blend beautifully but are equally strong alone in solo numbers such as "Leave" or "The Hill".
In the Dublin pub setting, songs break out with seeming spontaneity, the multi-talented cast sitting around tables for all the world like seasoned regulars at a lock-in, whipping up a storm on a range of instruments including fiddle, guitar, drums, cello and mandolin. They also step in as characters in the story, with notable performances from Dan Bottomley as the anti-capitalist piano shop owning lothario Billy, who injects a dose of earthy humour into the wistfulness, and Ellen Chivers as Reza, in whom he more than meets his match. Peter Peverley brings a thoughtful solemnity to Da, while Samuel Martin mines all the laughter as the guitar-playing bank manager invited to become part of the band—just so long as he doesn't sing.
Libby Watson's design is centred in the confines of the pub, with its picture-filled walls and mismatched assortment of furniture. It's like a story being told over a casual pint, with scenes set elsewhere imagined in the same room simply by wheeling on a piano or a bed. At times, with the seats filled by the cast awaiting their next cue, it feels almost too claustrophobic—which makes the elevation in the second act to a view over Dublin all the more entrancing.
Though Enda Walsh's book—unlike the original film—seems in places over-reliant on quips as a shorthand to move the story along, there are many endearing moments of pause and quiet: "If You Want Me" and the a cappella version of "Gold" are both exquisite. As past mistakes and lost opportunities coalesce to write the couple's future for them, it would take a very hard heart not to be affected in the closing moments of this tender, bittersweet and ultimately uplifting show.
Reviewer: Claire Hayes