Once Were Pirates
Emilie Collyer
Gobsmacked Theatre Company
Pleasance Dome
–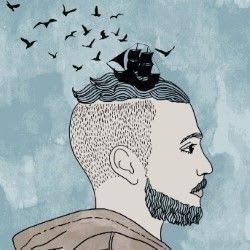 Having stunned the Fringe with last year's Dropped, a clever piece studying the effect of frontline war service on women, Gobsmacked Theatre Company has returned with a neat inversion of almost ever aspect of that concept with a comedic play that revolves around a pair of pirates, marooned from the Golden Age of Piracy, and trapped in the modern day.
The pair must contend with such perils as making rent, socialising with friends and the relative lack of transferable office skills that go along with a life of pillage and plunder.
It's a genuinely laugh-out-loud funny performance, as Joshua Mensch and Kyron Weetra leap, sing and gurn their hearts out as Gareth and Shane, a pair of salty, albeit young, seadogs who cling to each other in this strange world they're only just coming to grips with.
There's a refreshing choice in Emilie Collyer's script not to make a great deal out of the pair's sexuality and indeed their relationship itself is left mildly ambiguous. It can be read as a close friendship as easily as a romantic relationship and the situations are generally those that are experienced by most people who have ever shared a flat with a pal as much as with a partner. Parrots and knife-work notwithstanding.
While Once Were Pirates does come across as a slightly silly comedy, it's got more going on below the surface. The pirate theme provides more than just a vehicle for jokes about parrots and saltwater washbasins; it allows the entire piece to act as a neat step aside from the more obvious undercurrent of the increasingly confused space that is traditional masculinity, as Shane and Gareth's place in society, and their increasing frustration with a world that doesn't fit their understanding of themselves, can easily be seen to represent their sense of their self as men as well.
In the end, it's a funny and entertaining performance that will blow away the lunchtime cobwebs in a thoroughly fun hour of charismatic silliness.
Reviewer: Graeme Strachan