Once Upon a Time at the Adelphi
Written and directed by Phil Willmott
Union Theatre
(2010)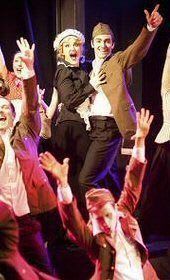 Once Upon A Time at the Adelphi premiered in Liverpool in 2008. A new musical, with shows such as Legally Blonde and Sister Act as its contemporaries, it is unlike these modern musicals with their rock/pop sound. Once Upon A Time at the Adelphi is more suited to sit alongside shows such as Carousel and Oklahoma. Taking his inspiration from the musicals of the 50s and 60s, writer and director Phil Willmott pays homage to these shows with a nostalgic production that doesn't feel dated.
Like the shows that Willmott is so keen to pay tribute to, Once Upon a Time at the Adelphi is a simple yet tragic love story. Set in the early 1930s at the Adelphi Hotel in Liverpool - or rather, it is initially set in present day, but as hotel worker Jo (Rebecca Hutchinson) happens upon a mysterious stranger she is transported back to the former glory days of the Adelphi Hotel to follow the love story of Alice and Thompson and meets many of the other colourful inhabitants along her way.
Once Upon a Time at the Adelphi is an ambitious production with a cast of twenty in the less than huge space at the Union Theatre. Big dance numbers, reminiscent of shows such as Anything Goes, manage to fill the space without making it feel cramped and it is, in fact, moments like this when the show is at its best. Individually the performances aren't great. Rebecca Hutchinson as Jo acts her socks off with an abundance of facial expressions without ever truly just letting herself be present in the scene, whilst Jon-Paul Hevey as Thompson, although charismatic, sadly doesn't have the singing voice to match.
However, when the cast come together, Elliot Davis' musical arrangements and Andrew Wright's choreography are very impressive and certainly hold their own against their big budget rivals playing in town.
With some stand out tunes that you'll definitely be humming the next day - "Musical Hollywood Show Tune" to name one - Once Upon a Time at the Adelphi has many of the ingredients of a fine musical. However in the current climate, if transferred into the West End, I doubt it would withstand the fierce competition from the afore mentioned musicals. These shows are not only popular for their modern appeal but actually because they are very good and whilst it is a delightful nod to those musicals that paved the way, it doesn't bring anything new to the table. When in town in 2007 at the Novello, Drowsy Chaperone put a wonderful twist on those classic shows with its hilarious yet heart warming production. Of course there is nothing wrong with Once Upon a Time at the Adelphi simply assimilating the formula of the much loved classics, but you may just want to catch one of the originals instead.
Playing until March 23rd
Reviewer: Rachel Sheridan