Once We Were Mothers
Lisa Evans
Orange Tree, Richmond
(2007)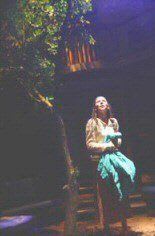 Playwright Lisa Evans, who created an almost impenetrable adaptation of Jamaica Inn for Salisbury Playhouse a couple of years ago, has scripted sequences for almost every television soap except Coronation Street, and her writing style shows an enviable ability to spin out incident without the need for narrative thrust.
It may work on the small screen, but theatre needs more focus to hold its audience. This new play interweaves the maternal experience of three very different women from parturition to parting, but there is no cross-resonance between the strands. The only common factor they share is the title 'mother' and even that is so lightly worn that the evening might be said not to be about motherhood so much as the will to survive.
The central figure, drawn from true-life testimony, is a Bosnian woman whose family and Muslim community is systematically destroyed by Serbian forces during the 1990s as part of an ethnic cleansing programme.
Mairead Carty's touching portrayal of Milena — virtually a monologue, although we also meet her husband and sister during an earlier sequence —focuses on her terrorised months at the hands of Serbian louts who force her into painful prostitution, ending with the birth of a chetnik bastard in some dark forest region of Herzegovina.
As light relief a second strand features Sarah Mowat as a slightly dotty dancer who gives birth to Sarah Gordy's Flora, a Down's Syndrome child. Flora quickly learns to speak in gutter words, and eventually emerges as a lively young individual in her own right.
Ishia Bennison brings star quality to the evening as the child's grandmother, diagnosed with a terminal illness. But Evans' script gives her little character development to go on beyond her own powerful presence.
The discovery of the evening is Esther Ruth Elliott, who has mostly worked in Sheffield and Bristol, and for the RSC in the West End. Here she brilliantly portrays a simple-minded, clumsy Yorkshire housewife, coping with life as she sips reviving glasses of Croft's Original sherry for strictly medicinal reasons.
Very different from the McCann experience, she is suddenly faced with the tragic disappearance of her 10 year old daughter, at a time when a notorious local paedophile is in custody for murderous assaults on young girls.
The situation is not resolved, but her withdrawal into denial, racked with almost catatonic pain and despair is coupled with a poignant jauntiness as she refuses to be rehoused, clinging to the old nest in case her child might one day return home.
The direction is by Ellie Jones, who recently took over at Southwark Playhouse, and returns to the Orange Tree where she trained and also spent a second year staging school projects.
Arising from that experience she invests the play with plenty of lively movement, including a hugely engaging cast party just before the interval as the actors invite us to share their wine and sweetmeats.
Reviewer: John Thaxter