One Hundred Trillion
Chantelle Dusette, Margaret Perry, Lucy Grace and Lily Bevan
The Dot Collective
Old Vic Workrooms
–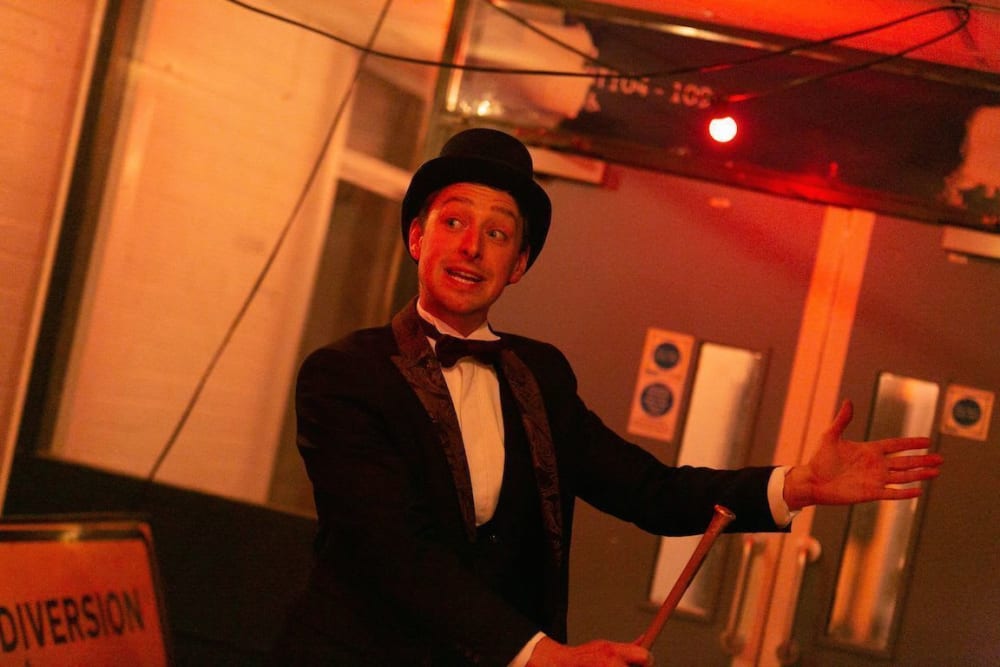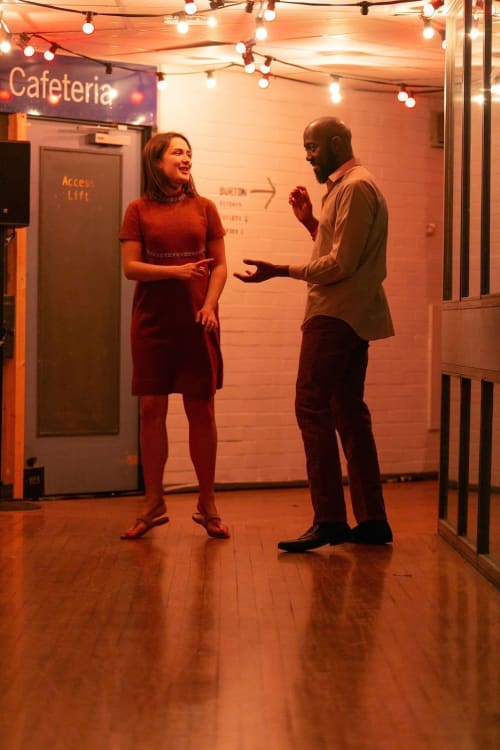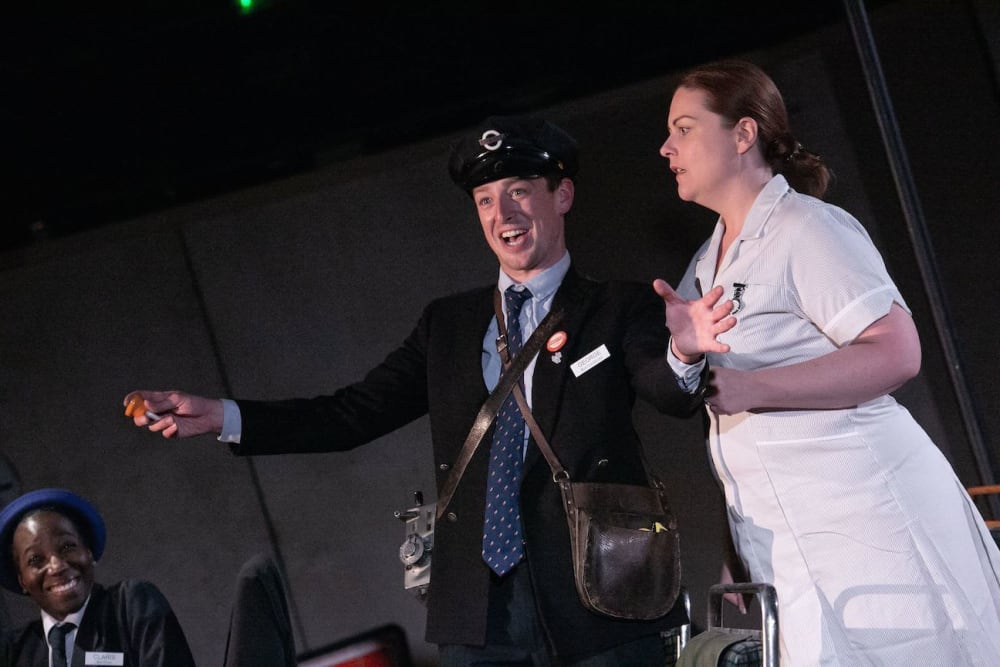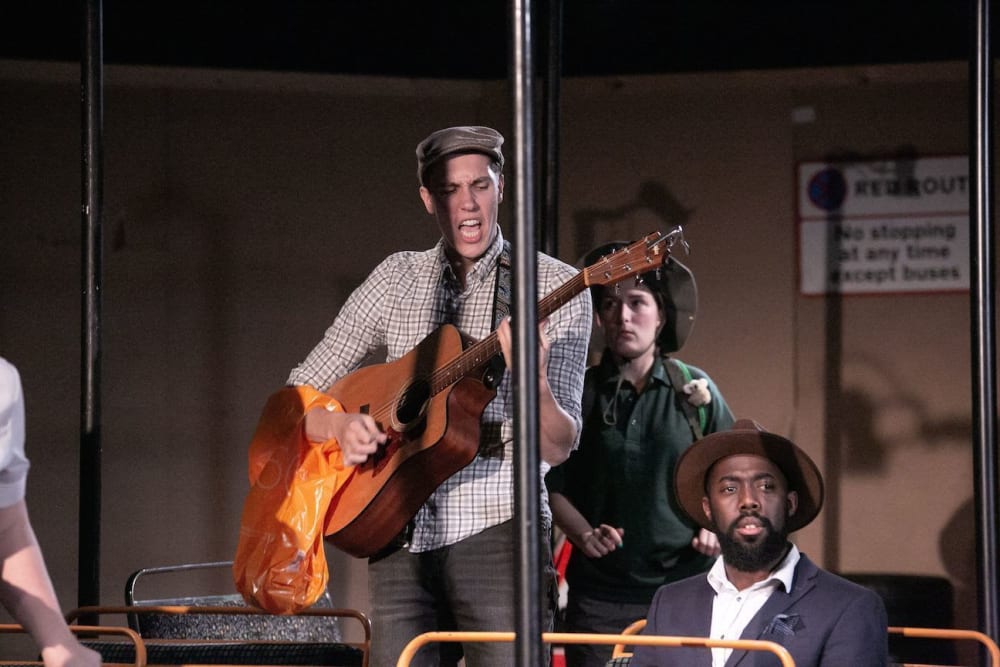 This is a bill of four promenade plays, each presented in a different environment, that have been developed from workshops with dementia groups by The Dot Collective, a charity that aims to create positive memory experiences for those with dementia and to raise awareness about it by creating professional theatre for and with them and through accompanying workshops.
The performance begins even before you enter the building with road cones and roadwork signs and two guys in hard hats to greet you before encountering a top-hatted gent with a cane who gives you "good evening!" introduces himself as Arthur and asks for your name. Then there is a room with drinks and soft sofas where Tom and Joan (Thomas Judd and Jo Wickham) sing a few songs until everyone is assembled and ready for Arthur to lead you out into the corridor where he embarks on an intriguing and explanatory analogy of the way the brain handles memory and the pattern of its malfunctions which is an adaptation of a Dementia Friends initiative by Laura Harling who is also director and designer of the whole evening.
This continues into a room papered with people's memories and things they still like in life: an exhibition of work from the dementia groups with whom the writers worked as is explained in a brief video exploring this Dot Collective initiative. From it you are led into an extract from Frames by Chantelle Dusette and the dementia group from the Daffodil Café, Nunhead. Played moving along a corridor, it's a sequence of dancing and lively exchange but from the back of the group difficult to know quite what was going on.
I Could Have Danced All Night by Margaret Perry and the Primrose Café group was beautifully clear. Les (Robert Hickson) puts a record on his Dansette radiogram to show his fiancée Dawn (Maggie Daniels) the quirky dance he proposes they do at their wedding reception. He may be a chartered accountant in the daytime but at night he's an exotic dancer with moves that mix Elvis and Travolta. It is played by the same older actors who play them as pensioners in the scene it is paired with (so it could be first time or a memory) then, with great sensitivity, we see Dawn using the song as a way of stimulating a joyous memory in otherwise inactive Les who sits in his chair not wanting to move. It is both very touching and a fine demonstration of how to counteract the effects of dementia, stirring past memories when short-term memory is faulty.
Topsoil, by Lucy Grace and Link Age Southwark, Dulwich, presents the same actors just as moving as a very different pair: Joyce and John, who have adjoining allotments. It is an understanding study of the effect of the loss of a partner and the way pursuits, in this case horticulture, can give purpose and pleasure.
London Bus by Lily Bevan and the Healthy Living Club, Stockwell begins with Darrel Bailey as Barry singing "Matilda". He's a travelling man: "I'm looking for a palm tree and a quiet beach like the one I knew as a boy" he tells us as he sings of the girl "who took me money and run" and getting the audience to join in "once again now!" He then boards a bus on a South London route that is boarded by characters with the memories of the dementia group and the songs they still love from a BBC newsreader (Sophie Mercell) to Jo Wickham's Nurse, Will Hartley's Tom (who has been on the tipple) and even a dog (Ariel Harrison). Its lively driver is Danille Kassarate , the conductor Stuart Turner and Thomas Judd comes aboard as a busker to enliven the music as they divert from their route to drive down to Brighton beach. Dementia doesn't mean that you can't have a good time and that goes for the audience as well.
All four plays draw on the experience of sufferers and carers. London Bus includes a poem (about sitting on the loo) and songs that were spontaneously sung during workshops. Contributing to these shows and watching them clearly proved beneficial and for those with no direct experience of dementia and its care these performances will help raise awareness and increase understanding but they are also life-enhancing theatre.
Reviewer: Howard Loxton