One Jewish Boy
Stephen Laughton
Old Red Lion Theatre
–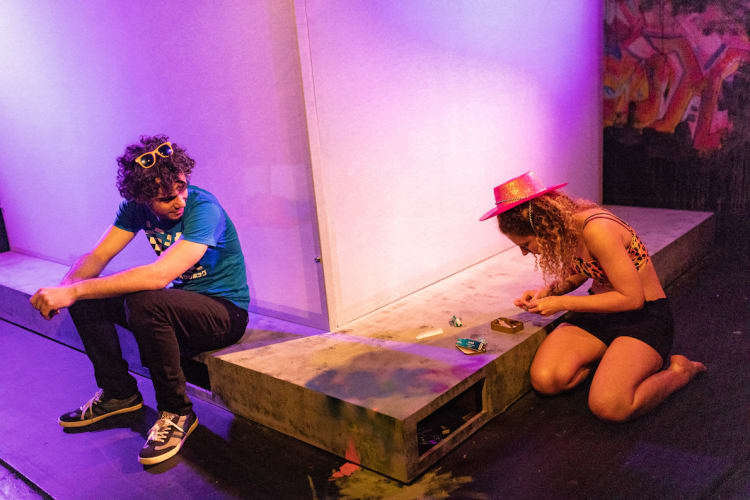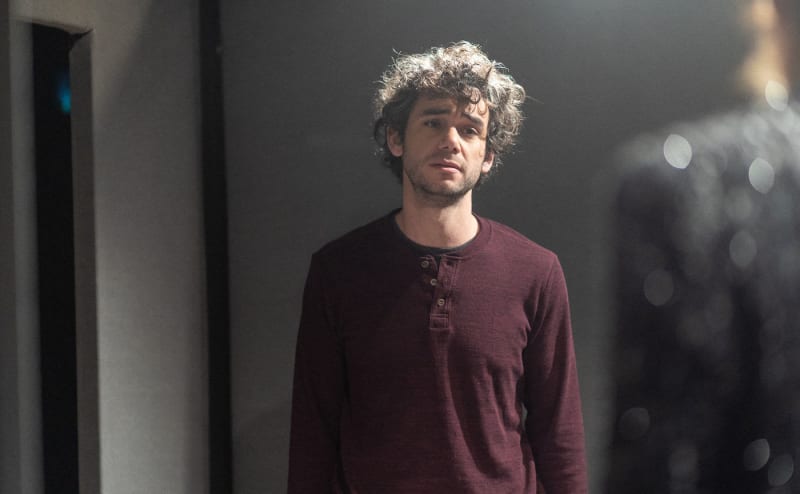 This is a timely play when accusations of anti-Semitism suggest it is a growing problem for it comes at the subject from a particular angle: the effect it has on those who are its target.
Stephen Laughton's play presents the fracturing relationship of one young couple. Jesse is a Jewish boy from a well-heeled Highgate background who meets Alex from Peckham in an Ibiza nightclub when they are both twenty but the play begins on a Shabbat morning 14 years later in the middle of divorce proceedings and then jumps backwards.
Projected dates label each scene to track the play's disordered chronology but it is not easy to identify a sequential pattern of cause and effect in the couple's relationship; it's more an ongoing confrontation between people from different backgrounds who becoming increasingly intolerant of the person they genuinely love. At its core is an accusation of racial prejudice, for Jesse is paranoid about anti-Semitism.
Does disapproving of the actions of the Israeli state make you anti-Semitic, the use of a once-acceptable but now non-PC expression mean you are racially prejudiced? That's not for discussion here; that's not what the play is about so much as the enduring effect of centuries of the fear of anti-Semitism on Jewish people.
Though Jesse makes a gesture to Judaic tradition by lighting Chanukah candles, he doesn't appear to be particularly religious. He supports circumcision in one scene but in another rejects vasectomy saying his penis has already been butchered. What he appears to carry is the weight of centuries of pogroms and persecution, so that he sees anti-Semitism everywhere: it is not until late in the play that it's revealed that in 2009 he was beaten up on Hampstead Heath by a racist.
In some ways, that traumatic event distracts from the point that history is carried inside us, but it is a graphic reminder that it isn't just history but a continuing reality for many, even in supposedly tolerant Britain, let alone more obviously intolerant societies.
Can anyone escape the feeling that being different in race, belief, colour or politics can make you a vulnerable victim? What does that do to you? Presenting this through an intimate relationship, free of political posturing, makes it especially understandable and Jesse and Alex's jealousies, arguments and different aspirations are like those of so many partnerships giving the play a sardonic humour.
There are strong performances from both curly-haired Robert Neumark-Jones as emotional Jesse and Asha Reid as an Alex in whom you can often see common sense struggling with feeling.
Director Sarah Meadows and designer Georgia de Grey fill the stage with a gauze-walled box with the audience on two sides. This cuts off actors from audience when scenes are played inside it or when outside pushes the action to the only corner where both sides can see it. Is it supposed to suggest the carapace of suspicion Jesse constructs as his armour, his reluctance to step out of it? Surely, it can't help the actors, but perhaps it makes some of the transitions between scenes move faster.
I was sitting on that critical corner so could see everything and there are only a few moments where some spectators will find actors hidden. The dislocation of chronology is rather like the way people reveal themselves, disclosing more things about themselves, and if that causes any confusion it matches the difficulties, though different ones, this couple experience.
Laughton's play makes a strong plea for real understanding and certain performances have related follow-ons including a Q & A session, a Shabbat ceremony and on the last night an Havdallah service, readings from short plays exploring the Israel-Palestine conflict and the recitation of Kaddish for all who have died. The company will also be raising money for the charities Medical Aid for Palestinians and Rabbis for Human Rights.
Reviewer: Howard Loxton