One Man's Story
Carolyn Edwards
ConYoBongo Productions
Liverpool Philharmonic Hall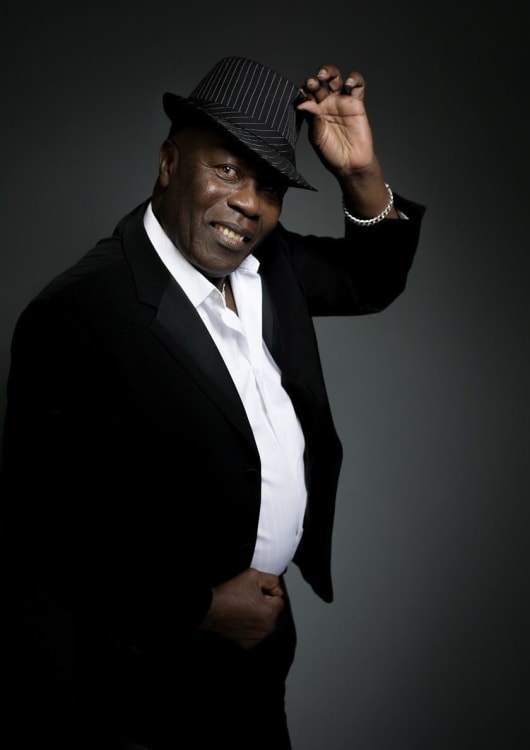 One Man's Story celebrates the life of 'Bongo' Eddie Folk (1949-2016), portraying his musical and personal journey from New York to Liverpool, from birth to death (and beyond).
For the general public, "this magnificent man with his extra-large heart" will be best known for his 25-plus years working with Kid Creole and the Coconuts, but for the show's creator, Carolyn Edwards (who conceived, wrote and performs in the production), it is a deeply personal project. For her, One Man's Story is literally a labour of love. Her enduring bond with the man she calls "my Eddie" forms the central thread of the narrative.
Tonight's show is a gala event, blending archive footage, live and pre-recorded music, dance, dramatisation and poetic narrative. There are wholehearted guest appearances from musician-singer Mark Anthony Jones (another Kid Creole veteran) and vocalist Dixie Daye (a close personal friend of Bongo Eddie). Working hard from overture to finale is an able young dance troupe, generously credited by Gillian Orrett as "choreography collaborators" (take a bow Billy, Talisha, Michael, Olivia, Rachel, Leah and Will).
The evening is also notable for a highly commendable initiative—'sponsor a seat'—aimed at boosting inclusiveness. Local businesses bought and donated tickets, so that socially excluded citizens, who could not otherwise afford to be here, might attend. Other theatres, cities and business communities, please take note.
One Man's Story's higher purpose is to raise funds for Genie in the Gutter—a Liverpool-based charity helping the homeless, the addicted and those with mental health issues. The help is often given via participation and support in creative activities. Despite an impressive record of achievement, Genie in the Gutter has lost 90% of its funding.
It might be argued that, in a kinder world with a more humane politics, events like this evening's would be there simply to put the icing on the cake. As things stand, moneys raised by this and future performances of the show will make an essential contribution to keeping the doors open for this life-affirming, life-enhancing and life-saving organisation.
Help make sure the bongo doesn't fall silent.
Reviewer: Martin Thomasson