One of Each
Deborah McAndrew
Mikron Theatre Company
The Wetherby Whaler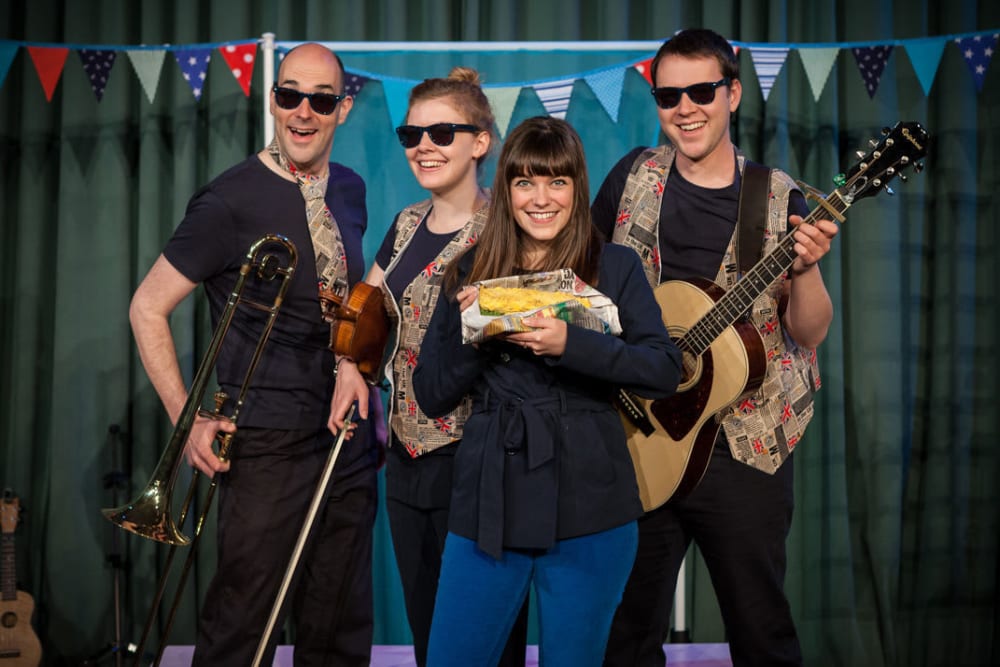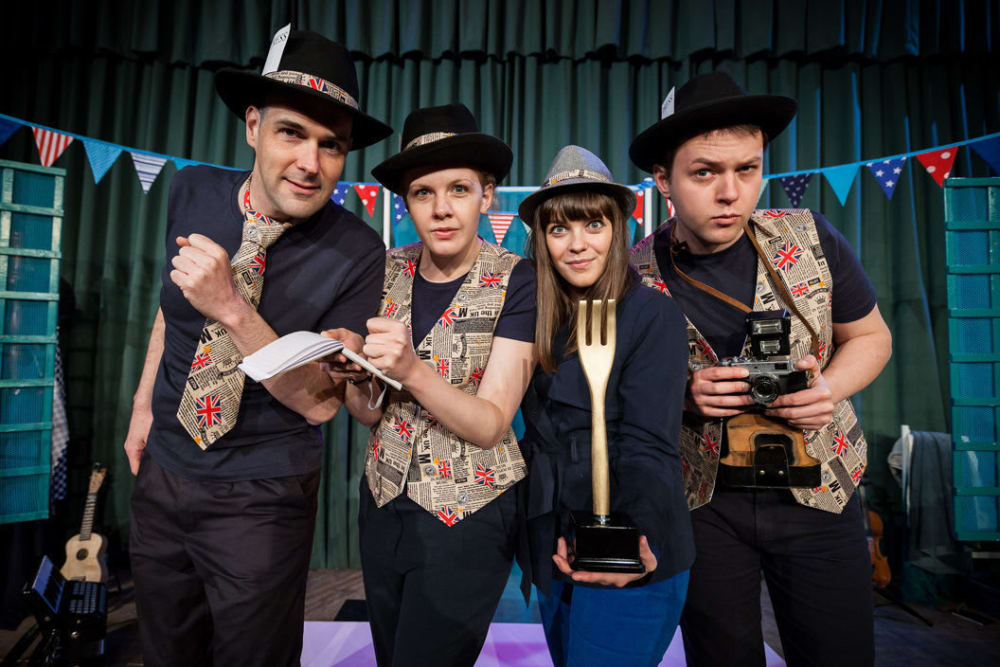 Mikron Theatre is a small but active community-driven company which for nearly 45 years has been producing 'theatre anywhere for everyone, by canal, river and road'.
It has a reputation for small-scale, portable productions which quirkily examine historical and contemporary social movements; the current programme consists of a show about the Women's Institute, and this, a piece about fish and chips scripted by Deborah McAndrew and directed by Chris Honer.
McAndrew is a regular Northern Broadsides collaborator, whose adaptation of Gogol's Government Inspector was a treat a few years ago. From the somewhat flimsy brief, she has constructed a broad comedy which at its height provides some considerable and uncomplicated pleasures.
The show is boosted enormously by the indisputable talents and charm of all four of the exuberant ensemble cast. McAndrew crafts a lightly tangled web of family relations, long-lost twins, mysterious assignations and a national competition seeking the finest chippie tea in the country (so far so Shakespearean, with a side of mushy peas).
The show is designed to be performed either indoors or out, to audiences in allotments, cafes, pubs and, yes, fish restaurants. The cast is superb, each individual creating a variety of likeable and clearly delineated characters, and engaging directly and enthusiastically with the crowded audience.
James McLean adds trombone parps and melodious harmonies to the songs which pepper the action, as well as a strong turn in the central role of Sir Caspian de la Mer, around whom the mysteries, such as they are, revolve.
As the rival twins Nettie and Rod, Ellen Chivers and Steve McCourt also possess charisma and sing and play beautifully. Chivers's number as one of the mysterious, witchy fishwives is one of the musical highlights, in which musical director Rebekah Hughes's beautifully intricate yet memorable arrangement really soars.
For me, Rachael Henley came close to stealing the show with a fine line in audience engagement, a number of great songs and a range of endearing accents. But, while she should have her due, it's the ensemble nature of the close-knit cast which is the real selling point. The performers all sparkle.
On the other hand, I did occasionally find myself wondering just what, quite, was the point. The scenes and twists are often more or less schematic, and while there are some good, well-pitched gags, further editing might have upped the density of the verbal comedy. The script is charming rather than laugh-out-loud funny. It's at its most interesting when giving us glimpses of the social and economic history of the fish supper—often through the witty and well-arranged songs.
For a topic with such a rich and culturally diverse history, the show takes some time really to mention any of the authentic history, and it never really soars either as informative social piece or as punning comedy.
There was perhaps something odd about watching such a deliberately unpolitical, whimsical piece of theatre on the night of what many had expected to be a fiercely contested and revelatory general election. Questions of fishery policy, social inequalities or the class boundaries of different traditional meals would obviously have been out of place in the piece, but perhaps a little more historical tale-telling and a little less of the, for me, not as interesting narrative of the competition and familial ties would have made the piece feel less meandering.
If you're after an unchallenging and well-performed piece with decent, fun songs (and a decent pint—or even fish supper), Mikron might be worth a punt. They're touring the show by road and by waterway throughout the summer.
Reviewer: Mark Smith