One, Two, Three, Yippee
Jack Elliot
Blazing Hyena
theSpace @ Surgeons Hall
–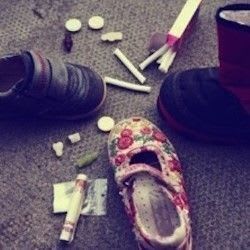 When it comes to good honest miserablism, it's hard to find better than when delving into the lives of poverty-stricken working class small towns.
One, Two, Three, Yippee brings us a tale from the depths of Woodburn, an area just outside Dalkeith, where a young trio of siblings find themselves in dire straits after falling foul fo the local drug dealer. To fix the problem, the Gordon family reach out to their absentee father, Jimmy, who storms into town and proceeds to take it over for himself, spiralling things out of control.
Blazing Hyena has distilled myriad local wee town tales into a narrative that feels coherent and plausible with the hint of truth to the situations which allow for the more hyperbolic moments to sit comfortably with the mundane. From the three girls who serve almost as a Greek chorus, leading the audience through the tale, to the repeated motif of snippets of Disney songs which relate to the emotions of a particular scene, there's a lot of ingenuity on display.
It's not without flaws as the pacing is a little off, leading the lengthy runtime to feel every minute, and several narrative threads seem to lead nowhere, or are entirely dropped long before the somewhat abrupt ending.
Luckily, the cast hold together the drama through their charisma and comfortable stage presence. Standouts among them are Jack Elliot, who also wrote the play, as the eldest of the Gordon siblings and James Boal as the psychotic Belfast hardman father. Their interplay and electric friction ignites their scenes, but never quite gets a satisfactory payoff.
All in all, it's a good production from a young company who will likely go on to surprise us with ever better Fringe fare in the years to come.
Reviewer: Graeme Strachan