One Day When We Were Young
Nick Payne
A Sheffield Theatres and Paines Plough Co- production
Roundabout Season Crucible Studio, Sheffield
(2011)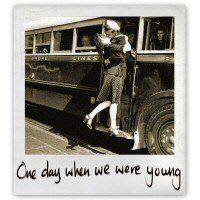 Paines Plough is 'an award winning, nationally and internationally renowned touring theatre company, specialising exclusively in commissioning and producing new plays and helping playwrights develop their craft' (Introduction to play text). Paines Plough have built their own in-the-round touring amphitheatre which is currently installed in the Crucible studio, and will present three new plays from 5th October to 26th November.
The first of these is Nick Payne's One Day When We Were Young. The play is performed without an interval and comprises three extended scenes in a chronological sequence, linked by period music and visible costume changes. The first of these is set in a Bath hotel room in 1942; the second in Bath's Royal Victoria park in 1963; and the third in a small house in Luton in 2002.
We first meet Violet and Leonard as they share a hotel room on the eve of Leonard's departure for the front. He is afraid, not only of going to war, but that he may lose Violet. "I am scared, that once this war is over, and I am sent home, that you won't be here." He extracts a promise from Violet that she will wait for him for as long as it takes.
At the next meeting, in 1963, it is clear that the promise has not been kept, but not for want of trying. In a manner reminiscent of Hardy, letters were sent but not received, Violet married an injured pilot and has her own family, and Leonard has been caring for his ailing mother. In a powerful emotional sequence, Violet describes how hard she tried to reach him and how reluctantly she gave up.
In the final scene, in 2002, Violet is widowed and Leonard has not aged well (hearing aid, stair lift) and is seriously ill. Violet's daughter tried to persuade her mother not to meet Leonard again.
You're obsessed, she said. The past.
It's not healthy, she said.
That's where you're wrong, I said.
It is vital.
It is absolutely vital.
The play thus follows a tight narrative arc: A promise; Recrimination and Justification; Reconciliation.
Payne has had several plays performed in a variety of venues, and was winner of the 2009 George Devine Award for Most Promising Playwright. He has an excellent ear for the nuances, pauses and repetitions of spoken language. While this is essentially a naturalistic play, there are interesting episodes in each scene, when the action moves away from naturalism and takes on a more symbolic significance. These actions are usually reminiscent of child-like activities: using beds as a trampoline; kicking a football; making circles in the air with a sparkler. Activities associated with less troubled, happier times.
Clare Lizzimore (director) uses the available space well, and effectively covers long scene changes with the visible costume changes, which are interesting to watch. The music is important in creating atmosphere and leading the audience from one period to the next. The stage management team is to be congratulated on their sturdy and efficient work. Maia Alexander, as Violet, was particularly strong in the empassioned sequence in the second scene, and Andrew Sheridan, as Leonard, was a completely convincing old man.
The Roundabout Season continues at the Crucible studio until 26th November.
Reviewer: Velda Harris