One Snowy Night
Based on the book by Nick Butterworth
Seabright Productions
Corby Cube, Corby
(2011)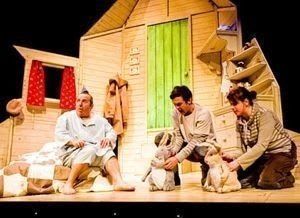 A sweet little production brings winter to Corby this year. It is hard to believe that we were all snowed in around this time last year, but when snow comes to Percy the Park Keeper's grounds, he is forced to retreat to his hut in the park. That evening, his little warm space is invaded and so the story unfolds.
The word "little" keeps coming to mind, and this is perhaps as much to do with the small cast (a 3-hander) as the small people watching. The audience was made up of toddlers and young children as well as their parents. This is probably down to the original children's book that the play is based on—whatever the reason, it was warming to see a different mix of people watching.
The adaptation of the original book is just right. There may have been the temptation to lengthen the story with gimmicks or added nonsense. It might also have been too fast, lacking the pace of the original story. Here we had around 50 minutes, with some added extras to help move the story on.
These little extras include songs that, though perhaps not completely show-stopping, have little hands and feet tapping along. Each song is delivered effectively and with nicely constructed harmonies—led by the very likeable Percy, brought to life by Colin Hurley.
The animals themselves are stuffed teddy style puppets. It might have been interesting to have had actual puppets rather than solid bodies—though the two actors (Amy Tweed and James Baldwin) work hard to move the animals, there are some moments that lack the focus and manipulation to really bring the the puppets alive.
Where the two puppeteers do succeed is by giving voice to the animals. The chatty Welsh ducks and freezing cold rabbits stood out, but the consistency with the quick changing was most impressive.
All this takes place in a cleverly designed set—the outside greenery of the parkland changes simply into the park hut—all this after snow begins to fall on to centre stage amidst gasps from the audience.
The piece is very gentle—perhaps slightly too gentle (if there is such a thing) in places. It does feel that the director has missed a trick in engaging the audience—particularly in the door knocking moments (in fact the audience engaged themselves at these points). Though not always a fan of audience interaction, I just felt this was a missed opportunity.
However, this should not detract from what is a little gem of a show—perfect for this time of year and perfectly adapted from the book. Well done The Corby Cube for bucking the mass panto trend with this winter offering.
One Snowy Night Tours at various venues until January 22nd 2012.
Reviewer: John Johnson