On Golden Pond
Erenst Thompson
New Vic Theatre, Newcastle-under-Lyme
(2007)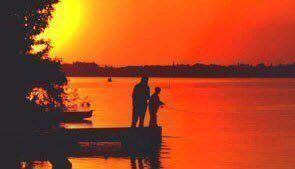 When an out-of-work actor sat down to write a story of a dysfunctional family's summer at their lakeside home, little did he imagine that the tale would take over his life and be the one work that's always associated with him.
Ernest Thompson was the actor and what followed was serendipitous in the extreme. He thought it would merely be read by a group of friends - until an off-Broadway venue suddenly needed a new play to open its 1978-79 season. It coincided with a strike by newspaper staff, so the critics didn't get the chance to pan it. Not that they automatically would, of course.
Not only did On Golden Pond transfer to Broadway, it was also turned into a film starring Henry Fonda, Katharine Hepburn and Jane Fonda. Thompson wrote the screenplay for which he won an Oscar; he also directed a live television version with Christopher Plummer and Julie Andrews and it's been produced in 38 other countries.
So why is On Golden Pond so popular? It's a gentle comedy with a witty yet incisive script, it has characters that everyone recognises and it addresses problems that the majority of families will face at one time or another.
The New Vic's revival of Thompson's seminal work is astonishingly good. Director Chris Monks, who's a regular visitor to the north Staffordshire theatre, knows intimately the quality that the New Vic strives for and comes up with a production which has golden moments all the way through it.
The play is the story of Ethel and Norman Thayer's return for the 44th summer to their home on Golden Pond in Belgrade, Maine. Their divorced, childless daughter pays a rare visit with her dentist fiancé and the couple go off to Europe, leaving behind his teenaged son.
The youngster is the grandchild Ethel and Norman never had. All three have lessons they can learn from one another. Before the end Norman, realising his life is slipping away, has a major confrontation with his daughter which they've managed to avoid for years.
Roy Sampson, making his New Vic debut, gives a towering performance as irascible, grumpy, self-centred Norman who's just beginning to lose his memory but at other times is as sharp as a twin-bladed razor. Sampson's body language is also spot-on as he stoops slightly and walks slowly and deliberately across the stage, bearing all the hallmarks of a man approaching his 80s. Tina Gray is equally sublime as Ethel, the loving, doting wife who puts up with Norman's slightly eccentric behaviour and knows how to put him in his place.
The rest of the cast have significantly smaller parts although Beatrice Comins gives a commendable performance as daughter Chelsea, uncomfortably hesitant in her relationship with her father, and Rowe David McClelland is delightful as postman Charlie with a continual, infectious, high-pitched laugh.
Monks retains all the charm of the play and enriches the evening by extracting as many laughs as possible from the dialogue.
A word too for voice coach Mark Langley who ensures that all the actors grasp the Maine chance and retain their accents throughout.
The only disappointment was that there were so few people in the audience on the night I saw On Golden Pond.
The New Vic was honoured in last year's Theatrical Management Association (TMA) awards as the most welcoming theatre. It can't be too long before it's recognised for its consistently good productions.
"On Golden Pond" continues until June 23rd
Reviewer: Steve Orme