The Only Girl in the World
Glyn Maxwell
Fractured Venus
Arcola Theatre
(2008)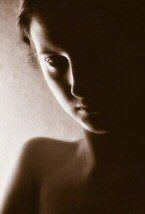 New to me, though originally performed at Hoxton Hall seven years ago, this play by a prize-winning poet is set in London's East End in 1888 and is centred on the true story Mary Jane Kelly, last victim of Jack the Ripper, and her lover Joe Barnett.
This production, by Alex Clifton, places it in an imaginative set by Paul Burgess with a floor of odd bits of wood with hinges still attached, pieces of architrave, a door (knob still attached) on boxes that serves as tabletop and bed, a metal framed window suspended in the air, a banister rail and balusters also hanging from above to suggest an upper stair. There are images projected on the window, and at one point on an actress's hands, and there is very atmospheric lighting by Katharine Williams. The audience enter to find a man standing with his back to them, a woman half hidden behind the window and a violinist sitting motionless on a chair.
Though the visual world is very stylised the writing isn't. This is not self-conscious poetry; indeed the dialogue seems very naturalistic apart from the odd phrase. Starting a conversational sentence with 'I to,' or a girl to responding to 'I'll make tea' with 'I'll make water,' as she goes off for a pee but they are exceptions and John Wark, in particular, turns in a very real performance as Barnett, the Billingsgate fish market porter who some people have named as a possible suspect for the Ripper, though this does not appear to be Maxwell's intention. Wark makes him a gentle rather naïve man and in moments of stress makes good use of a speech defect that Barnett is known to have suffered from. Script and performance give him an innocence that may not be true to life for, though here he meets Mary Jane in a public house, it has been suggested that he may have been a client. She certainly was a prostitute but Maxwell's Barnett seems in denial about this, though his suspicions are later aroused by her behaviour.
Mary Jane is at first something of an enigma. It first she has a heavy accent and seems to be passing herself off as French, then as an Irish girl, eventually, reverting to her native accent, Welsh. This makes for a problem in that the first accent is difficult to understand and the character's not entirely successful performance came over to me as overplaying on the part of the actress and, despite a lot of hard work from Jennifer Kidd, a feeling remained that the performance, as well as the character, inhabited a different world from that of the other actor.
In fact, the play offers a series of moments in the relationship between these two that show a besotted Barnett spending his resources on Mary, losing his job and finding himself increasingly upset by her drinking and continuing friendship with local prostitutes. They move from one shabby room to one that is cheaper (something the setting fails to register) and life is now downhill for Barnett. Mary claims to be using her sewing skills to earn money, but is it running repairs that men visit her for? The play never digs very deeply into their life and, though it succeeds in holding our attention, in the end it tells us comparatively little, perhaps because it is always having to take time to update us on the next murder in the Ripper story rather than exploring this particular relationship. Since Barnett knows the police investigating the case he is well informed on each new victim. Penniless and unable to cope with living with Mary any longer he leaves to go to his sister's home in Gray's Inn Road but, unable to forget her returns to visit, seeing her - and perhaps her murderer - on the very day she died.
With only two characters, and a third briefly suggested by the use of a token women's dress laid on the door-bed, the violinist takes on an important role in this production, not just as a provider of appropriate music between scenes or at crucial moments but as a physical presence. Andrew Mathys provides much more than appropriate tunes; he moves like a wraith in counterbalance to the actors and, though playing no part in the drama, does much to create the atmosphere of the piece and to sustain dramatic tension while the actors make costume changes or rearrange their props.
At the Arcola Theatre (Studio 2) until 24th May 2008
Reviewer: Howard Loxton