Oog
Al Seed
London International Mime Festival in association with Jacksons Lane and Feral
Jacksons Lane
–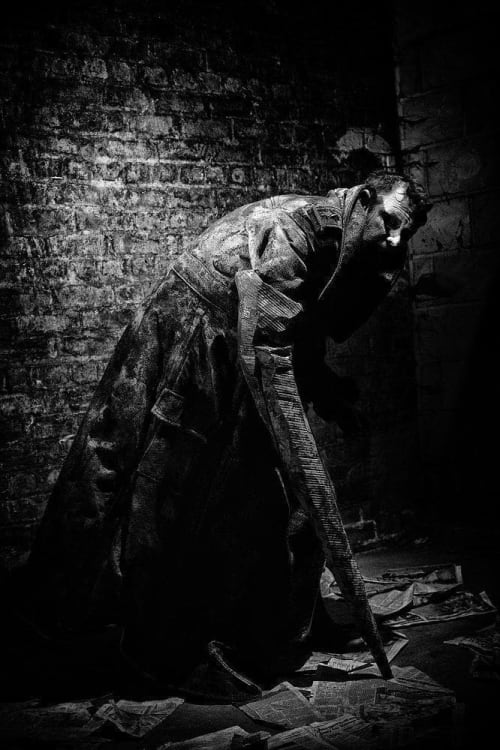 With a chalk-white face, dark-ringed eyes and a black slash of a mouth, Al Seed is an unsettling presence on a sparse stage. Engulfed in a dirty trench coat, Seed sits unmoving on a wooden chair, a rope ladder similarly still in the background, framed in a square of light.
Oog is Seed's most recent movement-based production, a companion piece to the 2005 work The Factory. Leading the viewer deep into the fractured mind of a shell-shocked solider, Oog examines the trauma of conflict and the residue it leaves behind.
Locked inside his own suffering, Seed navigates his audience through a mess of distorted memory. From armed combat to drunken bar brawls, a painful nervousness seeps across the stage. We will him to ascend the ladder—to climb out of his own head.
Seed is a captivating performer possessed of staccato precision: each movement as controlled and deliberate as the last, each miniscule gesture performed with equal weight. An electric energy radiates from every pore. Subject matter aside, he is a joy to watch.
Seed may be alone on stage but this is truly an ensemble piece: Guy Veale's soundscape of artillery fire and quickening heartbeats the second, similarly impressive performer. In rare moments of silence, Seed attempts to reclaim himself only for Veale to crash through the speakers, relentless and frenetic.
One minor criticism comes in the form of scale: Oog is an incredibly intimate, claustrophobic piece that would have been much better served in a smaller venue. However, at just under 40 minutes, Oog is a short, sharp, shock of a performance that truly cements Seed as a leader in his genre.
Reviewer: Alecia Marshall