Open Yarmouth
Sally Torode
Etcetera Theatre
(2009)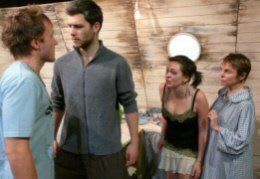 A pair of young lovers wakes after a heavy night out. They are on the put-you-up sofa squeezed into her mother's houseboat on the Norfolk coast. Neither have jobs and Maz (Siobhan McMillan) wants to change things and Lee (Lewis Hayes) remembers a mate in the club mentioned something about a job as a chauffeur. That same mate, Sleazy (Nick Lawson), unknown to them has been curled up under a kitchen counter. When he emerges he offers not a driving job but a pick up. It involves the local bad guy club owner, involved in drugs and other shady operations. Maz says don't but when it turns out Lee would get a £2k she changes her tune.
It is a cleverly set up piece about personal relationships and loyalties that turns on an act of revenge but when Lee discovers the operation is not about drugs but people trafficking it moves into a wider moral dimension.
Sally Torode has an ear for real speech, has written some intriguing characters and shows dramatic skill in zany touches that tell things through action instead of long exposition, like a plastic penis the lovers have been using (does Lee always get too drunk to keep an erection or has their love-making got boring after six years together?) or trying to warm socks round a night-light to emphasise that it's freezing.
She feeds us some tantalizing hints of back story that make us want to know a lot more about this well spoken couple who sound as though they have been away from Norfolk and Maz has not picked up any of her mother's Irish accent. She's probably been at art school but has Lee been a student? Is he one of those whose education has failed to give him skills but makes him reject jobs below expectations? Why does mother Dervla (Teresa Jennings) refuse to put down roots and so chose to live on a boat? Torode's talent is that she tells us enough that we care and with the introduction of a terrified Romanian Lenka (Claire Timmins) she starts to question the audience's conscience.
Andy Brunskill's production is served by an excellent cast and well-managed in Amy Cook's claustrophobic set with Ralph Stokeld's harsh Brechtian lighting. At the cliff-hanger black out at the end of the second scene I was eager to find out more about these people and to discover what happened next - but that was the end: the cast came on to take their calls. It is a splendid first act but where is the rest? There is so much that could be explored here.
The publicity describes this as Sally Torode's second full-length play. Since it lasts less than an hour I find that an odd description. It is true that short plays can be complete ones, but theatre is not limited by current television's fifty minute drama slot and this felt like only the beginning of something bigger. My disappointment at its early curtain is in proportion to my enthusiasm for the effectiveness of what went before.
Until 22nd November 2009 (no performance Mondays)
Reviewer: Howard Loxton